Teachers Return for Teaching with Testimony 2014 Follow Up
Wed, 07/15/2015 - 5:00pm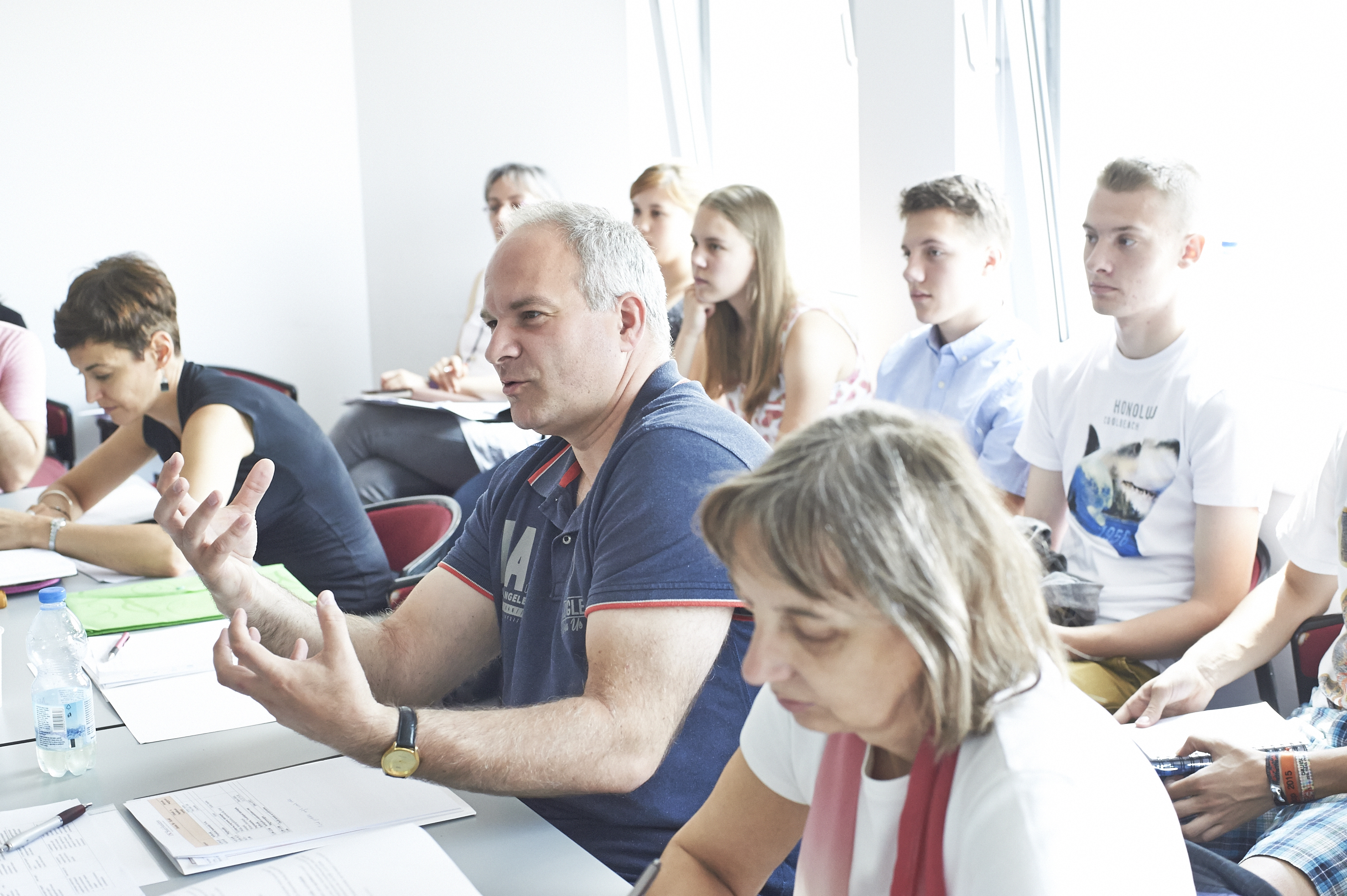 After learning the methodology of teaching with testimony and creating new lessons last year, the 2014 cohort of Teaching with Testimony in the 21st Century in Hungary returned for their follow-up session to share what they have learned.
USC Shoah Foundation's flagship professional development initiative, Teaching with Testimony is a two-year program that incorporates workshops, mentoring, and community building to prepare secondary school educators to search for and utilize testimony from the Visual History Archive, as well as digital learning tools such as IWitness.
Teachers convene for an initial training session in which USC Shoah Foundation's local liaisons provide instruction in using the Visual History Archive, building lessons and activities around the testimonies, ethical video editing, and other topics. Participants pilot the testimony-based lessons they've created in their own classrooms and present them to a professional audience at their school or elsewhere over the next year, and then reunite to present their lessons to next year's cohort and receive feedback.
Sixteen teachers gathered last week to present the lessons they developed, piloted and presented to colleagues over the year. The participants come from all over the country, even two people from Hungarian speaking territories of Transylvania (Romania) and Serbia. The came from various disciplines, including history, language arts, English as a foreign language, special education, IT, media, art, and literature.
One teacher constructed an IWitness Mini-Quest about the topic of deception in the deportation process to Auschwitz. Another created a new IWalk called "One Fate, One City" that takes students around the Jewish-related sites (or sites demonstrating the void of Jewish culture) of the Hungarian city Miskolc, guided by the testimony of one survivor.
One teacher developed an English lesson about emigration that features the testimony of a survivor from the teacher's town Békéscsaba. In fact, the survivor attended the high school where this teacher works before emigrating from Hungary to the United States.
Other lessons were focused on local stories, and another explored discrimination, stereotyping and prejudice.
For the first time, local high school students attended the Teaching with Testimony session and watched some of the teachers' presentations. These students are all from Budapest and have worked with testimony before, some with teachers who graduated from Teaching with Testimony. Andrea Szönyi, international training consultant from Hungary who organized the program, said the students added a lot to the discussion and it was interesting for the teachers to hear their perspectives. One student said, "Some students are really lucky to have teachers like you, I wish I had teachers and lessons like these."
"The teachers who agreed to present their lessons in front of students took their task very seriously and it was good to see the level of partnership between students and teachers," Szönyi said.
Through their lessons, presentations at their respective schools and other outreach, the 2014 cohort reached 200 colleagues and 2,000 students over the past year.
Like this article? Get our e-newsletter.
Be the first to learn about new articles and personal stories like the one you've just read.