"Teaching with Testimony 2015" Begins in Hungary After Record Number of Applicants
Mon, 07/20/2015 - 5:00pm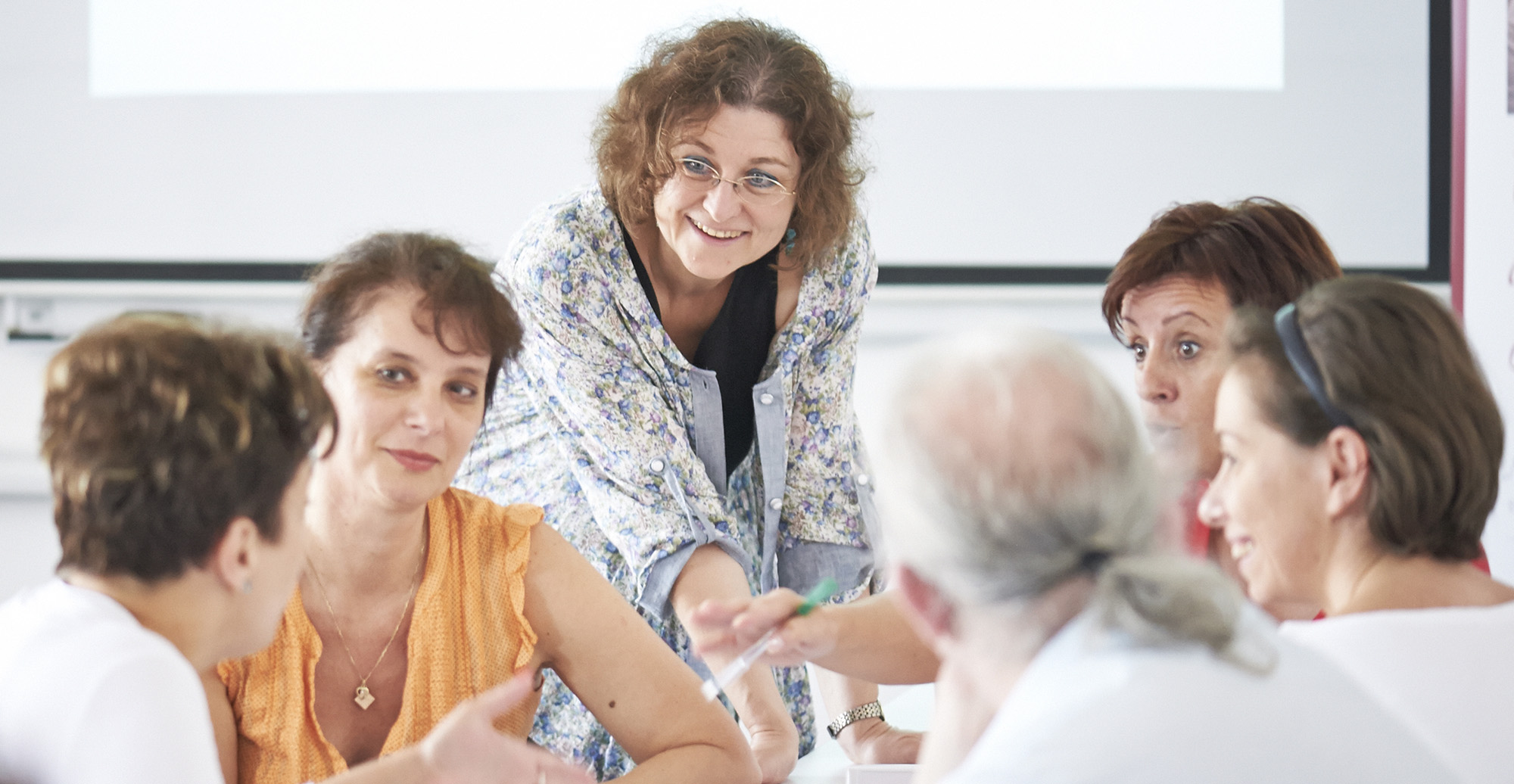 The 2015 Teaching with Testimony in the 21st Century program in Hungary has finally begun after the most competitive application process in the history of the program.
In March, 53 educators applied to this year's program in Hungary, 51 percent more than last year and the most applications ever since the inception of Teaching with Testimony. The 21 educators who were accepted met two weeks ago for the initial session that prepared them for developing their own lessons using testimony from the Visual History Archive.
USC Shoah Foundation's flagship professional development initiative, Teaching with Testimony is a two-year program that incorporates workshops, mentoring, and community building to prepare secondary school educators to search for and utilize testimony from the Visual History Archive, as well as digital learning tools such as IWitness.
Teachers convene for an initial training session in which USC Shoah Foundation's local liaisons provide instruction in how to use and integrate testimony in educational materials across various disciplines, how to use testimony to help develop critical thinking skills and encourage multiple approaches, learn and understand the nature of memory especially in a local context, and learn, understand and integrate the principles of constructivist theory of learning into testimony-based teaching materials.
Teaching with Testimony in the 21st Century is now accredited by Hungarian government educational authorities.
Participants pilot the testimony-based lessons they've created in their own classrooms and present them to a professional audience at their school or elsewhere over the next year, and then reunite to present their lessons to next year's cohort and receive feedback.
Participants came from all over Hungary and included middle-school and high-school teachers as well as, for the first time, two university educators. They represented multiple disciplines: History, Literature, Social Studies, Media, Chemistry, Mathematics, Computer Sciences, Language Arts (English, Spanish, German), and Ethics.
The program included sessions on local history and memory, the use of testimony in education, social psychology, the role of media and propaganda, ethical editing, hands-on sessions on the use of the Visual History Archive and IWitness, IWalks to two different locations in Budapest, and the larger picture about using testimony in the educational context of the 21st century.
In addition to Andrea Szőnyi, USC Shoah Foundation international training consultant based in Hungary who organized the program, presenters were local university experts Aletta Forrás-Biró (ELTE University, Faculty of Education and Psychology), Peter Berczi (librarian, Central European University), Ildikó Barna (sociologist, ELTE Faculty of Social Studies), Monika Kovács (ELTE University, Faculty of Education and Psychology). Kori Street, director of education at USC Shoah Foundation, also traveled to Budapest to give a presentation, as well as Martin Šmok, senior international training consultant for USC Shoah Foundation based in Czech Republic.
The participants' initial plans for projects include: additional IWalks in several locations which will elaborate on the local history of the town or village using survivor testimonies from the VHA of people who lived in those particular locations and an IWitness activity in the English language. Other teachers would like to collaborate with a group of Polish students who would do the same activity as the Hungarian students, which could be the first European regional collaborative learning project.
Other teachers are planning to do lessons on the topic of anti-Semitism, on introducing Jewish religion and its diversity and a lesson or IWitness activity called "Returning to Nothing" about homecoming.
The participants provided very positive feedback at the end of the program, remarking that they feel more confident teaching about the Holocaust, they can't wait to start working with testimony when school starts the fall, the program was creative and opened "a new world and new perspectives," and Teaching with Testimony is "a must" for educators even if you don't get any professional credits for participating.
One teacher commented on the network of Teaching with Testimony alumni that participants can now rely on: "The great thing about this program is that soon wherever I look in the country, there will be colleagues who have this knowledge."
Another was impressed by the endless possibilities of the Visual History Archive. "There are 109,000 hours of testimony, but everyone can find their own segments."
Like this article? Get our e-newsletter.
Be the first to learn about new articles and personal stories like the one you've just read.