Holocaust Scholar Yehuda Bauer Records Testimony for Visual History Archive
Tue, 07/21/2015 - 5:00pm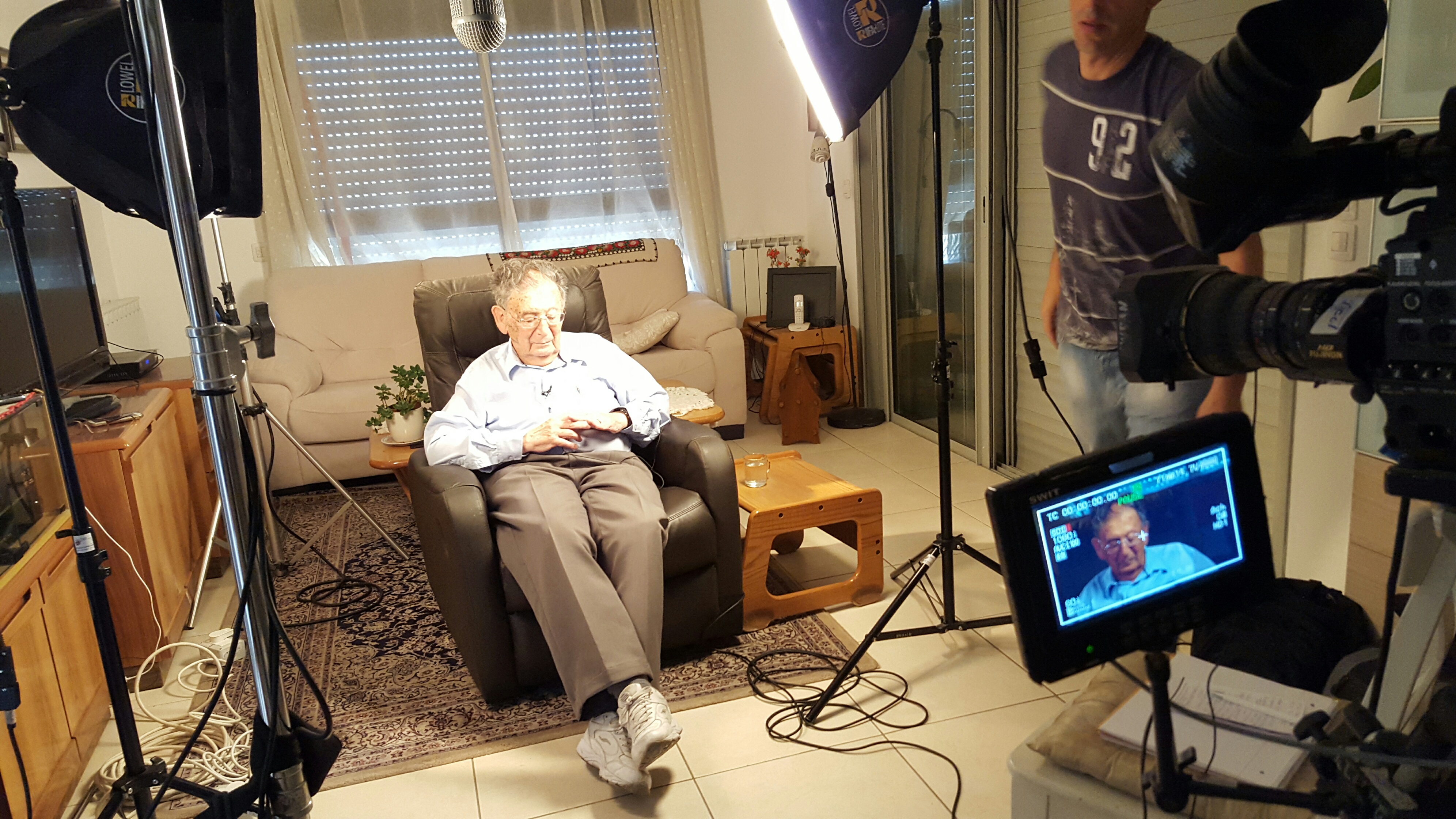 Renowned Holocaust scholar and former USC Shoah Foundation Yom HaShoah Scholar Professor Yehuda Bauer has given his testimony to USC Shoah Foundation's Visual History Archive.
Karen Jungblut, USC Shoah Foundation director of research and documentation, conducted the testimony with Bauer on June 29 in Jerusalem, Israel. The interview lasted five hours and was very personal, Jungblut said. Bauer talked about his childhood, family and important events in his life in addition to his work as a leading scholar of the Holocaust. His testimony will include many family photographs that he has never shown publicly before.
Though he has been interviewed many times, this is the first time Bauer has given his own complete life history testimony as such on video.
Bauer was USC Shoah Foundation's Yom HaShoah Scholar in 2012 and gave a public lecture at USC about his work. He returned to the Institute in 2013 to participate in a joint discussion with Professor Xu Xin, the foremost Holocaust scholar in China, about how far Holocaust studies have come in their own contexts and the future of the field.
Bauer was born in Prague, Czechoslovakia, in 1926. His father was able to raise enough money to get the family to Palestine to avoid war in Europe – they departed right before March 15, 1939, the day Germany took control of Bohemia and Moravia. After graduating from high school in Haifa, Palestine, Bauer joined the Palmach, the Jewish underground that later became the Israeli army. He fought in the Israeli War of Independence in 1948-49, joined Kibbutz Shoval, and received his doctorate from Hebrew University in 1960.
Though he had written his thesis on the Palestine Mandate, Bauer was inspired to focus his life's work on the Holocaust following a conversation with Abba Kovner, a Holocaust survivor, poet and Zionist leader. Though Bauer said he was "scared" to study the Holocaust, Kovner encouraged him to do so because the Shoah is the most important event in Jewish history and being scared is "a very good starting point."
From then on, Bauer devoted his research to survivor experiences, policies pursued by American and European organizations during the Holocaust, relations between Nazis and Jews, and the topic of Holocaust research itself. He has written extensively about survivor testimony: its value for remembering and studying the Holocaust and the challenges it presents for researchers.
Fifty years after his conversation with Abba Kovner, Bauer is considered one of the world's leading scholars on the study of the Holocaust.  An Academic Advisor at Yad Vashem in Israel, Professor Bauer has held many professorships during his illustrious career, including posts at the Avraham Harman Institute of Contemporary Jewry at the Hebrew University of Jerusalem, University of Honolulu at Manoa, Yale University and Clark University.  At Richard Stockton College in New Jersey, Professor Bauer served as the Ida E. King Distinguished Visiting Scholar of Holocaust Studies.  Presently, he holds membership on a number of professional committees, including the Yad Vashem Executive Committee, the Editorial Committee of Yalkut Moreshet (main Hebrew Holocaust Studies Journal) and the Editorial Committee of Yad Vashem Studies. 
Bauer's awards and distinctions include the Israel Prize for "History of the Jewish People" in 1998, election as Member of the Israel Academy of Sciences and Humanities in 2001 and the Yakir Yerushalayim (Worthy Citizen of Jerusalem) award from the city of Jerusalem in 2008.  Professor Bauer also holds the position of Honorary Chairman of the International Holocaust Remembrance Alliance (Formerly: Task Force for International Cooperation on Holocaust Education, Remembrance, and Research) as well as senior advisor to the Swedish Government on the International Forum on Genocide Prevention.
His publications include From Diplomacy to Resistance (1970), My Brother's Keeper (1974), Flight and Rescue (1975), The Holocaust in Historical Perspective (1978), The Jewish Emergence from Powerlessness (1979), ed. The Holocaust as Historical Experience (1981), American Jewry and the Holocaust (1982), Out of the Ashes (1989), Jews for Sale? (1995), Rethinking the Holocaust (2001), The Death of the Shtetl (2010), as well as about 90 articles in scholarly journals and yearbooks.
For more about Yehuda Bauer, click here.
Like this article? Get our e-newsletter.
Be the first to learn about new articles and personal stories like the one you've just read.