Teaching with Testimony Begins Fourth Year in Poland
Mon, 07/27/2015 - 5:00pm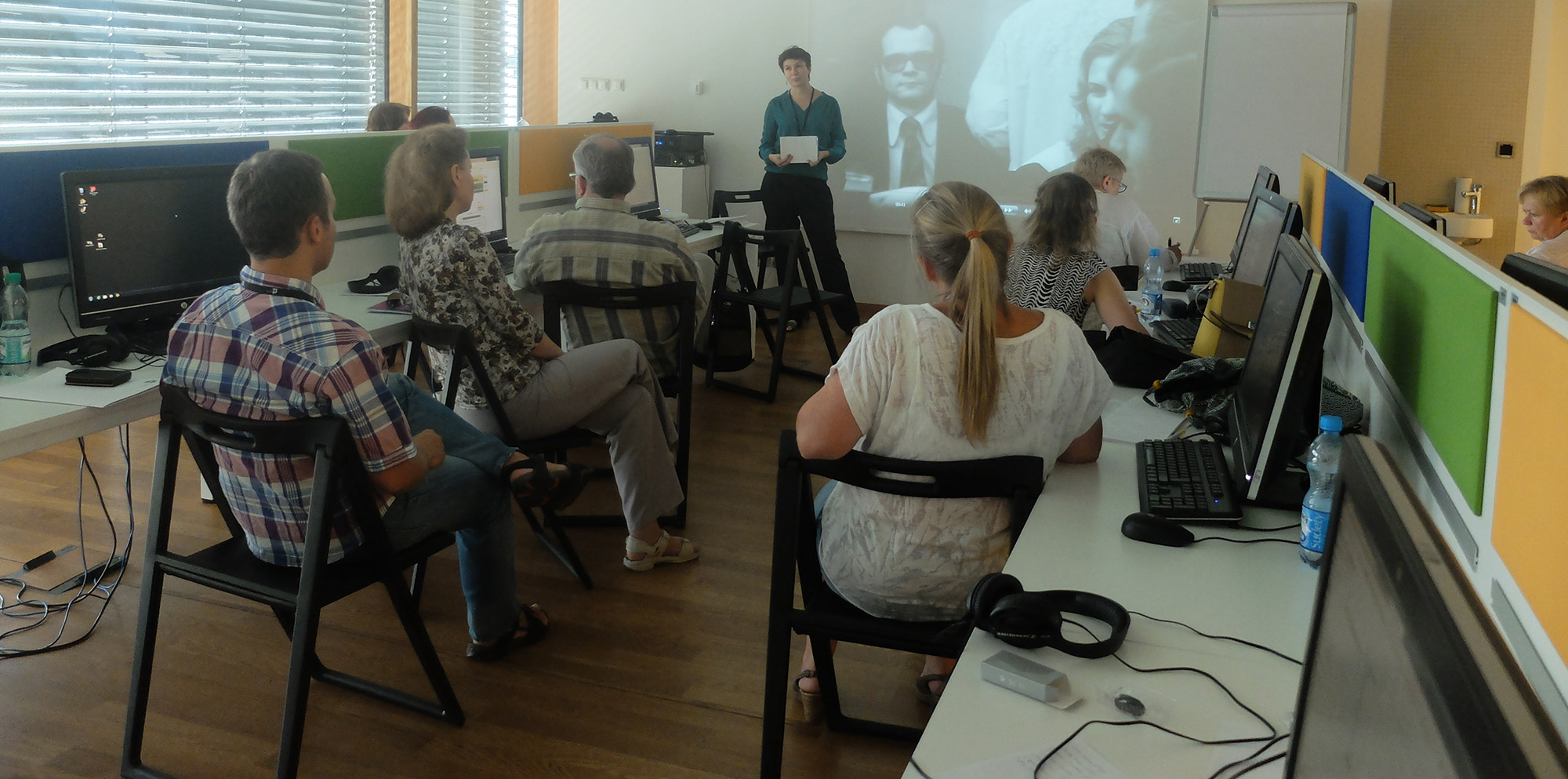 The fourth cohort of Teaching with Testimony in the 21st Century in Poland met last week for their initial training on using testimony in their classrooms.
USC Shoah Foundation's flagship professional development initiative, Teaching with Testimony is a two-year program that incorporates workshops, mentoring, and community building to prepare secondary school educators to search for and utilize testimony from the Visual History Archive, as well as digital learning tools such as IWitness.
Teachers convene for an initial training session in which USC Shoah Foundation's local liaisons provide instruction in how to use and integrate testimony in educational materials across various disciplines, how to use testimony to help develop critical thinking skills and encourage multiple approaches, learn and understand the nature of memory especially in a local context, and learn, understand and integrate the principles of constructivist theory of learning into testimony-based teaching materials.
Twelve educators from all over Poland came to Polin Museum of the History of Polish Jews in Warsaw to learn how to use video testimonies from the Visual History Archive in their teaching. During a very intensive working week they had a chance to experience how important is to teach about historical events using personal stories of people who experienced it.
Led by USC Shoah Foundation Polish liaison Monika Koszyńska, local experts gave presentations and workshops about different aspects of teaching with testimony. Filmmakers Małgorzata Kozera and Joanna Król spoke about editing testimony clips, psychologist and therapist Maja Branka spoke about how to cope with difficult emotions while working with testimony and Dr. Bartłomiej Krupa from the Polish Academy of Sciences talked about the constructivist theory of education. Dr. Dobrochna Kałwa, from Warsaw University, gave a lecture about historical empathy and testimony as a source.
The participants also had plenty of time to explore the archive on their own and begin developing their own lessons and activities.
"The same as it happened during previous editions of Teaching with Testimony program, each participant was amazed by the content of the VHA and could not stop listening to the stories of witnesses," Koszyńska said.
During the evaluation session at the end of the program each participant underlined that the program was very interesting and every session was absolutely necessary to be able to start working on lesson plans and other educational projects using testimonies as a tool.
Ewa, a teacher-trainer from Warsaw's In-service Teacher Training Institute said that the great advantage of this course was in the way it was designed – that the different lecturers and workshop leaders underlined different aspects of using video testimonies in educational practice. She also appreciated that the content was deeply immersed in the constructivist theory of teaching, which favors teaching methods that get students actively engaged in the learning process.
Maciej, manager of education at the city of Gniezno municipality, said that the most important message he will take with him from the training is that he and his colleagues had the unique chance to talk and think about how to become better people and how to teach this to young Poles. Testimonies served as a fuel to this discussion and deliberation, he said.
The cohort will meet again next spring to show the results of their work and discuss the future of their involvement in Teaching with Testimony.
Like this article? Get our e-newsletter.
Be the first to learn about new articles and personal stories like the one you've just read.