Ambassadors for Humanity Gala Honors Bill Ford
Mon, 09/14/2015 - 11:44am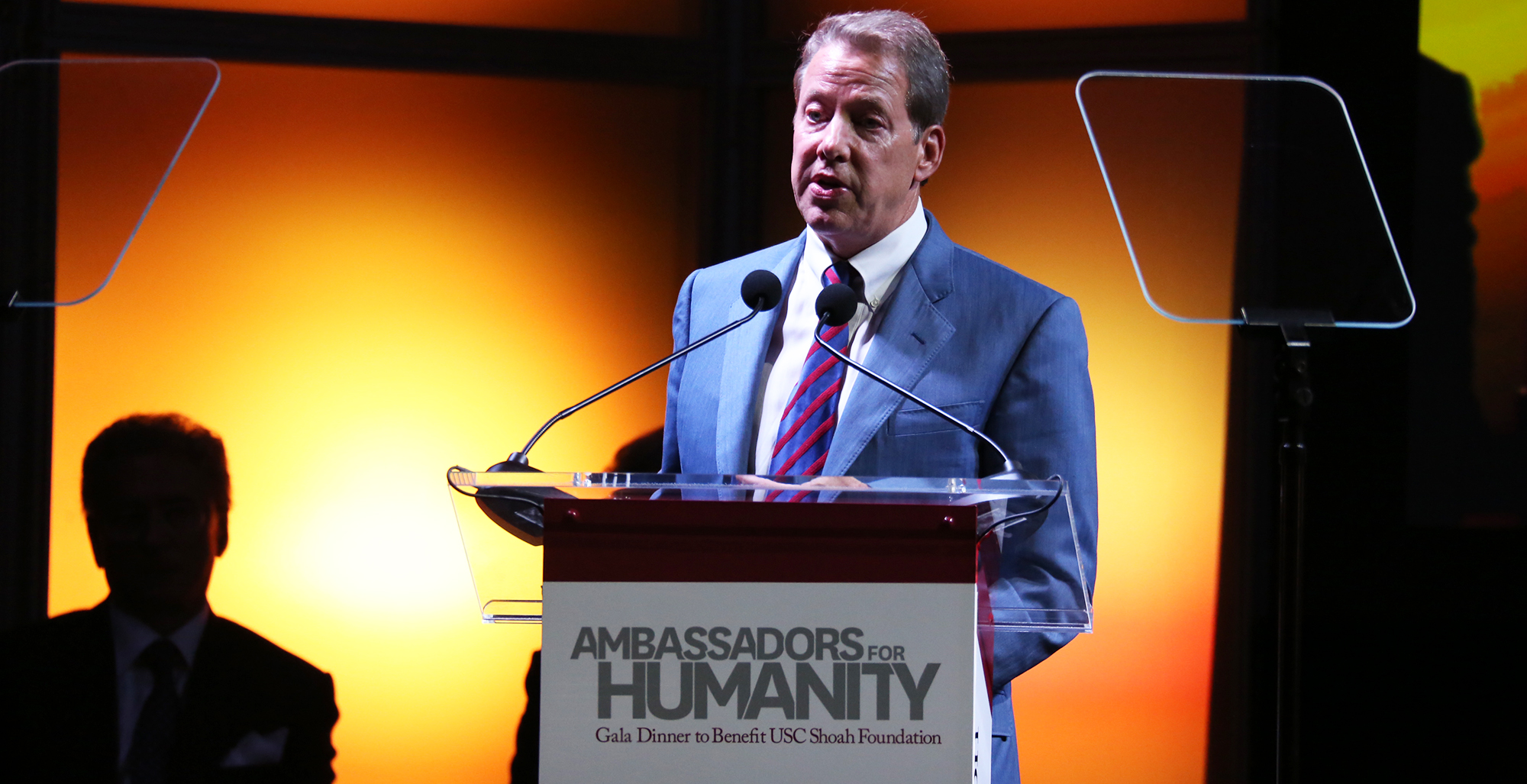 He's a businessman, environmentalist, philanthropist and scion of one of America's most prominent families.
But it was Ford Motor Company Executive Director William Clay Ford Jr.'s commitment to education and his devotion to the Detroit community that prompted USC Shoah Foundation – The Institute for Visual History and Education to honor him with this year's Ambassador for Humanity Award.
Ford received the award during the annual Ambassadors for Humanity fundraising gala for the Institute, held Sept. 10 in Detroit. Nearly 1,000 people from Michigan and California mingled in the cavernous Henry Ford Museum, which was transformed into a banquet hall for the event. Guests included USC President C. L. Max Nikias and Steve Kay, dean of the USC College of Letters, Arts and Sciences.
Golden Globe-winning, Emmy and Academy Award nominated actor Steve Carell served as host, while Emmy and Academy Award-winning actress Halle Berry was the event's special guest. Grammy Award winner James Taylor provided the night's entertainment.
Detroit was chosen as the location of the gala because Ford and USC Shoah Foundation are working together on a push to bring the Institute's award-winning IWitness educational program to more schools in the area. Called IWitness Detroit, the two-year effort is a two-year partnership between USC Shoah Foundation and the Ford Motor Company Educational Initiative.
The Institute also has strong ties with the community – more than 300 testimonies in the Institute's Visual History Archive were given by Holocaust survivors who came to Detroit after the World War II. One of them, Paula Lebovics, spoke at the event. And the gala's co-chair was Mickey Shapiro, a Detroit-area developer who also serves on the Institute's Board of Councilors.
In introducing Ford, Spielberg quoted the honoree himself: "The purpose of any company is to make people's lives better." 
"These are the words and the mission of tonight's honoree, Bill Ford," Spielberg said. "And because I know the same can be said about the purpose of USC Shoah Foundation, it's only fitting that we have chosen him as our 2015 Ambassador for Humanity."
For his part, Ford talked about the challenges he faced in bringing his environmental concerns to the auto company started by his great-grandfather, Henry Ford, and how proud he is of the efforts he and his fellow Ford employees have made in recent years in helping others.
"After Turkey's earthquake in 1999, and the tsunami in Southeast Asia in 2004, I asked our employees to help," he said. "The response was overwhelming, but I knew we could do more, so I founded the Volunteer Corps.  Ten years later, our employees have worked on more than 9,000 projects in 40 countries and donated more than one million hours to building communities."
Ford also touched on his passion for education.
"I am especially proud of our support for education," he said. "Ford has long supported education around the world.  In Mexico, for instance, Ford and our dealers have built more than 200 elementary schools in rural areas."
It was also announced that Ford Motor Company will sponsor the Institute's IWitness Video Challenge for the next two years. The annual challenge invites North American students to watch testimony from genocide survivors and create video projects that bring positive change to their communities.
Nikias, who was instrumental in bringing the Institute to USC when he was provost in 2006, spoke of his ongoing commitment to safeguarding the voices of the 53,000 survivors of the Holocaust and other genocides in the VHA.
"At a memorial ceremony three years ago in the Hall of Remembrance at Yad Vashem, my wife and I, accompanied by a USC delegation and standing alongside an 89-year-old Holocaust survivor, laid a wreath and lit the eternal flame," he said.  "Rekindling this flame in Jerusalem renewed my university's sacred commitment to the archive. A trip to Poland this past January under the leadership of Steven Spielberg for the 70th anniversary of the liberation of Auschwitz also rededicated our efforts to instruct and inspire students from all over the world, using the timeless lessons of the archive's visual histories to help overcome prejudice."
USC Shoah Foundation Executive Director Stephen Smith thanked the audience for their continued support. He also singled out the survivors in attendance for their commitment and bravery.
"I am proud to welcome all of you, and to tell you how welcome we at USC Shoah Foundation feel here in Detroit, where we have found the epitome of the can-do spirit," he said. "And no one exemplifies that spirit than our honoree of the evening, Bill Ford."
In his remarks, Shapiro touched on the themes of remembrance and thanks.
"Tonight, we're here to celebrate, to honor and to remember," he said. "We celebrate USC Shoah Foundation, the foundation that has come to Detroit for the first time. We celebrate that this is the most successful fundraiser in USC Shoah Foundation. Thank you, Detroit."
Carell walked the fine line between providing laughs and recognizing the seriousness of the Institute's mission.
"Every actor's dream job – comic relief at the USC Shoah Foundation gala," he quipped. "When I was first asked, I had reservations. As an Italian Catholic who grew up in the mayonnaise district of Massachusetts, I wondered for a moment if I knew enough about Jewish history and culture to be up here."
He then joked that he felt comfortable in the job because his family had recently attended many bar and bat mitzvahs.
Spielberg started the USC Foundation in 1994 after completing Schindler's List. His vision was to create an archive of testimony of survivors and other witnesses of the Holocaust. 
Like this article? Get our e-newsletter.
Be the first to learn about new articles and personal stories like the one you've just read.