Anita Lasker Wallfisch Records Interview for New Dimensions in Testimony
Fri, 09/25/2015 - 5:00pm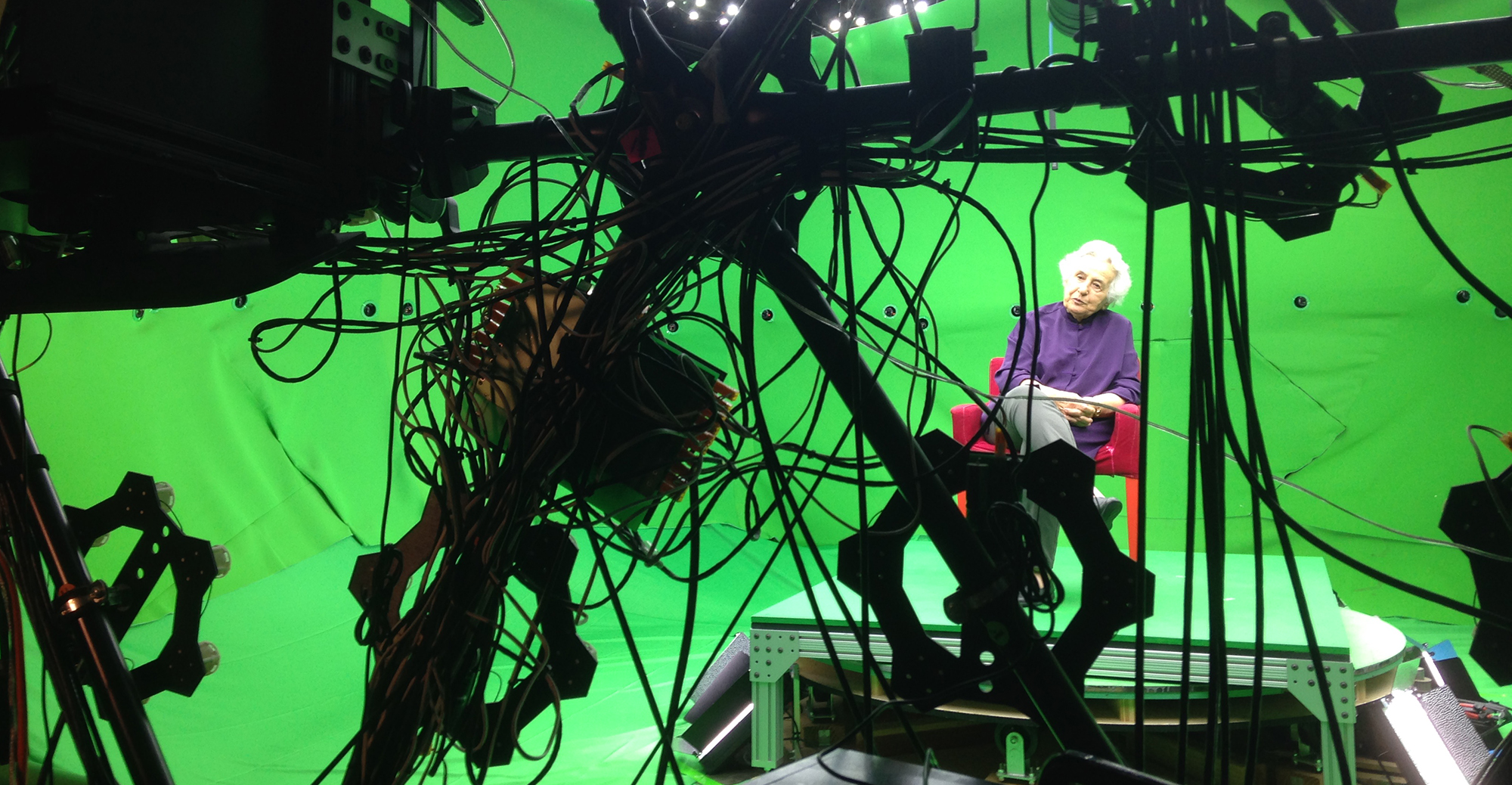 New Dimensions in Testimony, USC Shoah Foundation's project with Conscience Display to record three-dimensional, interactive testimonies of Holocaust survivors, is set to expand in a big way.
Auschwitz survivor and renowned musician Anita Lasker Wallfisch has become the second survivor to complete the New Dimensions filming process that was first piloted by Holocaust survivor Pinchas Gutter in 2012. Anita gave her original testimony to USC Shoah Foundation's Visual History Archive in 1998.
Anita spent Sept. 21-25, for six hours each day, sitting on USC Institute for Creative Technologies' cutting-edge 3D capture stage surrounded by high-definition cameras and LED lights. While these cameras recorded her, USC Shoah Foundation Executive Director Stephen Smith interviewed her about her life before, during and after the Holocaust – about 1,250 questions total. This five-day interview will result in a 3D display of Anita with natural-language technology that will allow audiences to ask her questions and hear answers in real time.
In Anita's interview, viewers will find a much different story of survival than Pinchas Gutter's. Anita was a devoted cello student from a young age but was conscripted to work in a paper factory after Kristallnacht. She was arrested for participating in acts of resistance at the factory and sent to Auschwitz. There, she was selected to play in the camp orchestra, which saved her life. She was eventually liberated from Bergen-Belsen and immigrated to England, where she became a professional musician.
About a dozen more survivors are currently in talks to be filmed for New Dimensions. Filming will take place over the next six months. Ultimately, the interviews will join Pinchas Gutter's in the New Dimensions collection, which will be installed in Holocaust museums across the country.
Hundreds of students and museum-goers at the Illinois Holocaust Museum & Education Center have already attended demonstrations of the New Dimensions pilot. They report that "meeting" and talking to Pinchas Gutter through New Dimensions is an engrossing, powerful experience. Docents have also noticed that students seem more comfortable asking "virtual Pinchas" sensitive questions that they would be hesitant to ask a survivor in person. 
Funding for New Dimensions in Testimony was provided in part by Pears Foundation and Louis F. Smith.
Like this article? Get our e-newsletter.
Be the first to learn about new articles and personal stories like the one you've just read.