Behind the Music: "Forbidden Songs" in Warsaw
Fri, 10/02/2015 - 5:00pm
This series will introduce the scholars and musicians who will participate in USC Shoah Foundation Center for Advanced Genocide Research's international workshop Singing in the Lion's Mouth: Music as Resistance to Genocide, Oct. 10-11, 2015. The event will include two days of programming that highlight the use of music as a tool to resist oppression and spread awareness, including film screenings, and academic symposium and a concert.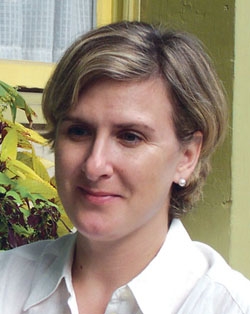 One of Poland's most beloved films is Zakanaze piosenki (Forbidden Songs), a 1947 documentary about the patriotic, defiant street songs that sustained the inhabitants of Warsaw during the Nazi occupation of the city. According to Swarthmore College music professor Barbara Milewski, it is a unique example of music uniting both Jews and gentiles in the immediate post-war period that would soon become very difficult to find anywhere else.
Forbidden Songs was written by songwriter and screenwriter Ludwik Starski, himself a Jew who had survived the war in hiding on the Aryan side of Warsaw. Milewski said this perspective makes the film a window into Jewish wartime survival in Warsaw. Yet, when it initially premiered, it became a source of pride for Jews and Poles alike.
Milewski said this kind of unified narrative among Jews and non-Jews disintigrated in the post-war period as communist leaders consolidated power, and the histories of Polish versus Jewish suffering became mutually exclusive. The film stands alone as a rare demonstration of the unity that had briefly existed in Warsaw.
"It was a symbol of Polish strength and Jewish resistance there, and that has to be squared away," Milewski said. "We have to talk about it."
Milewski's presentation "Forbidden Songs and an Overlooked Narrative of Polish Jewish Experience in Occupied Warsaw" will offer a new perspective on how music became a form of resistance during and immediately after World War II.
"Music was an incredibly potent force not just for Jews and prisoners of concentration camps, but for all those trapped in an occupied country experiencing their own trauma and terror," Milewski said.
At conferences with film screenings and music, like the Music as Resistance to Genocide conference, the environment tends to be very welcoming and spark stimulating discussion, Milewski said. 
"[The conference will] bring together scholars of disparate fields and research interests and helps us have a conversation that doesn't naturally happen around the Holocaust," she said.
Like this article? Get our e-newsletter.
Be the first to learn about new articles and personal stories like the one you've just read.