Stephen Smith Installed as Andrew J. and Erna Finci Viterbi USC Shoah Foundation Executive Director Chair
Thu, 11/05/2015 - 5:00pm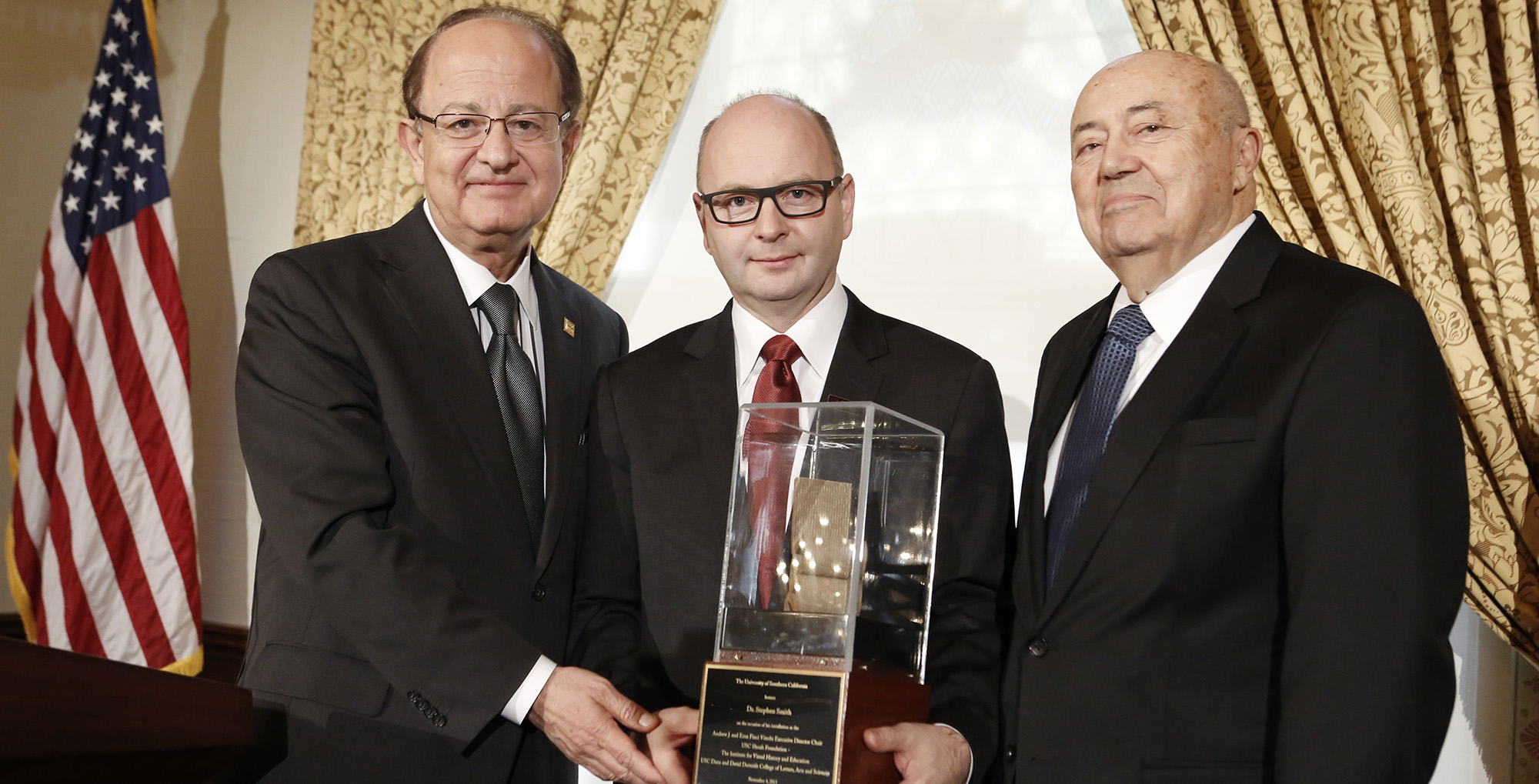 USC President C. L. Max Nikias praised USC Shoah Foundation Executive Director Stephen Smith for his dedication to preserving memory of the past through testimony during a Nov. 4 ceremony to officially install Smith as the inaugural holder of the Andrew J. and Erna Finci Viterbi USC Shoah Foundation Executive Director Chair.
The chair was established in 2014 through a $5 million gift to USC Shoah Foundation from the Viterbis.
Nikias said Smith is poised to take USC Shoah Foundation "soaring" into the future. Testimony can be a mighty tool to change how people around the world perceive genocide, and through his leadership of USC Shoah Foundation, Smith is leading the way, he said.
"We need only look to the Viterbis to understand this one simple truth: The past may always be present, but the future is ours to change," Nikias said. "Stephen Smith is a champion of this vision. He has seen how eyewitness testimony can change the world, one voice at a time."
Erna Finci Viterbi, a Sephardic Jew, was born in Sarajevo but fled what was then Yugoslavia with her family during World War II. They were deported to the Parma region of Italy and interned in the village Gramignazzo di Sissa, but were saved from deportation to the extermination camps by the townspeople. Erna and her family escaped to Switzerland for the rest of the war. In 1950, they moved to California.
In 1958, Erna married Andrew Viterbi, a communications theory and electrical engineering scholar whose family left Italy to escape the Nazis in 1939. Dr. Viterbi helped invent several key components of modern digital communications technology and cofounded the tech companies Linkabit and Qualcomm.
Together, the Viterbis have devoted much of their lives to philanthropy, supporting many causes including education, the arts, Jewish organizations, technology and science research. Erna served on USC Shoah Foundation's Board of Councilors, and the couple named the USC Andrew and Erna Viterbi School of Engineering with a $52 million gift in 2004. Erna passed away Feb. 17, 2015.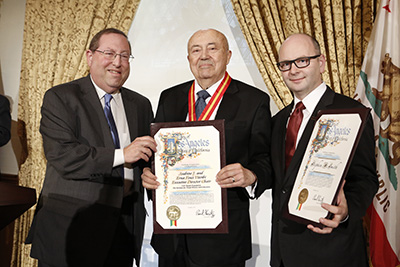 In his remarks, Smith spoke about the importance of remembering history and learning from it.
"My role as the inaugural chair is to rethink how we understand the hideous past of genocide through the digital humanities," Smith said. "We do fanatically preserve the interviews, and that is because we want to share it with all the people of the world. This willingness to confront the past and the future together – no other institute can do that the way USC Shoah Foundation does – faces the challenge of catastrophic human behavior and its dire consequences as a pathway to avoid their recurrence."
USC Dornsife Dean Steve Kay said USC's commitment to understanding the most daunting problems of the world would not be possible without supporters like the Viterbis.
"For those of us who have interacted with Andrew and Erna over the years, we've all seen this incredible commitment to USC, to the Shoah Foundation and to our mission to make the world a much better place. Without that kind of support and commitment from people like this, we can't move our mission forward," Kay said.
Andrew Viterbi also spoke briefly about Erna's dedication and passion for USC Shoah Foundation. After her family's experiences during the Holocaust, and subsequent genocides like the Rwandan Tutsi Genocide, she made it her mission to do everything she could to prevent such evils from occurring again, he said. He also explained that she had specifically requested that her maiden name, Finci, be part of the title of the USC Shoah Foundation Executive Director Chair because she wanted to honor her family and its history, of which she was very proud.
The ceremony concluded with Los Angeles City Councilmember Paul Koretz presenting certificates of appreciation from the city of Los Angeles to Smith and Viterbi for their contributions to society. Nikias then presented Viterbi with two Presidential Medallions, USC's highest honor, one for him and one for Erna.
Photo credit: USC Photo/Steve Cohn
Like this article? Get our e-newsletter.
Be the first to learn about new articles and personal stories like the one you've just read.