Jan Karski Documentary to Screen in Los Angeles and New York
Wed, 11/11/2015 - 5:00pm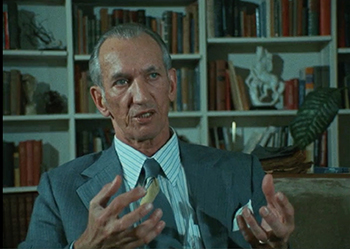 The man who carried out one of the most extraordinary missions of World War II is the subject of a new documentary that will screen at select theaters in Los Angeles and New York City throughout November.
Karski & the Lords of Humanity will play the Laemmle Theater Playhouse 7 in Pasadena, Calif., Nov. 13-19, with Q&A with director Slawomir Grunberg on Nov. 13 and 14. The film will also play Nov. 24 at JCC Manhattan, followed by a Q&A with Grunberg and co-writer E. Thomas Wood, and Nov. 27-Dec. 3 at Cinema Village in New York City. Grunberg will give a Q&A Nov. 27-29.
Karski, a junior diplomat, was working in the Polish Ministry of Foreign Affairs when World War II began in 1939. He escaped a transfer to a Soviet POW camp and joined the Polish resistance movement, where he organized courier missions between the resistance and the Polish government-in-exile and made secret trips to Britain, France and Poland. He was tasked with informing Polish politicians about the Nazi atrocities in occupied Poland, so Jewish underground leaders smuggled him into the Warsaw Ghetto.
In the ghetto and the Izbica transit camp, Karski witnessed starvation, murder and the transfer of Jews to death camps, and he wrote detailed reports about everything he saw. He met with leaders all over the world, including Winston Churchill and President Roosevelt, as well as civic leaders, journalists and members of the film industry, to tell them about the Nazis' attempt to exterminate all European Jews, which was by now fully underway. He also published the book Courier from Poland: The Story of a Secret State in 1944.
Though his efforts did not ultimately halt or prevent the Holocaust, Karski did have a tremendous impact on the world's perception of the fate of the Jews of Europe, and he forced Allied leaders to confront the horrors for the first time. Yad Vashem named him Righteous Among the Nations in 1982, and President Obama posthumously presented him the Presidential Medal of Freedom in 2012.
Karski recorded his testimony for USC Shoah Foundation in 1995. His interviewer was prominent Holocaust survivor Renee Firestone.
Karski & the Lords of Humanity tells Karski's story though archival interviews with Karski himself, commentary from modern-day scholars as well as animated segments that recreate Karski's World War II mission. The film premiered in Poland in spring 2015 and has also been screened in Israel.
Photos courtesy http://logtv.com/films/jankarski/?page_id=176 
Like this article? Get our e-newsletter.
Be the first to learn about new articles and personal stories like the one you've just read.