Eva Schloss Records Interview for New Dimensions in Testimony
Mon, 01/04/2016 - 5:00pm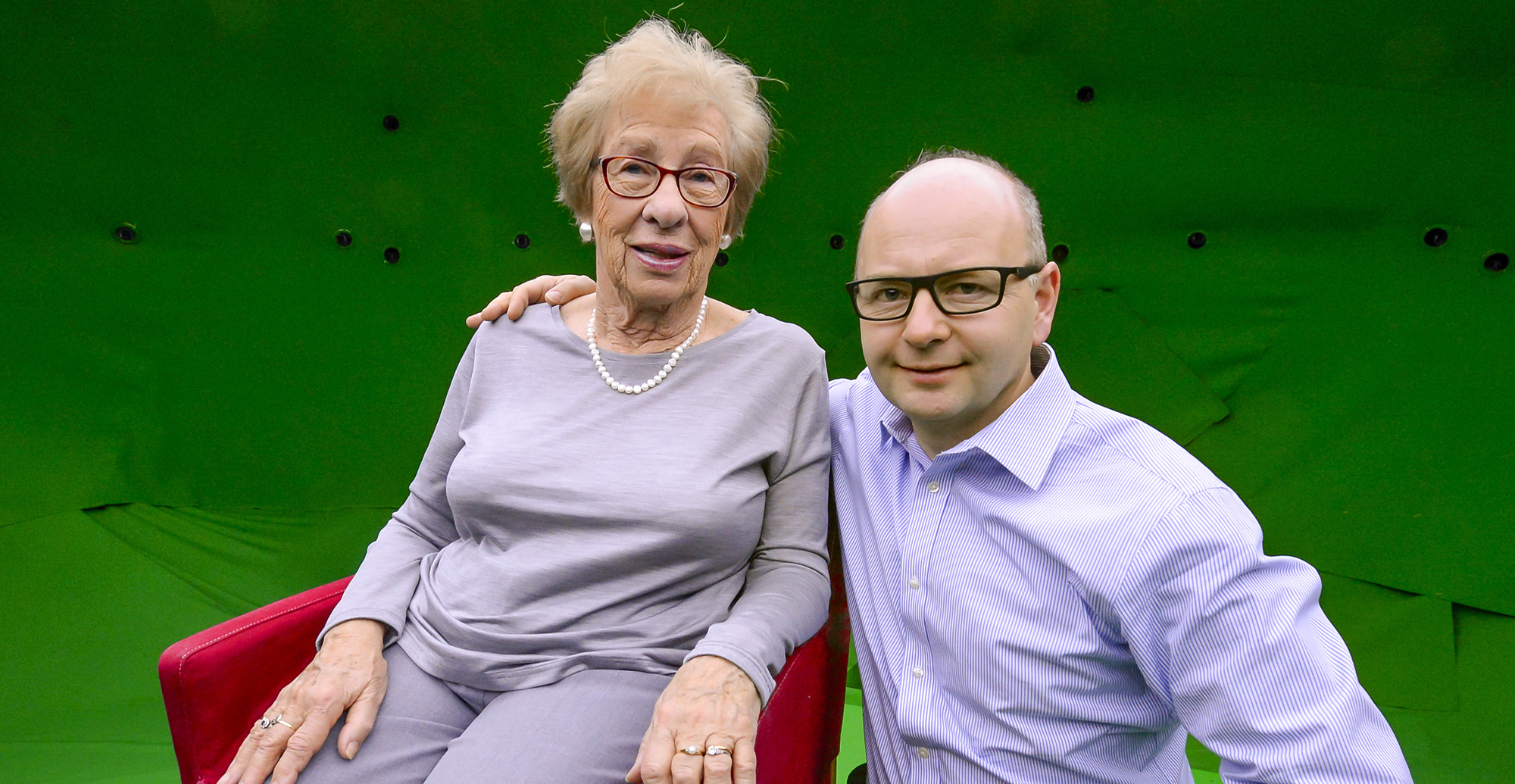 The last Holocaust survivor to record an interview for USC Shoah Foundation's New Dimensions in Testimony program in 2015 was Eva Schloss, survivor of Auschwitz-Birkenau and Anne Frank's stepsister.
Eva traveled from England to Los Angeles to spend December 14-18, 2015, answering over 1,000 questions about her life before, during and after the Holocaust on the USC Institute for Creative Technology's 3D-capture stage. Voice-recognition technology will allow students and museum visitors in the near future to have a conversation with Eva's 3D virtual likeness about her experiences as a Holocaust survivor and her messages for future generations.
USC Shoah Foundation Executive Director Stephen Smith was Eva's interviewer. Eva joins other survivors including Renee Firestone, Pinchas Gutter and Anita Lasker-Wallfisch who have recorded New Dimensions in Testimony interviews. All previously recorded their testimonies for USC Shoah Foundation's Visual History Archive in the 1990s.
Eva was born in Vienna, Austria, in 1929. After Hitler came to power, Eva's family decided to leave Austria – her father went to the Netherlands while Eva, her brother Heinz and mother went over the border illegally to Belgium. In 1940, they finally got visas to the Netherlands, where they joined Eva's father.
There, Eva met another girl named Anne Frank, and they became friends, though they were not very close as Anne was a few years older than Eva. As restrictions for Jews in the Netherlands got worse and thousands were rounded up, Eva and her family went into hiding, moving to half a dozen different places. In 1944 they were betrayed, arrested and sent to Westerbork concentration camp. From there, they were sent to Auschwitz, where Dr. Josef Mengele selected Eva for work.
After doing hard physical labor, Eva was chosen to work in Birkenau's "Kanada" warehouse, sorting personal items that had been taken from Jews entering the camp. She asked if her mother could come along too and, surprisingly, the guards allowed it. She and her mother were liberated by the Soviet Army but Heinz and her father did not survive.
Eva and her mother eventually returned to Amsterdam, where they reconnected with Otto Frank, Anne's father. He and Eva's mother got married and Eva was very fond of him. Eva met and married her husband Zvi Schloss, had two children, and settled in London. Later in life, Eva became involved with Anne Frank exhibits and began speaking about her experiences. She also wrote two books.
Like this article? Get our e-newsletter.
Be the first to learn about new articles and personal stories like the one you've just read.