Holocaust Geographies Collaborative Embarks on New Research with Testimony
Wed, 01/13/2016 - 5:00pm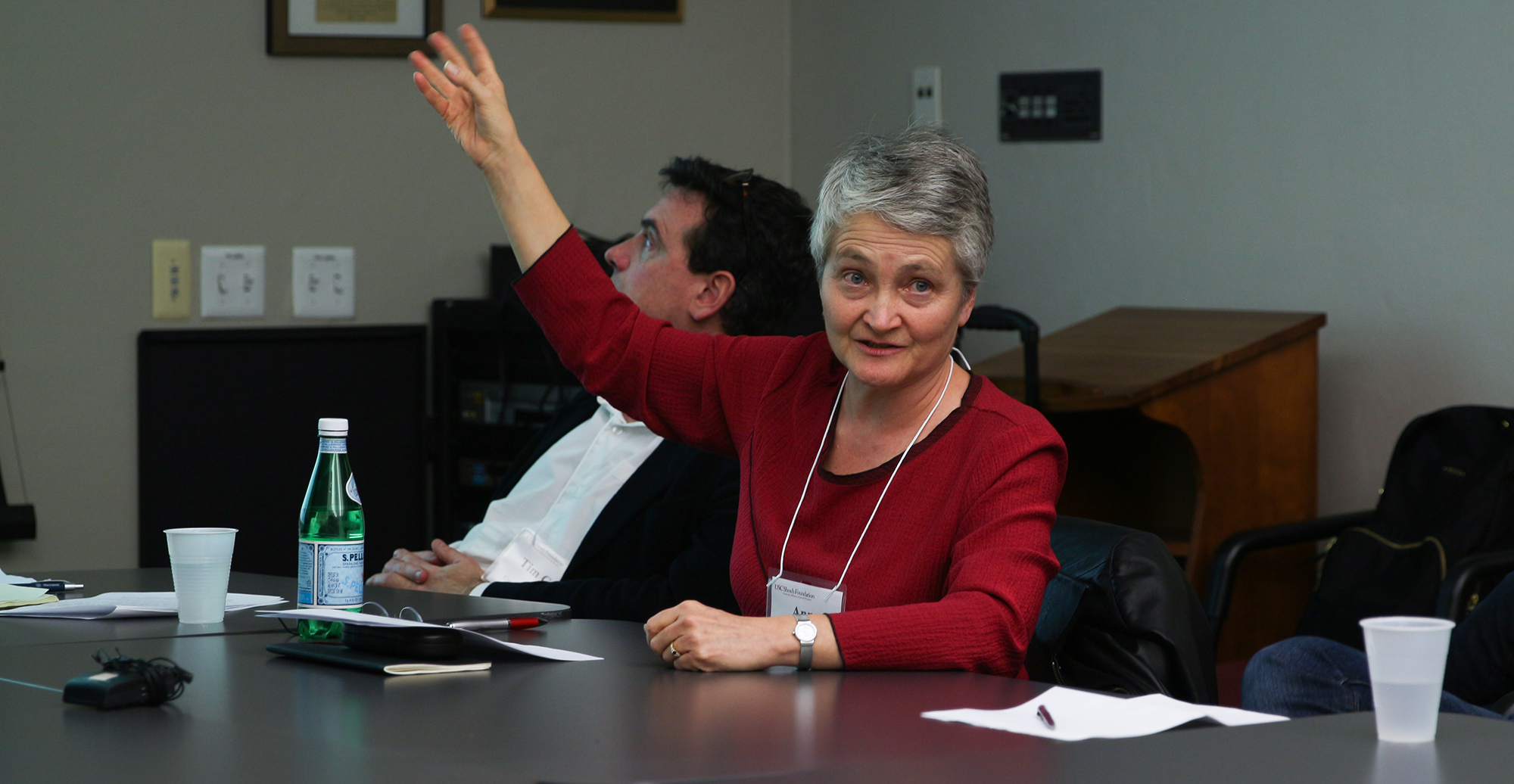 The multidisciplinary Holocaust Geographies Collaborative research group returned to USC Shoah Foundation and shared their plans for an exciting new project harnessing the power of testimony that will begin this summer.
Tim Cole (Bristol University), Alberto Giordano (Texas State University), Paul Jaskot (DePaul University), and Anne Knowles (University of Maine) presented their new research ideas at a public talk on January 12, during a week-long visit to USC Shoah Foundation's Center for Advanced Genocide Research.
The four scholars are part of a group of geographers and historians called the Holocaust Geographies Collaborative that has worked together since 2007, producing work analyzing the places and spaces of the Holocaust. Their pioneering book Geographies of the Holocaust was published in 2014. It features case studies from across Europe, including Italy and Hungary, and offers mapping of arrests, deportations, concentration camps and an architectural study of Auschwitz.
In the two years since the group's first visit to USC Shoah Foundation, in addition to their work together, they have all conducted their own research using the Visual History Archive, including Cole's book Holocaust Landscapes, Jaskot's Meyerhoff Lecture at USHMM, Knowles's article in the journal GeoHumanities, and Giordano's in-depth study of 41 testimonies that mention Fossoli, a concentration camp in Italy.
In their talk, Cole, Giordano, Jaskot, and Knowles described the new research interests and goals that they have honed during their visit to USC Shoah Foundation's Center for Advanced Genocide Research from Jan. 8-14. At the core of their research questions is the desire to foreground the experiences and voices of Holocaust survivors. Their previous work mostly focused on the places and spaces built and controlled by the perpetrators – not the victims' and survivors' personal experiences in and around these locations.
"The victims [of the Holocaust] were very difficult to see in our GIS [geographic information systems] maps," Knowles said.
The group realized that conventional mapping techniques cannot sufficiently represent people or their experiences, so they turned to the Visual History Archive and its 52,000 testimonies of Holocaust survivors.
They have decided to use the archive to experiment with a methodology called Corpus Linguistics, in which scholars use automated systems to search large amounts of text, looking for patterns. Ideally, the group will use transcripts of testimonies – this would enable them to look for details that may not be searchable using the Visual History Archive's existing indexing system, and also to efficiently work with thousands of hours of testimony.
Using Corpus Linguistics, the researchers will search for patterns that could give them new insights into such topics as: how and where people moved during the Holocaust, how their social groups changed over time, experiences with food, labor and sharing, use of the phrase "didn't know," and spatial terms such as "ahead," "near," "with," and more.
They also want to identify patterns in the testimonies themselves: how interviewers influence how the interviewees tell their stories, when and for how long an interviewee talks about certain events, for example, or how frequently a person, event, or keyword shows up in multiple testimonies.
It is very important to the group that they "scale up" their study, analyzing hundreds or thousands of testimonies, as well as exploring the nuances of individual stories. This is how they hope to be able to make groundbreaking discoveries about common experiences among survivors in relation to continental, regional, and urban-scale GIS databases.
"It's bound to show patterns we haven't known before, just because we haven't been able to see them," Knowles said.
The group plans to learn Corpus Linguistics methods at Lancaster University in the UK this summer and then analyze about 50 transcripts of testimonies as well as the index of the Visual History Archive. It is just the beginning of what will likely be several years of experimentation, research, and assembling results.
Like this article? Get our e-newsletter.
Be the first to learn about new articles and personal stories like the one you've just read.