Polish Educators Present Testimony-Based Lessons at Teaching with Testimony Follow-Up
Fri, 03/04/2016 - 5:00pm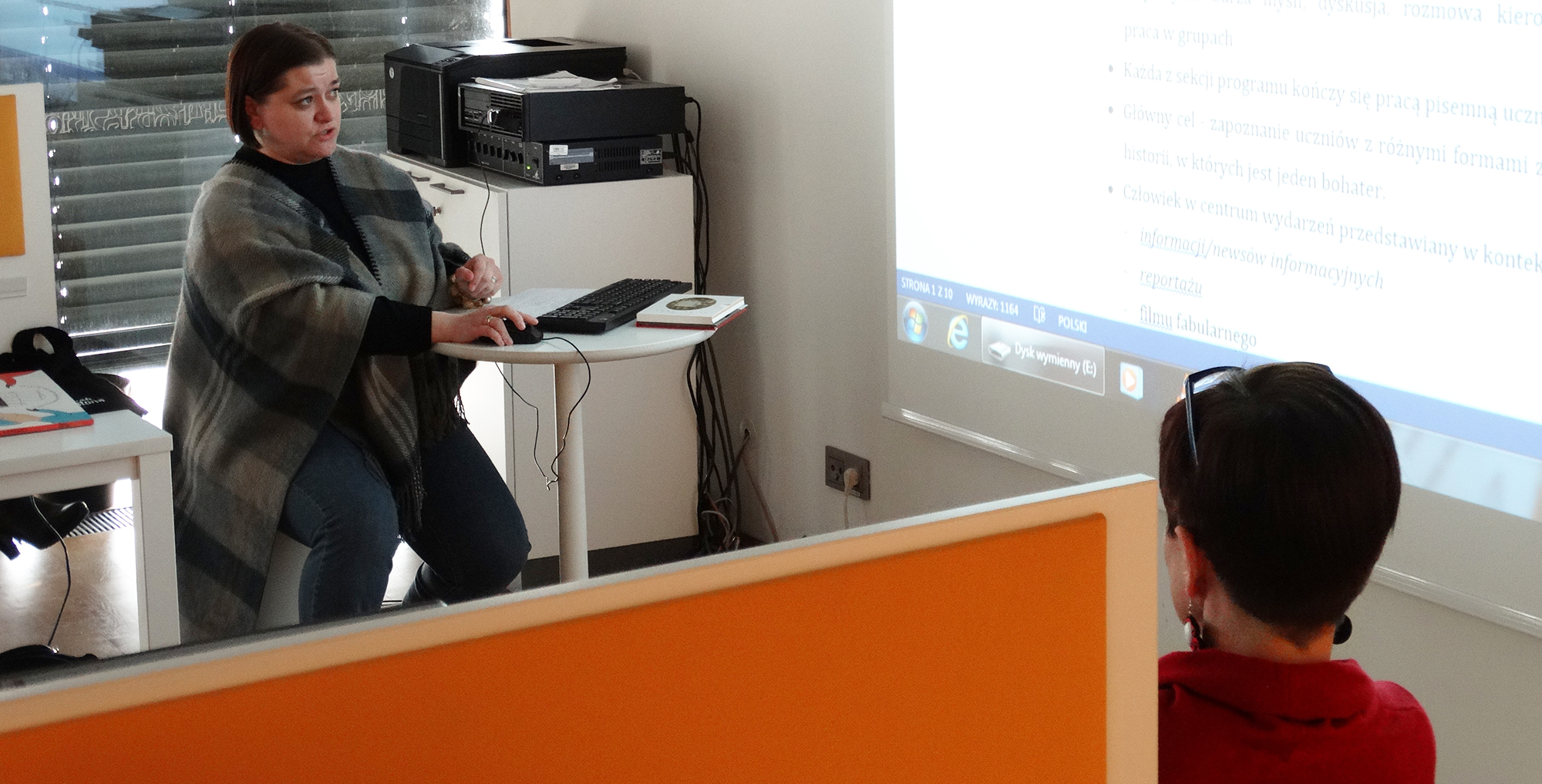 Eleven new lesson plans and long term educational projects were developed during the fourth Polish edition of the Teaching with Testimony program.
The 2015 cohort returned for their follow up session at the POLIN Museum of the History of Polish Jews in Warsaw on February 27, seven months after they initially learned the methodology of teaching with testimony. Since July, they have been developing and piloting their own testimony-based lessons and educational projects. At the follow-up session on February 27, they presented their work to each other and gave feedback. Some of their projects included the following:
Paweł, a history teacher at a secondary vocational school in Mielec, decided to introduce to his students to the Jewish history of the city they live in. Different group of students, depending on their future profession, got familiar with different aspects of Jewish life before the war and the history of suffering of Jewish citizens of Mielec during the Holocaust.
Janusz, a history teacher at a high school in Gdansk, prepared a long term educational project dedicated to the history of the former citizens of his city, which almost the whole school took part in. Students had a chance to get to know some real citizens of Gdańsk via their testimonies in the Visual History Archive. They learned that heterogeneity of their society has a great value to their lives and the development of their city.
Bożenna, a teacher of Polish from a high school in Gdańsk, decided to conduct a series of lessons based on the testimony of a very famous Polish scientist and Polish literature expert, Prof. Michał Głowiński. His testimony proved to be a very good start for discussion and consideration about the meaning of our physical existence and the meaning of memory in human life. 
Agnieszka, a middle school teacher from Pisz, decided to try to reconstruct the history of the Jewish minority that was living in her city before the war. Based on the testimonies and archival research that she conducted with her students, they discovered the place where the synagogue was situated and where the matzevas (tombstones in Jewish cemeteries) that were destroyed during the war were stored.  Now they are planning together with the city council to commemorate the places that were very important to their former Jewish citizens.
The teachers who attended this seminar will continue working on their projects through June 2016.
"They are very aware of the fact that work they are doing now will be very useful for other Polish teachers who are struggling with growing xenophobia and racism of their students," said USC Shoah Foundation Polish regional consultant Monika Koszyńska.
Like this article? Get our e-newsletter.
Be the first to learn about new articles and personal stories like the one you've just read.