Teaching Fellow Leads Conference on Survivors Who Give Multiple Testimonies
Tue, 04/05/2016 - 5:00pm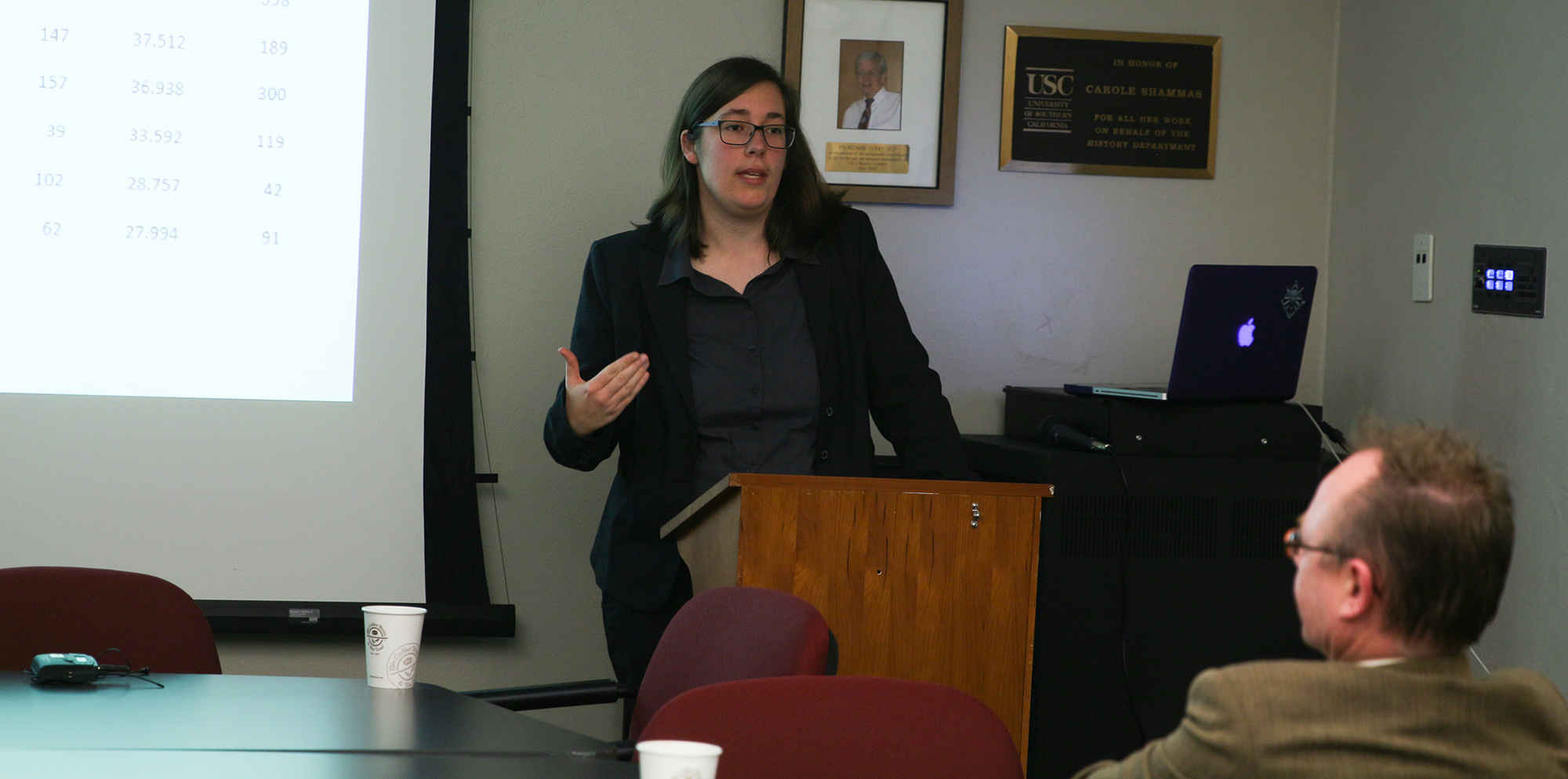 For many survivors, their testimony in the Visual History Archive is the only time they ever spoke publicly about their experiences during genocide. But for others, it wasn't the first time they would share their story – or the last.
The practice of some Holocaust survivors sharing their stories many times throughout their lives was the focus of the international conference "Bearing Witness More than Once: How Media Institutions, Media and Time Shape Shoah Survivors' Testimonies" at Humboldt University in Berlin, March 16-14.
The conference was organized by USC Shoah Foundation Teaching Fellow Alina Bothe. Bothe gave a lecture at USC Shoah Foundation Center for Advanced Genocide Research March 1 about her doctoral research on the Institute's YouTube channel and how the public perceives different testimonies.
"Bearing Witness More than Once" aimed to explore what scholars could learn from Holocaust survivors who gave their testimonies multiple times, specifically Anita Lasker-Wallfisch, Yehuda Bacon and Jolly Zeleny. It was attended by scholars including Jeffrey Shandler, Oren Baruch Stier and Henry Greenspan.
 Bothe said the point of the conference was not to compare the survivors' testimonies or nitpick inconsistencies in their multiple retellings, but to think about how time, media, memory and politics shape a survivor's narrative. The scholars also debated the ethics of certain survivors having the platform to share their stories many times while others do not.
"You learn a lot about testimony when you look at multiple testimonies [of the same survivor]," Bothe said.
"You learn a lot about testimony when you look at multiple testimonies of the same survivor."
Bothe said the panel on Anita Lasker-Wallfisch was particularly fascinating. Anita gave her first testimony to the German BBC just five days after the liberation of Auschwitz. She spoke eloquently for three minutes about the crematoria, the experiments, and her fear that no one would believe what happened. Yet, although Bothe said it's clear how poised and coherent she is, Anita later dismissed the interview as crazy, harsh and shrill.
Another survivor once requested that an old interview he gave be taken down because it was "not his story any longer."
Bothe said the takeaway for the scholars was to respect survivors' agency and understand that their perceptions of their own stories change over time.
The conference also included a lot of discussion about how ethical it is that some survivors, like Anita, are asked over and over again to share their stories, for books, films, archives, etc., while others are only asked once or not at all. Bothe said the "professional survivors" who have devoted much of their lives to speaking publicly often come from more privileged milieu than those who never speak. Scholars might be advised to keep this in mind when they decide which testimonies to include in their research.
While the conference seemed to raise more questions than it answered, Bothe said it was an excellent introduction to the topic of multiple testimonies.
"This field is very new," Bothe said. "The conference was opening up a discussion about these issues."
Like this article? Get our e-newsletter.
Be the first to learn about new articles and personal stories like the one you've just read.