Detroit and the Power of Testimony
Tue, 04/12/2016 - 5:00pm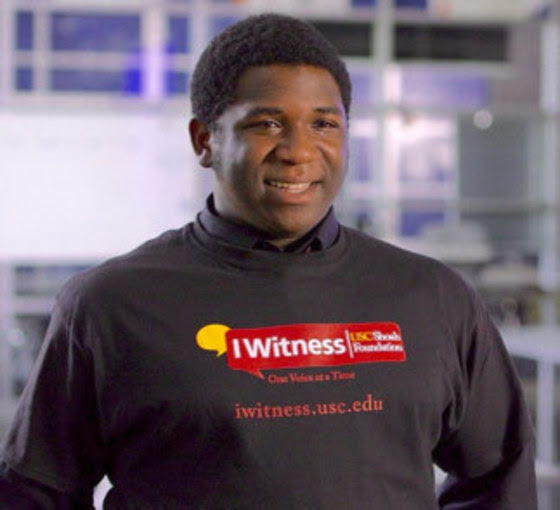 Brandon Bartley
My name is Brandon Bartley and I'm a 17-year-old senior at Winston Churchill High School in Michigan. I want to tell you about my experience watching survivor testimony from USC Shoah Foundation's
Visual History Archive
for the first time and how it changed my life.
Last summer, I attended an IWitness workshop for Detroit students at Henry Ford Academy, where we learned about the connection between Holocaust survivor testimony and the civil rights movement in America. I was inspired by Holocaust survivors' strength in the face of adversity.
When everything looked lost, ordinary people were able to get through the most horrifying of situations.
At school, I see students that are made fun of for talking to people of different races. At home, I watch the news and see police brutality against African Americans. These injustices left me with a darker outlook on life and the feeling that the world was against me. Watching testimony forced me to look at my problems in a different light.
I was particularly inspired by a story Holocaust survivor Kurt Messerschmidt told. When he was a teenager in Germany, two Nazi policemen forced an elderly Jewish shop owner to pick up broken glass pieces on the ground in front of a crowd of people. Kurt said, "some of the people standing there watching disapproved of what the Nazis did…but their disapproval was only silence, and silence is what did the harm."
I now understand that our actions do speak louder than our words. We can either make the world peaceful and accepting – or ruled by bigotry and hate. It's in our hands.
By making a donation to USC Shoah Foundation today, you can expand the reach of testimony and help teach more students like me how to connect the lessons of the past to the present.
I know from experience that your gift really does help students directly. As a new member of the Institute's Junior Intern Program, I have been blown away to discover that USC Shoah Foundation is not only working in Detroit, but also Rwanda, Hungary, Poland, Czech Republic, Australia, France, Ukraine and across the U.S.
Less than a year ago, I had never watched survivor testimony and now I'm on the team! I'm proof that together we can change the world through testimony.
Sincerely,
Brandon Bartley
Winston Churchill High School, Livonia, Mich.
Like this article? Get our e-newsletter.
Be the first to learn about new articles and personal stories like the one you've just read.