Staff Begin Indexing New Guatemalan Testimonies
Tue, 04/26/2016 - 5:00pm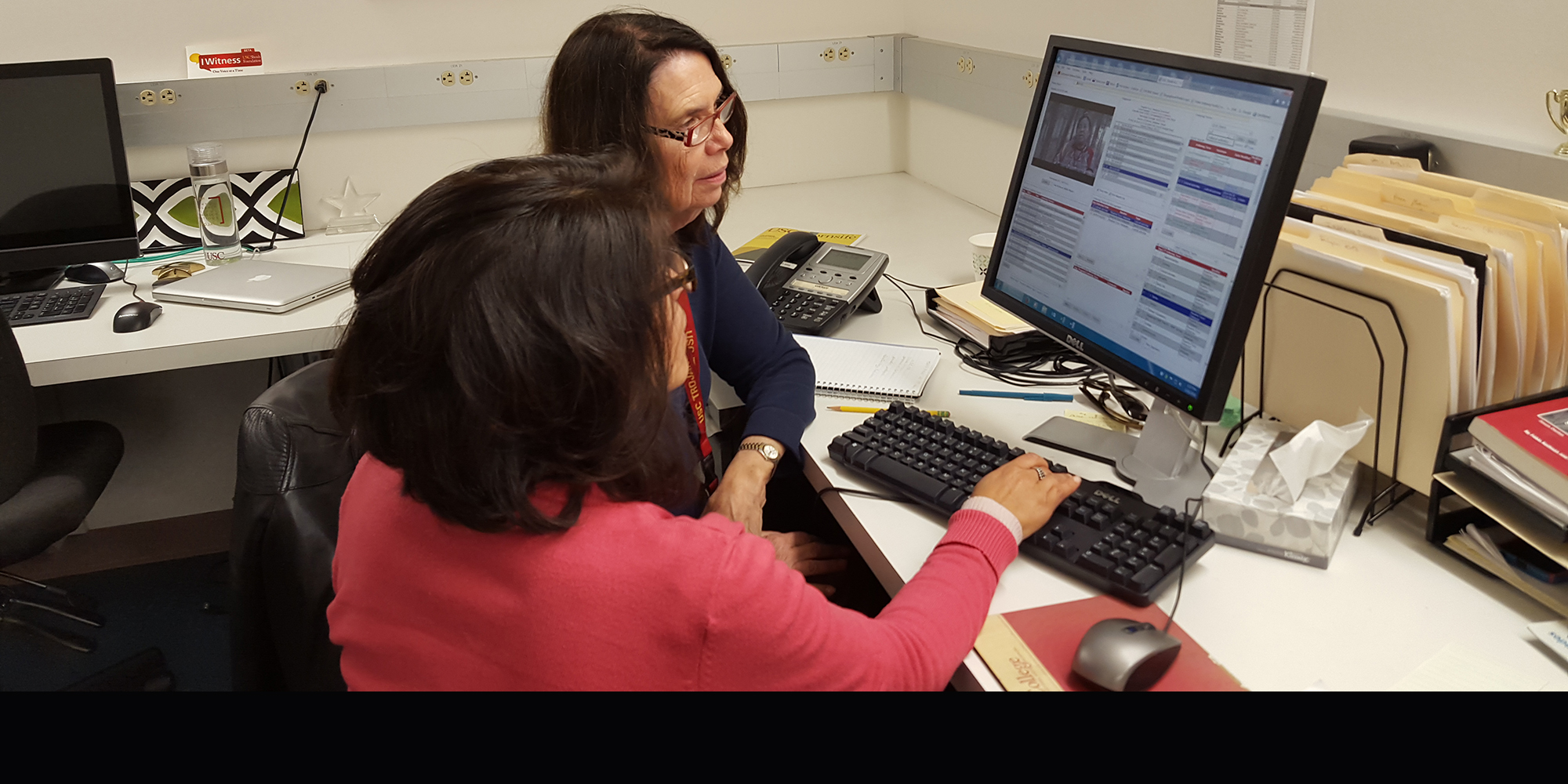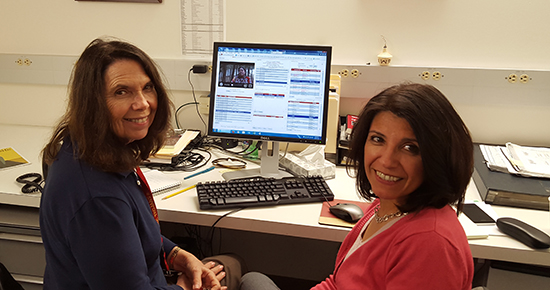 Ita Gordon, left and Sandra Gruner-Domic index Guatemalan testimonies
As the Institute's partner Fundacion de Antropologia Forense de Guatemala (FAFG) records testimonies of survivors of the genocide in Guatemala, it has begun sending the first few testimony videos back to USC Shoah Foundation in Los Angeles, where staff are beginning to index them – the first step toward their eventual integration into the Visual History Archive and IWitness.
Indexing is the Institute's unique method of assigning keywords to each minute of a testimony so that every testimony is fully searchable in the Visual History Archive. The Visual History Archive has a thesaurus of over 63,000 keywords and 1.8 million names.
Director of Collections Karen Jungblut, Visual History Archive Curator Crispin Brooks, Consultant Ita Gordon, and Guatemalan Collection research expert Sandra Gruner-Domic first met as a group to determine the indexing methodology for the Guatemalan collection. They have identified 10 testimonies that will be indexed first.
These testimonies were chosen deliberately. The team wanted to cover a range of experiences that survivors will discuss throughout the collection, including rural, political, religious, female, male, etc., to get the best sense of the collection as a whole. All the testimonies are in Spanish.
Gordon and Gruner-Domic have worked together to index four testimonies so far, with Gruner-Domic on board to index most of the Guatemalan testimonies herself. Gordon, as a 20-year veteran of USC Shoah Foundation and its indexing system, is helping Gruner-Domic learn the indexing software and methodology.
The first testimony they indexed was from Rosalina Tuyuc, who founded the National Association of Guatemalan Widows (CONAVIGUA) in the late 1980s, which is now a leading Guatemalan human rights organization.
Gordon and Gruner-Domic said the first few testimonies are teaching them which experiences seem to characterize the Guatemalan Genocide collection, and how they should best be worded and defined. The more testimonies they watch, the more the terminology of the collection grows and evolves.
"This is how the hierarchy of indexing terms becomes richer," Gordon said.
The new testimonies focus on certain subject areas in a more sustained and different way than in other collections. Some existing terms can be used as-is, some will need to be modified, and other brand-new terms will need to be created. Gordon and Gruner-Domic are drawing from existing scholarly literature, USC Shoah Foundation's own vocabulary and the interviewees themselves to create new terminology.
The new and modified terms reflect the Guatemalan survivors' way of life, in which women were often told to stay home and work instead of going to school, and their willingness to talk openly about sexual assault. In the archive's other collections – Holocaust, Rwandan, Armenian and Nanjing –survivors have spoken about these topics differently, or not at all, which means the keywords need to be updated to accurately reflect the Guatemalan experience.
Issues of property ownership, agrarian lifestyles and rural conflicts are also coming up a lot in the Guatemalan testimonies, Gordon and Gruner-Domic said. The survivors describe how the government promised people land, forced them to leave their homes, and then never gave them the land they had promised. Gordon and Gruner-Domic are also noticing that many survivors, as the genocide progressed, were forced northward through the country.
One testimony, Juliana Tun Xalin, made an especially big impression, Gruner-Domic said.
"She was hiding in the forest for 14 years, and this just blew me away," Gruner-Domic said. "How can you live that way for 14 years?"
Gordon and Gruner-Domic make a good team, they said. They both grew up in South America, and Gordon is an expert on indexing while Gruner-Domic is an expert on Guatemala.
"What we are learning is that two heads are better than one," Gordon said.
Once the testimonies are indexed, education staff will begin using them to develop resources for teaching and learning about the Guatemalan Genocide in IWitness.
Like this article? Get our e-newsletter.
Be the first to learn about new articles and personal stories like the one you've just read.