Alexander Korb Chosen for 2016-2017 Center for Advanced Genocide Research Fellowship
Fri, 05/06/2016 - 5:00pm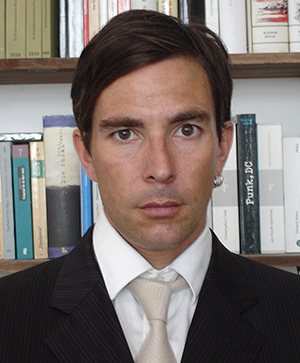 The 2016-2017 Center Fellow at USC Shoah Foundation Center for Advanced Genocide Research will be Alexander Korb, Ph.D., director of the Stanley Burton Centre for Holocaust & Genocide Studies at the University of Leicester and scholar of the Holocaust in southeastern Europe.
Korb will be in residence at USC Shoah Foundation in Los Angeles in spring and summer 2017 and will give a public lecture about his research during his stay.
Korb received his Ph.D. in history from Humboldt University in Berlin and since 2010 has been a lecturer in modern European history at the University of Leicester, UK. He has received research fellowships from Yad Vashem, Simon Wiesenthal Institute in Vienna and Imre Kertesz Kolleg Jena and has been published in a variety of peer-reviewed books and journals.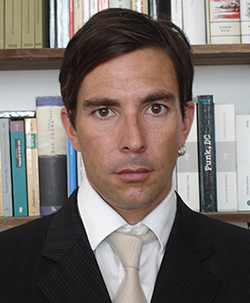 During his fellowship at USC Shoah Foundation, Korb will conduct research for his upcoming book project A Multitude of Lethal Attacks: Collaboration and Mass Violence in Southeastern Europe, 1940-1946. The book will focus on the intersection between violent policies originating from the state and from local authorities, the transfer and flow of ideas, people and perceptions between states, and when and how mass violence ends. Korb will focus on southern and Eastern Europe, including Croatia, Serbia and Greece.
"There were cases of ethnic cleansing and cases of civil war during the Second World War in eastern Europe of which the Holocaust formed a part," Korb said. "In our book we want to explore how the Holocaust intertwined with other cases of mass violence."
Korb hopes that the Visual History Archive will help him get a better sense of the victims' perspectives, both Jews and non-Jews. While historical records provide accounts of violence from the point of view of the perpetrators, it can be difficult for historians to understand what was happening from the viewpoint of those who were persecuted without resources like the Visual History Archive.
"It is much more complicated to create a clear narrative of victim perspectives because they differ so much from region to region and town to town, or whether you were Jewish or Serb or Roma," he said. "So it will be complicated but very interesting to capture a narrative of victim perspectives on the persecution."
After meeting Center director Wolf Gruner years ago in the beginning of his academic career, Korb is looking forward to reuniting and collaborating with him and the rest of the staff at USC Shoah Foundation during his fellowship. He's especially interested in mining the staff's diverse academic backgrounds to gain insight into genocide studies as a whole.
"I'm sure I will be able to learn from the Center methodologically how to integrate the Holocaust into a larger picture, which is sometimes quite contested," Korb said. "My feeling is that the Center is very experienced in not only comparing the Holocaust to other cases but also to make meaningful comparisons of how the Holocaust is intertwined with other cases of violence." 
Like this article? Get our e-newsletter.
Be the first to learn about new articles and personal stories like the one you've just read.