"Peace Week" Marks Official End of Rwanda Peace Education Program
Tue, 06/21/2016 - 5:00pm
The Rwanda Peace Education Program will showcase testimony for a final time this week as part of "Peace Week," a series of events to commemorate the conclusion of the four-year program.
Peace Week is a series of events that will take place from June 20-25, 2016, with the aim of sharing lessons learned during the past four years and inspiring and challenging Rwandans to become peacemakers in their own communities.
The Rwanda Peace Education Program (RPEP) has been in place for the last four years, visiting communities across the country to promote positive values including social cohesion, pluralism and personal responsibility, empathy, critical thinking and action to build a more peaceful society. The program has been run by Aegis Trust, USC Shoah Foundation, Radio La Benevolencija, and the Institute For Research And Dialogue For Peace and is funded by the Swedish International Development Agency (SIDA).
USC Shoah Foundation contributed to RPEP in the areas of teacher training on IWitness and capacity-strengthening for Aegis Trust archival staff to preserve testimony for historical and educational use in the Genocide Archive of Rwanda (GAR).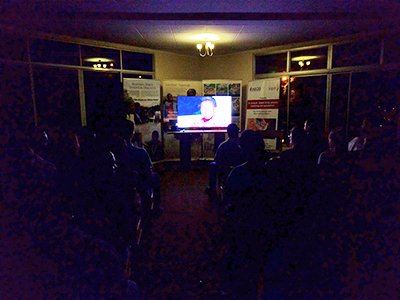 The screening of Josephine Dusabimana's testimony
On Tuesday, Aegis Trust and Kigali Genocide Memorial hosted a screening of the testimony of Rwandan Genocide rescuer Josephine Dusabimana, which will be integrated into the Visual History Archive. When the genocide began and people began showing up at her door, Josephine defied her husband and her country and risked her own life to save six people by creatively arranging their escape to Congo from Kibuye. In April 2011, Josephine was recognized for her heroism and was awarded the "Person with Courage" by Secretary Clinton at the 60th anniversary of the Refugee Convention.
Following the testimony, KGM staff hosted a discussion with attendees.
On Wednesday and Thursday, there will be a Peace Makers Exhibition in the Car-Free Zone in Kigali's central business district. Passers-by can watch testimonies of Rwandan Tutsi genocide survivors and witnesses on computers and iPods, and also discover stories of people who are building peace in their communities.
Throughout the week, Aegis Trust is hosting the Ubumuntu International Youth Conference. Young adults from all over the world traveled to Kigali to learn about genocide, peace-building and conflict prevention. As part of their preparation for the program, they were assigned to complete two IWitness activities, Hope in the Aftermath of Genocide and The Bystander Effect. They will discuss these activities during a session on established peace education tools including IWitness and the Genocide Archive of Rwanda.
Like this article? Get our e-newsletter.
Be the first to learn about new articles and personal stories like the one you've just read.