New Nanjing Massacre Testimonies Reveal Stories of Survival
Wed, 07/20/2016 - 5:00pm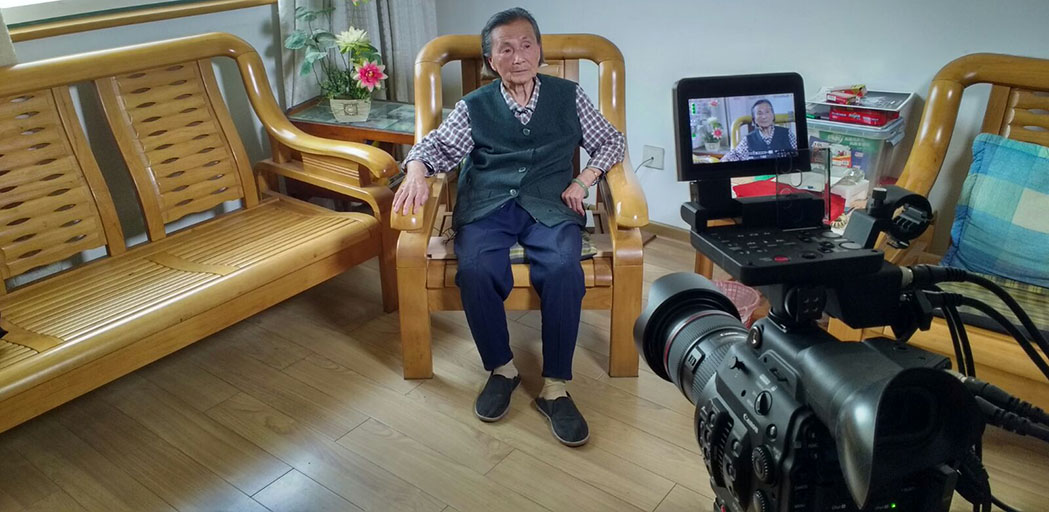 Twenty-two men and women shared intensely personal stories of surviving the Nanjing Massacre during USC Shoah Foundation's trip to China in June to record more testimonies for its Nanjing Massacre Collection.
The 22 new testimonies will bring the total number in the Nanjing Massacre collection to 72.
USC Shoah Foundation research specialist Cheng Fang and video archive and post-production supervisor Zach Goode joined local coordinator Yanming Lu and production manager Gong Chen in Nanjing for about two weeks to record the testimonies. The team also included five additional assistants and drivers.
On this particular trip, the team was able to record two testimonies per day. One testimony was conducted in a hospital and the rest were in the survivors' homes due to their advanced ages and declining health – their average age was 90. All the survivors live within a few hours of Nanjing.
.@USCShoahFdn recorded testimonies from 22 more Nanjing Massacre survivors on a recent trip.
The survivors were mostly children or teens when the massacre began who had never traveled outside their city or village. Once the massacre started, they witnessed parents being taken away by Japanese soldiers, never to be seen again, and family members and neighbors beaten, raped and killed.
Lv Jinbao described a bomb exploding near him. He was bleeding but didn't feel much pain, and only in 2000 did he learn that he had had a piece of shrapnel in his head ever since then. He went blind from the shrapnel a few years later. Liv also said one of his friends killed a Japanese soldier who was trying to rape his sister and buried the body in his backyard.
Xie Guiying escaped two rape attempts but not the third. She became very emotional while telling the story and after some research into other interviews she has given, the Shoah Foundation team realized this was probably the first time she ever told the truth about her rape to an interviewer.
Ren Wenying explained that she and other girls pretended to be boys to protect themselves from being raped by the Japanese army. However, the soldiers forced them to fight each other so they could determine who was lying. One girl was taken away and never seen again.
Chen Guangshun was one of the only people in his village to not be executed by machine gun, simply because he had given the soldiers two roosters and a basket of potatoes.
Many of the survivors ultimately found refuge in the Safety Zone, and a few report seeing Minnie Vautrin, an American missionary who protected thousands of people at Ginling College.
The new testimonies will now begin the process of indexing and integration into the Visual History Archive. USC Shoah Foundation's goal is to record a total of 100 Nanjing survivor testimonies.
Like this article? Get our e-newsletter.
Be the first to learn about new articles and personal stories like the one you've just read.