Former Board Chair Bob Katz Becomes Chair Emeritus on Board of Councilors
Mon, 08/01/2016 - 5:00pm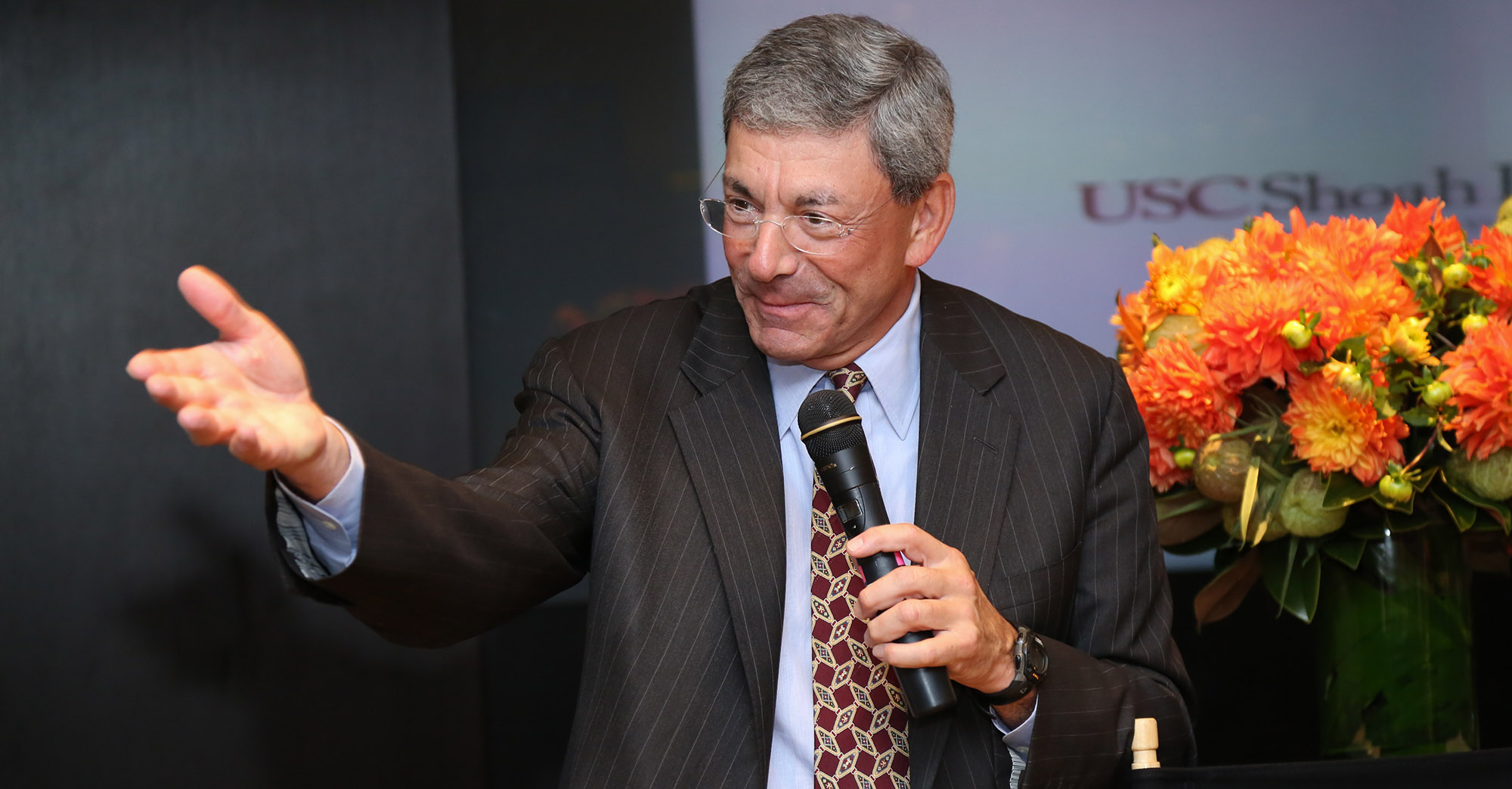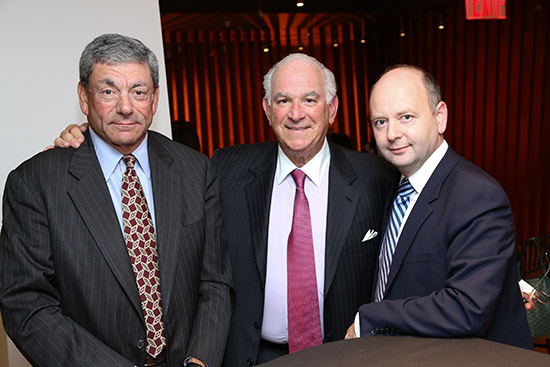 From left: Robert J. Katz, Board Chair Stephen A. Cozen and Executive Director Stephen Smith
Robert J. Katz, one of USC Shoah Foundation's most dedicated and long-term supporters, has announced his retirement from USC Shoah Foundation's Board of Councilors, and that he will remain chair emeritus on the board for the next three years.
"Robert Katz came to the USC Shoah Foundation when it was still in its infancy because he was driven by one idea: that preserving memory is our sacred duty to humanity," USC President C. L. Max Nikias said. "Gratitude is a guiding principle in the Torah. And it is gratitude we feel.  Bob's expert leadership, combined with a great heart and an enduring sense of mission, gave new life to the first-person testimonies by expanding the Foundation's outreach and reputation. And it was Bob who made sure the transfer to USC was seamless.  Now, the survivors' voices can forever be heard, and their words as eyewitnesses forever teach: 'Never again.' " 
Bob Katz becomes Chair Emeritus of @USCShoahFdn.
Katz has been involved in USC Shoah Foundation since the 1990s, first as a member of its development committee. Since then, he has served on the Board of Councilors as a member as well as Chair. He currently serves on the Board's Executive Committee and Ad-hoc Committee on Antisemitism.
USC Shoah Foundation Executive Director Stephen Smith praised Katz's longevity, steady-handed leadership, insight and guidance, which shaped much of the work the Institute does.
"Apart from Bob's honesty, integrity, and passion for survivor testimony, he ensured that at every meeting, be that a board meeting or a lecture, or lesson, that testimony is played, that voices from the archive were always living. I am deeply thankful and reassured by his vision, knowledge and guiding hand," Smith said.
Over the past two decades, Katz's passion for the Institute and its mission has been felt across every department, from research to fundraising.
"Bob's leadership has been inspirational; his friendship invaluable; and his judgment impeccable," said Steve Cozen, the current chair of the Institute's Board of Councilors. "After we entered our agreement with USC, it was usually Bob who asked all the right probing questions and forced us to take nothing for granted. I will miss his presence, but know he will always be available to talk to me."
Earlier this year, USC Shoah Foundation established the Robert J. Katz Research Fellowship in Genocide Studies in his honor, which enables an advanced standing PhD candidate to spend up to a month in residence at the USC Shoah Foundation Center for Advanced Genocide Research every year. The first scholar to be awarded the Katz Fellowship is Teresa Walch, a Ph.D. candidate in European history at UC San Diego.
Katz's support has also enabled the Robert J. Katz Endowed Research Fellowship in Antisemitism Studies and the Robert J. Katz Endowed Internship and Education Fund. Both gifts will provide scholars and undergraduates funds to research, work and even travel with USC Shoah Foundation in order to contribute in a substantive way to the Institute's mission.
In fall 2015, Katz was instrumental in securing full access to the Visual History Archive at Cornell University, his alma mater. Cornell is the 52nd institution in the world to become a Visual History Archive full access site. Katz noted that it was an honor to establish a partnership between two organizations that mean so much to him, and to spur a new level of scholarly and educational activities in Holocaust and genocide studies at the university.
Katz traveled to Poland with his partner Arline Mann in January 2015 joining other donors and supporters for the Institute's Auschwitz: The Past is Present program commemorating the 70th anniversary of the liberation of Auschwitz. While in Poland, Katz and Mann were able to trace their family lineage.
In 2013, Katz was the Co-Chair of the Institute's annual Ambassadors for Humanity Gala. The gala was held at the American Museum of Natural History in New York City and honored George Clooney.
Katz's presence and influence will continue to inform and inspire key initiatives and the community of USC Shoah Foundation for years to come.
Like this article? Get our e-newsletter.
Be the first to learn about new articles and personal stories like the one you've just read.