Neuberger Centre's Holocaust Education Week to Showcase New Dimensions in Testimony
Tue, 10/25/2016 - 5:00pm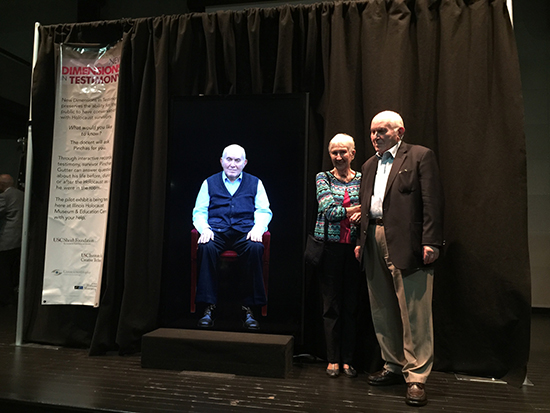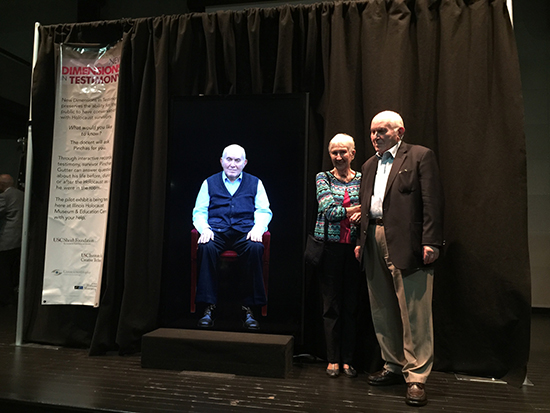 Pinchas Gutter and his wife Dorothy at the New Dimensions in Testimony pilot at Illinois Holocaust Museum & Education Center in June 2015
Staff from USC Shoah Foundation will participate in several presentations throughout Holocaust Education Week in Toronto, hosted by the Sarah and Chaim Neuberger Holocaust Education Centre and UJA Federation of Greater Toronto.
The Neuberger Holocaust Education Centre recently partnered with USC Shoah Foundation to integrate its collection of 402 Holocaust survivor testimonies into the Visual History Archive. These testimonies are now fully indexed, searchable and viewable in the Visual History Archive.
The theme of Holocaust Education Week (HEW) 2016 is "Future of Memory." It will explore how future generations will perpetuate and innovate in the field of Holocaust education and remembrance. HEW will explore how memory of the Holocaust will continue to adapt to a changing technological landscape, global context and the impact of losing personal survivor accounts.
Symposiums, panel discussions, film screenings, survivor talks, lectures and more will be held throughout Toronto Tuesday, Nov. 1 through Thursday, Nov. 10. All events are free and open to the public; some events require RSVP.
Director of Collections Karen Jungblut will participate in the panel discussion "The Future of Holocaust Memory" on Monday, Nov. 7 at 4 p.m. at the University of Toronto's Anne Tanenbaum Centre for Jewish Studies. The Neuberger's panel of distinguished experts will discuss the potential opportunities and challenges facing the future of Holocaust testimony as survivors leave behind written, audio and visual testimonies for those who are not survivors or descendants to shape the next era of the transmission of history and memory of the Holocaust.
Jungblut will be joined by Holocaust survivor Pinchas Gutter to discuss New Dimensions in Testimony, the Institute's interactive testimony which features Gutter, a Toronto resident, as the first interviewee.
High school students and their instructors are invited to attend the 36th Annual Student Symposium on the Holocaust, "Exploring the Future of Holocaust Education through Survivor Testimony" on Tuesday, Nov. 8 at 9 a.m. at TIFF Bell Lightbox. Following the opening keynote, students will have opportunities to engage with different forms of testimony, rotating through three smaller interactive sessions. One of these sessions will be New Dimensions in Testimony, hosted by Jungblut and Project Manager Kia Hays.
The symposium will close with a keynote by Gutter, discussing his work with the NDT project, reflecting on the process, and sharing his perspective on the different kinds of testimony.
On Sunday, Nov. 11, USC Shoah Foundation Executive Director Stephen Smith and Gutter will give the closing keynote presentation at the Legacy Symposium for Young Professionals. The seventh annual symposium features engaging workshops that invite participants in their 20s and 30s to explore the future of Holocaust memory from different perspectives. Smith and Gutter will discuss New Dimensions in Testimony. The event will be held at Ryerson University's Oakham House at 11 a.m.
Envisioned by Heather Maio and produced by USC Shoah Foundation Executive Director Stephen Smith, New Dimensions in Testimony uses groundbreaking natural language software that allows audiences to interact with the recorded image of a Holocaust survivor, who responds to questions in real time, powered by complex algorithms providing realistic conversation.
Like this article? Get our e-newsletter.
Be the first to learn about new articles and personal stories like the one you've just read.