New Dimensions in Testimony Films First Hebrew Interview
Fri, 11/04/2016 - 5:00pm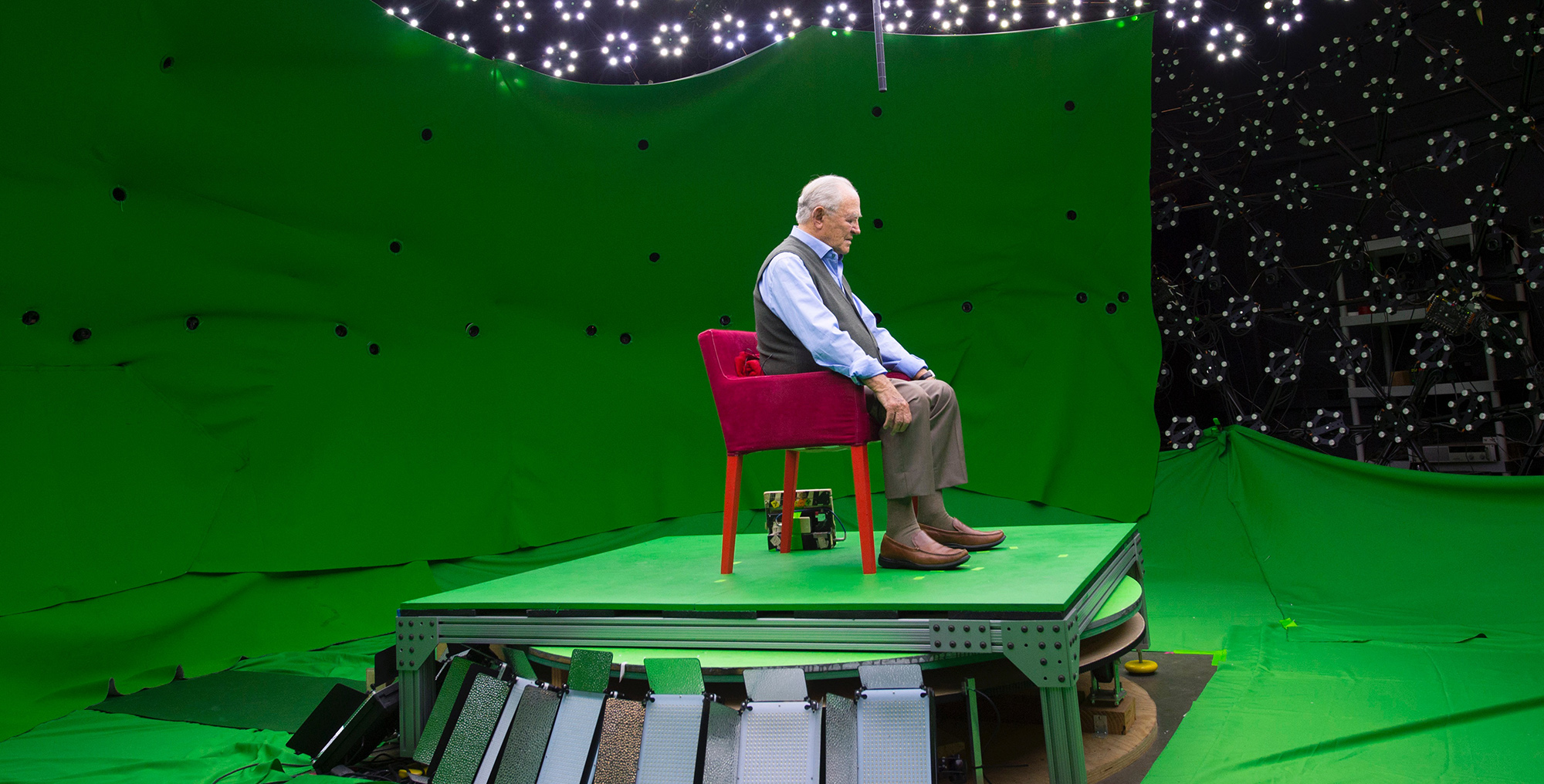 On the heels of filming its first-ever Mandarin-language testimony last week, New Dimensions in Testimony added another language to its repertoire of genocide survivor interviews: Holocaust survivor Nimrod "Zigi" Ariav's Hebrew-language testimony, filmed this week at USC Institute for Creative Technologies.
Ariav, who recorded his testimony for USC Shoah Foundation's Visual History Archive in Israel earlier this year, traveled to Los Angeles October 31-November 3 to film his three-dimensional, interactive testimony for New Dimensions in Testimony (NDT).
Twelve Holocaust survivors and one Nanjing Massacre survivor have been interviewed for NDT, a concept conceived by Conscience Display. Each interview lasts five days and is filmed on the 360-degree "light stage" at the USC Institute for Creative Technologies. High definition cameras and lights capture the interview from all angles as the survivor answers anywhere between 500 to over 1,000 questions about his or her life before, during and after genocide or crimes against humanity.
NDT then uses groundbreaking natural language software to allow audiences to interact with the recorded image of the survivor, who responds to questions in real time, powered by complex algorithms providing realistic conversation.
Ariav gave his NDT interview in Hebrew. When completed, it will allow students and members of the public in Israel and around the world to have a virtual conversation with a Hebrew-speaking Holocaust survivor in museums and other educational settings.
Ariav was born Szulem Czygielman in Lublin, Poland, in 1926. His mother, father and twin brother, Avraham, decided to leave Lublin while it was still possible in 1940, and head to the smaller town of Belzyce, where they would be less conspicuous. Szulem kept his word and never conformed. He got a job in an electrical plant and avoided slave labor.  
During the September action of 1942, his parents had a plan. The family would split up in the hope that some of them would survive. However, as Szulem soon learned, his father had been murdered. He found his father in a pool of blood in front of the synagogue along with many others. Szulem and his brother buried their father with their own hands, along with 149 others that were shot on the spot. 
His mother decided he was safer in Warsaw. He boarded the train and arrived there first as Henryk Gorski, then after the murder of his twin brother, became known as Jerzy Eugeniusz Godlewski. He lived with Poles, spoke Polish, joined the Polish Home Army, trained as a Polish resistance fighter and was critically wounded while fighting in the Warsaw Uprising of 1944. After liberation and months of recovery, he joined the Haganah, the Jewish paramilitary organization in the British Mandate of Palestine, and prepared fellow survivors to fight while they were awaiting to leave for Israel from Marseille.
Once in the new Israel, he joined the infant Israeli air force, fought in all the major wars and distinguished himself as a member of the aeronautic and defense community under his fourth and final name, Nimrod Ariav (affectionately known as Ziggy to his friends). After a successful business career he retired in his late 70s.
Like this article? Get our e-newsletter.
Be the first to learn about new articles and personal stories like the one you've just read.