Three Fellowships for Ph.D. Candidates Accepting Applications
Tue, 11/08/2016 - 5:00pm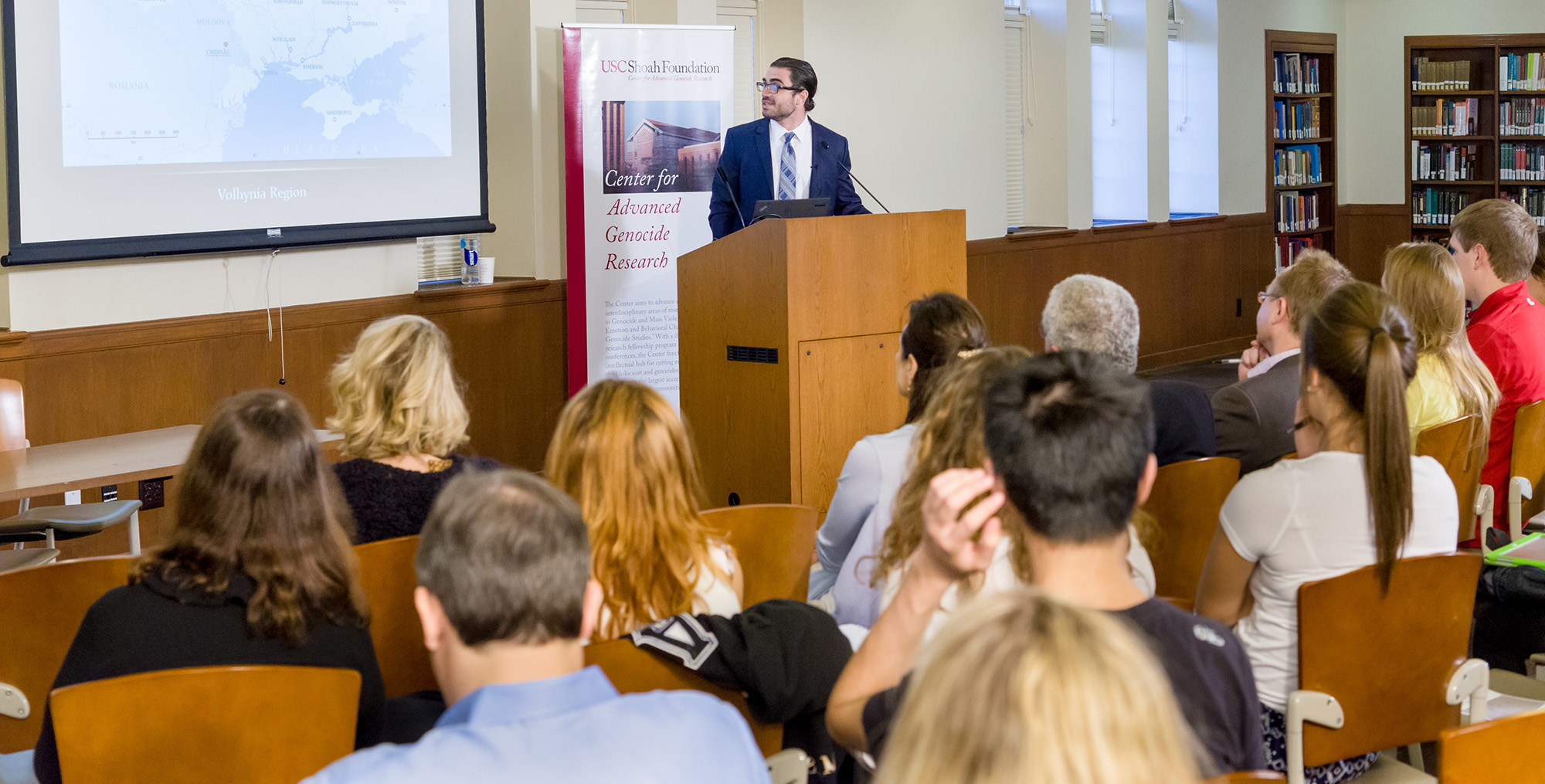 USC Shoah Foundation is calling for applications to fill three fellowships, open to advanced standing Ph.D. candidates, in the Center for Advanced Genocide Research. The deadline for all applications is December 15, 2016.
The Margee and Douglas Greenberg Research Fellowship invites Ph.D. candidates from any discipline to submit research proposals focused on testimony from the USC Shoah Foundation Visual History Archive and other USC resources. The fellowship will provide $4,000 in support to the candidate whose research proposal is both the most original and has the most potential to advance research within the Center using the Visual History Archive testimonies and other genocide research resources at USC. If accepted, the candidate will be expected to provide the Center with fresh perspectives, play a role in Center activities and give a public talk during their one month in residence at USC Shoah Foundation.
According to Douglas Greenberg, and the genesis of the fellowship was his and his wife's desire to repay USC Shoah Foundation for the "profound life-changing experience [they] had when [he] was executive director." Douglas Greenberg served as executive director of USC Shoah Foundation from 2000 to 2008, and oversaw the transition that made the Institute a part of USC in 2006. Margee Greenberg, a longtime volunteer with the Foundation, hopes the fellowship will help advance research on one of history's darkest hours.
Previous recipients include Julia Werner, a Ph.D. candidate in the History department at Humboldt University in Berlin, whose research looks at photography in occupied Poland during National Socialism, focusing on the medium as not only a historical source material, but also as an act of intervention. Jared McBride, the 2014-2015 participant who received his Ph.D. in Soviet and Eastern European History at UCLA, studied nineteenth and twentieth-century Eastern European history and mass violence and inter-ethnic violence in Ukraine, Russia and the Soviet Union using traditional German and partisan materials, newly-opened KGB archival sources and personal accounts of the war in five languages.
The Robert J. Katz Research Fellowship in Genocide Studies is named for the long-time volunteer and former Board of Councilors Chair in recognition of his services to the Institute. Involved in USC Shoah Foundation since the 1990s, Katz's support helped also enable two additional programs in education and antisemitism studies, and helped secure full access to the Visual History Archive at Cornell. The fellowship also invites Ph.D. candidates from any discipline to apply, with the same criteria and expectations as the Greenberg Research Fellowship.
Finally, the Breslauer, Rutman and Anderson Research Fellowship, the result of a generous gift by Gerald Breslauer, Mickey Rutman, Tammy Anderson and Sharon De Greiff, too provides $4,000 in support for the candidate with the most original proposal. Again, the criteria and expectations are the same as for the Greenberg Fellowship.
Longtime supporters of USC Shoah Foundation and friends of Steven Spielberg - founder of USC Shoah Foundation - Breslauer, Rutman and Anderson hope the donation will help advance research where it deeply needs to be advanced. Breslauer and Rutman's involvement with the Foundation in its infancy and their continued involvement are a testament to their devotion that the research build on.
To apply to any of the three above fellowships, candidates must send a cover letter including proposed dates of residency, a CV, a 1-3 page proposal abstract, a writing sample and a letter of recommendation from his or her Ph.D. advisor to cagr@usc.edu by Dec. 15, 2016.
Like this article? Get our e-newsletter.
Be the first to learn about new articles and personal stories like the one you've just read.