Facebook Live Broadcast for Giving Tuesday Features Holocaust Survivor Paula Lebovics and Junior Intern Gabriel Hackel
Tue, 11/29/2016 - 5:00pm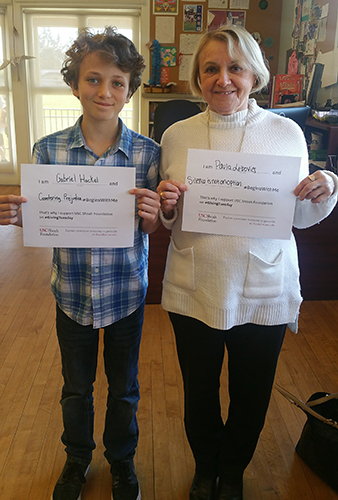 Two years since they first met, Holocaust survivor Paula Lebovics and USC Shoah Foundation Junior Intern Gabriel Hackel talked about visiting Poland together, the importance of remembering the Holocaust and how young people can make a difference in a special Facebook Live broadcast.
USC Shoah Foundation hosted the live conversation in honor of Giving Tuesday, a global day of philanthropy during which the Institute hopes to raise $10,000. The conversation took place at Polytechnic School in Pasadena, Calif.
Paula and Gabriel first met for USC Shoah Foundation and Discovery Education's program "Auschwitz: The Past is Present" in January 2015. The program took 12 Junior Interns, 20 teachers from all over the world, and 100 survivors of Auschwitz to Poland for the commemoration of the 70th anniversary of the liberation of Auschwitz.
There, the Junior Interns (middle and high school students who learn about testimony and responsible participation in civil society at the Institute) visited historical sites and attended the commemoration ceremony at Auschwitz-Birkenau. The students met Paula and watched her testimony before they went to Poland, and she accompanied them throughout the trip.
Gabriel said that going to Poland and Auschwitz was difficult because he was only 11 at the time, and the sights he and the other students saw were upsetting. But it helped to have Paula's support throughout the trip.
"When I got there I wasn't as scared because I had such good people around me, close friends, and of course Paula who's so nice," Gabriel said. "It would be one thing to meet a Holocaust survivor but to meet one who was a child during the Holocaust, that was extra amazing because I couldn't imagine the horrible things she went through. Paula is such a nice, kind person and being able to meet her was just amazing."
Paula said she was worried about such young kids visiting Auschwitz, but she was very impressed by the maturity and thoughtfulness of Gabriel and the other students.
"Seeing the students and especially Gabe, I am so happy about it because I know we survivors are leaving it in good hands with kids like Gabe," Paula said. "[I know] that you will never forget and you won't forget us."
Observing the students' passion and dedication to learning in Poland "overwhelmed not just me but everybody," Paula added.
One of the most impactful moments from Paula's testimony, Gabriel said, was when she described how a Russian soldier held her in his lap and gave her food when Auschwitz was being liberated. It was the first time in a very long time that Paula felt like someone cared about her.
When she speaks to students and when they watch her testimony, Paula always wants them to learn how important it is to be kind to one another, and when they see someone being treated badly, they should stand up and speak out, she said. Each one of them has the power to make a positive difference.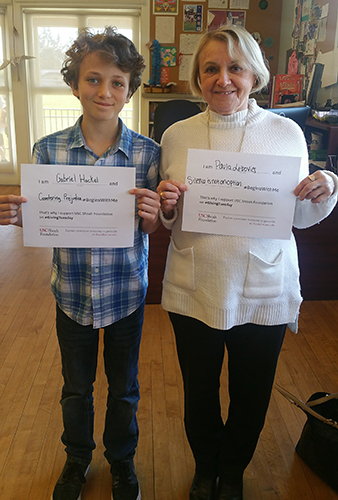 "When you see someone that's bullying someone, stand up. My slogan is silence is not an option," Paula said. "It took one man to turn the world upside down like Hitler. Why can't it take one man to turn it around to the opposite end? Why not? I am convinced completely it really takes one person to start a revolution. It takes one person to make peace."
Paula also showed photographs of her family and spoke about the childhood friends who survived the Holocaust with her and with whom she still keeps in touch today. Gabriel noted that it was very inspiring to see how Paula has remained so positive and carried on with her life in spite of such terrible tragedy.
To wrap up the conversation, Gabriel offered his opinion of why people should support USC Shoah Foundation for Giving Tuesday. He said that even though he has only been involved with the Institute for a short time, it has had a truly meaningful effect on his life.
"I think what Paula is doing is so important, she's passing on her experience and memories to me and the other Junior Interns, and we couldn't do that without USC [Shoah Foundation] because they are the carrier of sorts," Gabriel said. "I would have never met any Holocaust survivor, I'd probably be a different person. But I have been brought so far from where I was just three years ago because I've met Paula, because of what USC [Shoah Foundation] has done for me and other people. I would imagine that it helps Paula in a way to be able to share her story with other people. I believe she's making such a difference."
Like this article? Get our e-newsletter.
Be the first to learn about new articles and personal stories like the one you've just read.