USC Shoah Foundation Hosts Seminars on Teaching about Human Rights in Ukraine Conflict Areas
Mon, 12/05/2016 - 5:00pm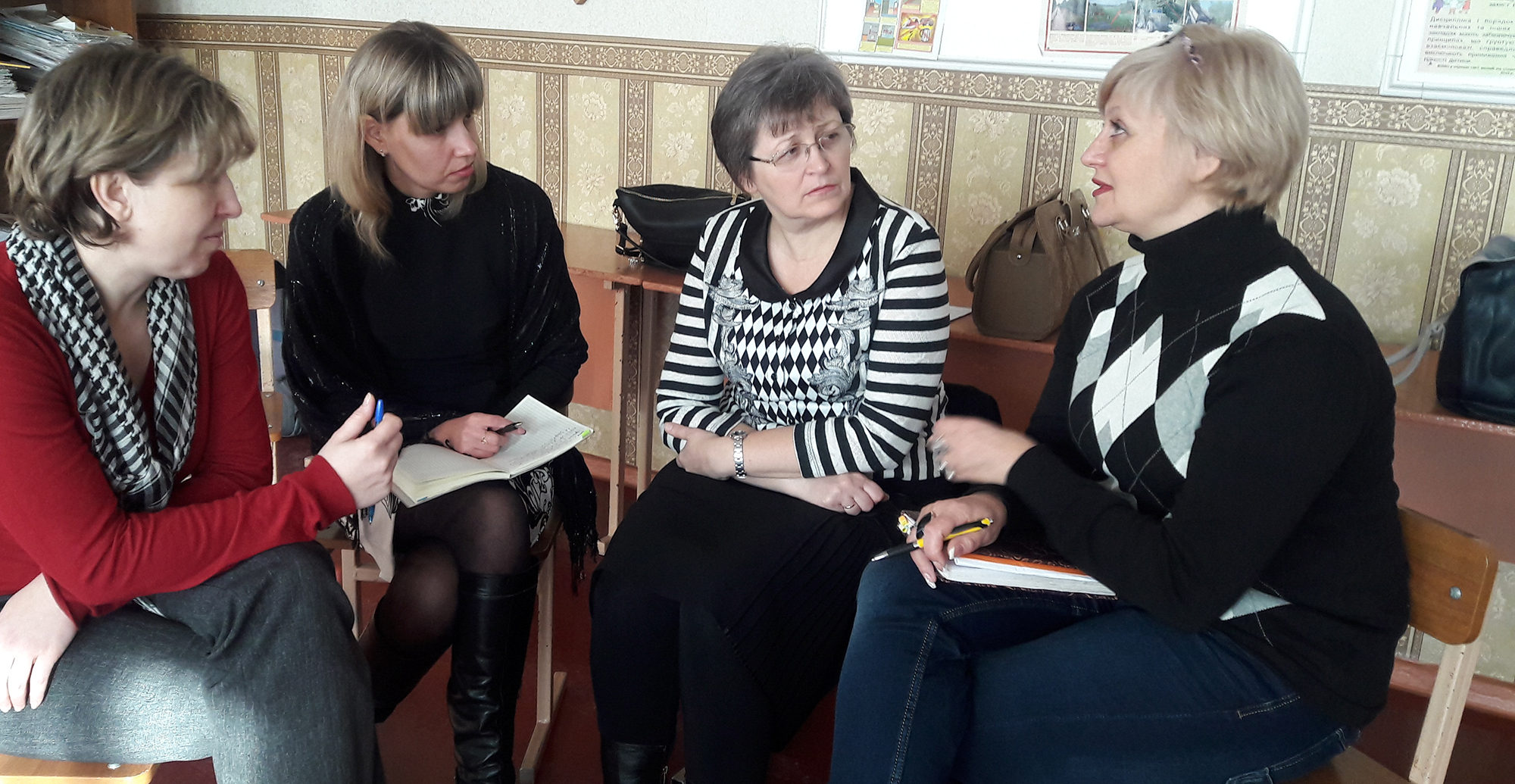 Educators from Ukrainian conflict areas attended two seminars led by USC Shoah Foundation Ukrainian consultant Anna Lenchovska and education author Olexander Voitenko.
Lenchovska and Voitenko traveled to Sloviansk, Ukraine, on December 1 at the request of Galina Lomakina, one of the first-ever graduates of the USC Shoah Foundation Master Teacher program in Ukraine in 2009. Lomakina also completed USC Shoah Foundation professional development on the Encountering Memory and Great Famine 1932-1933: Personal Dimension of the Tragedy Ukrainian-language teacher's resource guides. Today Lomakina works as Provost at Donetsk Teacher Qualification Advancement Institute, which has been relocated to Sloviansk because of the ongoing military conflict in the Donetsk region.
She invited Lenchovska and Voitenko to come to Sloviansk and conduct a seminar for vice principals, school psychologists and social workers from Donetsk about the USC Shoah Foundation-produced teacher's guide (written by Voitenko) Where Do Human Rights Begin: Lessons of History and Contemporary Approaches. She felt the topic would be highly important for educators who work with internally displaced people.
"Testimonies of witnesses and survivors of human rights violations from the past help educators at close-to-conflict zone to reflect on their own situation, choices and pedagogical strategies," Lenchovska said.
Where Do Human Rights Begin was a multi-national collaboration between USC Shoah Foundation; VAAD, the association of Jewish organizations and communities of Ukraine; and the German Foundation Remembrance, Responsibility and Future (EVZ)'s "Teaching Human Rights" program. It uses excerpts of testimonies by survivors of totalitarian regime, including Nazi Germany and Stalin's Soviet Union, from both USC Shoah Foundation's Visual History Archive and the EVZ's archive.
At the seminars on December 1, Lenchovska and Voitenko focused on the chapters "Identity and Human Dignity," "Freedom from Discrimination" and "Right for Privacy."
The educators who attended the seminar could relate very personally to the testimony clips and lessons of Holocaust survivors featured in Where Do Human Rights Begin.
Tetyana, a teacher from Bahmut, commented that Lidiya Milgotina's testimony about how her favorite teacher would not let her continue her studies at school because she was Jewish reminded her of how some people refused to provide shelter or food to people fleeing the fighting in the Ukrainian city of Debaltsevo last year. Tetyana said it is important to talk to teenagers about this history and discrimination.
Lilya from Pokrovsk said the seminar and the guide will help her protect the rights of her students and teach them to defend their own rights.
Another educator from Pokrovsk, Yana, said the seminar was educational to her personally. Only recently, she said, has her own grandmother begun talking about her experience during the Great Famine; the family never talked about it while Yana was growing up.
The participants were glad to not only learn how to incorporate the guide into their teaching, but also get psychological recommendations about how to talk to young students about sensitive topics, especially if they have been affected by current-day conflict.
Inessa, a vice principal from Sloviansk, said Ukrainian educators need to teach children values, and this seminar was the first step toward that goal.
Lenchovska and Voitenko led another seminar on December 2 in Severodonetsk, Lugansk, which has also been the site of heavy fighting and political upheaval. At this conference, some educators said they feel hopeless about being able to teach human rights or help defend human rights, while others were determined to teach this subject given their current situation. There was a particularly strong discussion among the participants about the role of civic society and individuals in defending human rights.
Two history teachers who attended the Severodonetsk seminar are themselves displaced and have been using USC Shoah Foundation teaching materials since 2009. They said that once they saw who was leading this particular seminar, they immediately signed up.
Like this article? Get our e-newsletter.
Be the first to learn about new articles and personal stories like the one you've just read.