Hungarian Institute for Educational Research and Development Visits USC Shoah Foundation
Tue, 12/06/2016 - 5:00pm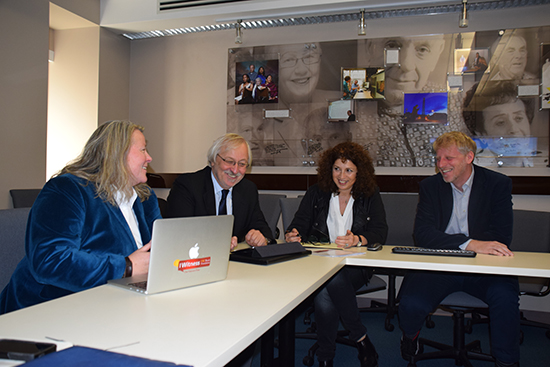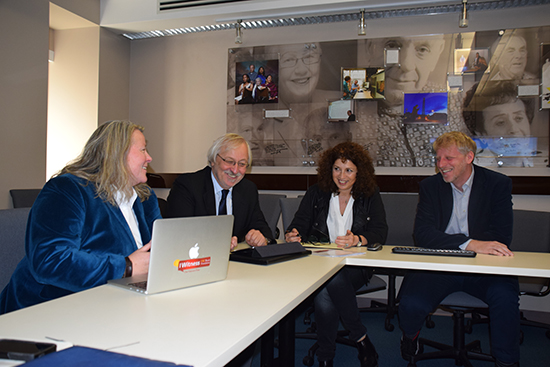 From left, Kori Street, József Kaposi,  Andrea Szőnyi, and Zoltán Pompor at USC Shoah Foundation
Two months after officially accrediting USC Shoah Foundation's ITeach program, two representatives from the Hungarian Institute for Educational Research and Development (OFI) visited USC Shoah Foundation in Los Angeles to learn more about its educational work.
OFI, founded by the Hungarian Ministry of Human Resources, is an institution providing general and strategic support services for the educational sector. USC Shoah Foundation's Master Teacher and ITeach professional development have been accredited by OFI and IWitness is integrated into the OFI textbook on ethics, which is used by two-thirds of all eighth graders in Hungary – more than 100,000 students. OFI and USC Shoah Foundation have worked together since 2012.
As integrated programs of OFI, ITeach (a one-day seminar on teaching with testimony) and Master Teacher (a two-year program on developing new lesson plans using testimony) can be offered by USC Shoah Foundation staff and its "multipliers," or educators who have been trained by the Institute, throughout Hungary with the support of OFI's network and resources. USC Shoah Foundation will be able to reach more educators and students than ever before.
OFI's Dr. József Kaposi, General Director, and Dr. Zoltán Pompor, Deputy General Director of Research and Development, spent Nov. 28-Dec. 1 at USC Shoah Foundation in Los Angeles learning about the work of USC Shoah Foundation, digital education in general, and exploring further cooperation possibilities. Andrea Szőnyi, USC Shoah Foundation's Hungarian regional consultant, was also in town and met with Kaposi and Pompor along with Director of Education Kori Street.
Kaposi and Pompor are responsible for the national curriculum and textbooks as well as educational research and professional development. They also developed the National Public Education Portal, a major central digital platform for students, educators and parents.
The group discussed possibilities for cooperation over the next five years, specifically IWitness, professional development for teachers, educational programs geared for specific audiences such as disenfranchised students, IWalks, and potentially other student programs. The OFI team also met with staff from Discovery Education, also a partner of USC Shoah Foundation, to discuss possibilities for cooperation with them as well.
Like this article? Get our e-newsletter.
Be the first to learn about new articles and personal stories like the one you've just read.