Center for Advanced Genocide Research to Co-Sponsor Symposium on German-Jewish Activists
Wed, 01/11/2017 - 5:00pm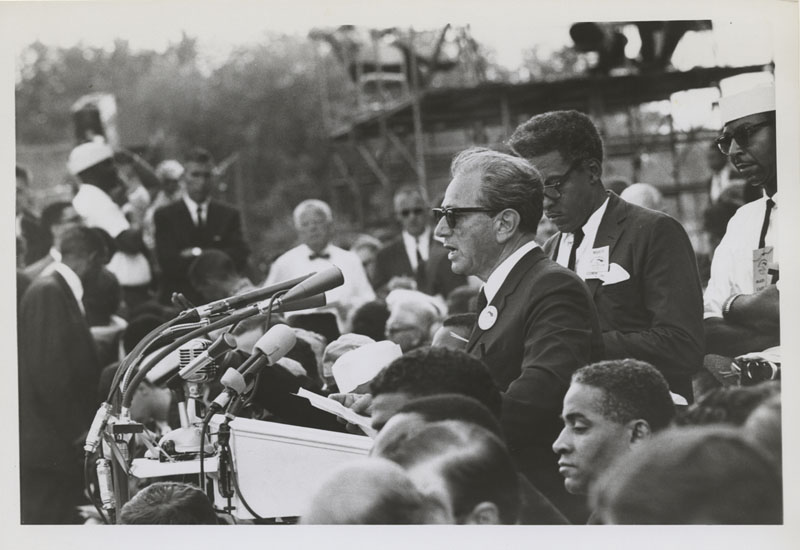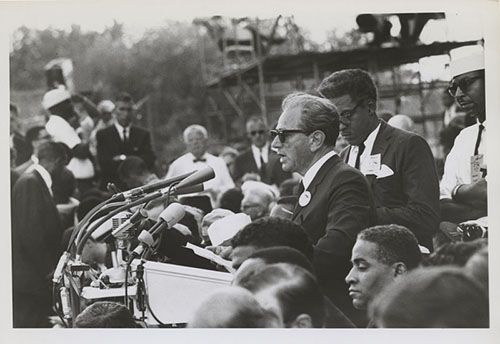 Joachim Prinz speaks at the March on Washington, 1963
In just under two weeks, Director of USC Shoah Foundation's Center for Advanced Genocide Research Wolf Gruner will moderate a panel exploring the historical and cultural contexts of the works of Rabbi Joachim Prinz (1902-1988) and composer Kurt Weill (1900-1950) right before World War II.
This panel, which begins at 10 a.m. on January 22, is part of a larger one-day symposium put on by UCLA called Championing Civil Rights and Resisting Injustice. The entire day is devoted to putting the lives and works of Rabbi Prinz and Weill in conversation with one another by examining their shared historical foundation and their specific contributions to the arena of social justice. The panel, co-sponsored by USC Shoah Foundation, focuses on the historical framework the two men worked under.
Both German-Jewish emigres who fled Nazi-controlled Berlin and came to America to reestablish their lives and careers, the men became social activists in different ways. Rabbi Prinz left Germany early and with his education from Berlin, began lecturing across the US for the United States Palestine Appeal – the precursor to what later became the American Jewish support base for Israel. His activism brought him to hold top positions in the World Jewish Congress (he was president from 1958 to 1966) and in the World Conference of Jewish Organizations, but his drive didn't stop with the plight of the Jewish population. Rabbi Prinz devoted just as much time to the US civil rights movement, mirroring the atrocities committed against the African American population with his experiences under Hitler.
Weill used musical collaboration to encourage change once he came to the US from Germany. The prolific composer memorialized the Holocaust and raised public awareness of the treatment of Jews in Europe in the face of a country that was deluding itself with optimism and not fairly tackling issues like unequal distribution of wealth, ,segregation and industrialization's effect on families.
Gruner, a historian for Holocaust and German-Jewish history and professor of history at USC, will be joined onstage by panelists Michael Meyer, HUC-JIR emeritus and author of Spirit and Guts: Rabbi Joachim Prinz in Weimar and Nazi Germany; Stephen Hinton, professor of music at Stanford and author of New Objectivity: Weill and Weimar; and Tamara Levitz, professor of musicology at UCLA and author of Music and Struggles for Social Justice in the Weimar Republic.
The symposium will be followed by a concert at UCLA's Royce Hall. The Los Angeles Chamber Orchestra will perform a suite by Weill and unveil to the west coast Bruce Adolphe's violin concerto inspired by the life of Rabbi prinz and his friendship with Martin Luther King, Jr.
The symposium itself will be held at 314 Royce Hall, the day's events beginning at 9:30 a.m.
Other events include a panel on social justice and civil rights activism, and an informal talk by Rabbi Prinz's son, Rabbi Jonathan Prinz, author of Joachim Prinz: A Son's Perspective.
To RSVP for the symposium, click here
For tickets to the performance, contact the UCLA Central Ticket Office at 310-825-2101, or online at http://cap.ucla.edu/get_tickets/ .
For more information about the sponsors of the event and for a schedule, click here.
Like this article? Get our e-newsletter.
Be the first to learn about new articles and personal stories like the one you've just read.