Visual History Archive Update Adds Cambodian Genocide and Three Holocaust Collections
Wed, 01/25/2017 - 5:00pm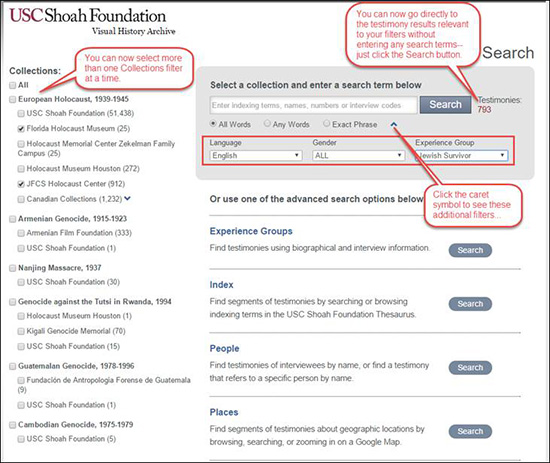 Three hundred and ninety-six testimonies were added to the Visual History Archive as part of the archive's latest update on January 23, including new collections and features.
For the first time, USC Shoah Foundation's Cambodian Genocide collection has been published in the Visual History Archive. The collection includes five testimonies of survivors of the genocide perpetrated in Cambodia in the 1970s by the Khmer Rouge regime, which claimed as many as two million lives.
The first two testimonies (given in the Khmer language) were recorded in Los Angeles, Calif., in 2009 by staff from the Documentation Center of Cambodia (DC-Cam). Another English-language testimony was recorded in Los Angeles in 2011, filmed by USC Shoah Foundation with interviewer Karen Jungblut, Director of Collections.
Two more testimonies (given in English) were recorded in spring 2015 in Long Beach, Calif., by interviewer Peg LeVine. LeVine was the USC Shoah Foundation Center for Advanced Genocide Research's Center Fellow in 2015 and is an expert on the Cambodian Genocide.
The new collection means an additional Historical Event is now represented in the Visual History Archive – Cambodian Genocide, 1975-1979 – and Experience Group, Cambodian Genocide Survivor.
The update also added three more collections of Holocaust survivor testimonies, which were integrated and indexed as part of USC Shoah Foundation's Preserving the Legacy initiative. The collections join over 2,000 testimonies that have already been preserved in the Visual History Archive through Preserving the Legacy from Jewish Family and Children's Services of San Francisco and nine institutions throughout Canada.
From Holocaust Museum Houston, 272 testimonies were added to the VHA. The Florida Holocaust Museum and Holocaust Memorial Center Zekelman Family Campus in Michigan each added 25 testimonies.
The testimonies include some of the Visual History Archive's first "group interviews," in which a testimony includes more than one survivor.
In addition to the new collections, dozens of Holocaust testimonies were also added to the existing Canadian collections as well as 13 recorded by USC Shoah Foundation.
The update also added two more Armenian Genocide testimonies and one Rwandan Tutsi Genocide testimony (the latter recorded by Holocaust Museum Houston).
The Visual History Archive also introduced a useful new feature. When using Quick Search on the main page of the VHA, users can now select one or more specific collections – for example, the Guatemalan Genocide Collection or the Neuberger Holocaust Education Centre Collection – and perform a Quick Search without entering any search terms. This will return all testimonies in that collection(s).
Users can also choose to narrow down their search by language, gender and/or experience group, if they want to more quickly navigate to relevant testimonies.
Like this article? Get our e-newsletter.
Be the first to learn about new articles and personal stories like the one you've just read.