Holocaust Museum Houston Begins Four-Month Exhibit of New Dimensions in Testimony
Thu, 01/26/2017 - 5:00pm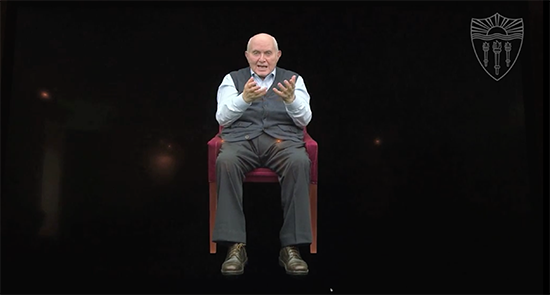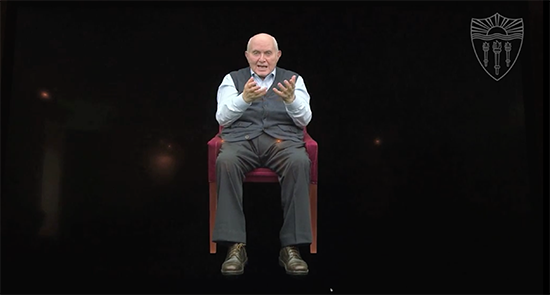 New Dimensions in Testimony will be on display at Holocaust Museum Houston until May 30 as part of the museum's artistic exhibit "A Celebration of Survival."
Holocaust Museum Houston has incorporated New Dimensions in Testimony into its new exhibit "A Celebration of Survival," designed by artist Barbara Hines. Upon entering "A Celebration of Survival," visitors will pass through "Veils of Remembrance," diaphanous silk veils featuring life size portraits of children of the Holocaust, creating the effect of walking among them. "Portrait Walls" throughout will don 16 righteous non-Jews of the 26,000 "Righteous Among the Nations" who saved Jewish lives during the Holocaust, while "Quotations" will project prolific words by local survivors and other prominent Jewish thinkers.
New Dimensions in Testimony is located within the exhibit. A video screen allows visitors to have a "virtual conversation" with Holocaust survivor Pinchas Gutter, who recorded over 1,500 answers to questions about his life before, during and after the Holocaust. Visitors can speak into a microphone and ask the virtual Pinchas any question they would like and hear his answer in real time.
This is the fifth museum pilot of New Dimensions in Testimony, after exhibits at United States Holocaust Memorial Museum (USHMM), Illinois Holocaust Memorial Museum and Education Center, Sarah and Chaim Neuberger Holocaust Education Centre in Toronto, Ontario, and CANDLES Museum in Terre Haute, Indiana. It has also been demoed at Sheffield Doc/Fest in England and the Future of Storytelling festival in New York.
Holocaust Museum Houston also partnered with USC Shoah Foundation on its Preserving the Legacy initiative, in which Holocaust survivor video testimonies from institutions around the world are digitized, preserved and indexed in the Visual History Archive.
Twenty-five testimonies collected by Holocaust Museum Houston were published in the Visual History Archive on January 23. The testimonies are fully indexed and searchable, allowing all Visual History Archive users at the 75 full access sites around the world to view Houston's collection alongside the other 54,000 testimonies in the VHA.
Like this article? Get our e-newsletter.
Be the first to learn about new articles and personal stories like the one you've just read.