Warsaw Council Members Commemorate Holocaust Remembrance Day with IWalk
Thu, 02/02/2017 - 5:00pm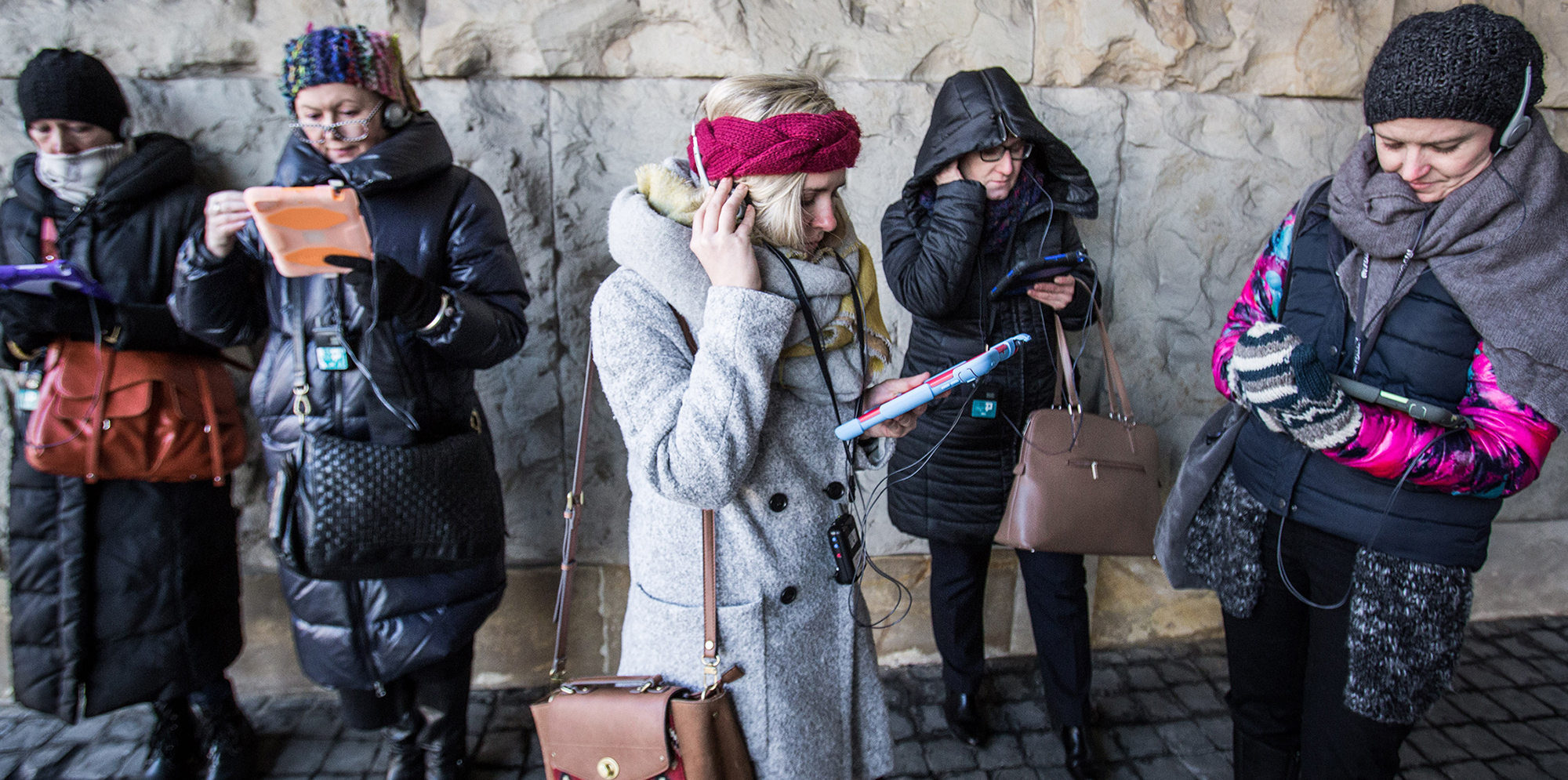 A group of Warsaw council members and representatives from the city's cultural institutions gathered on January 27, International Holocaust Remembrance Day, to go on an IWalk created by USC Shoah Foundation.
The tour group included Warsaw city council members including specialists from the department of education and representatives from cultural institutions based in midtown Warsaw. They were led by Anna Zatońska, educator and guide from the POLIN Museum of the History of Polish Jews, which is a partner organization of USC Shoah Foundation in Poland.
An IWalk is an educational guided walk in which participants watch testimony clips of Holocaust survivors from the Visual History Archive on mobile devices as they visit the very places the survivors describe in their testimony. So far, IWalks have been developed in cities throughout Poland, Hungary, Czech Republic and Ukraine.
The route of the IWalk went along one of the busiest streets of Warsaw – Aleja Solidarności (formerly Leszno), then Żelazna and Chłodna Street. This was where the Warsaw Ghetto was located during World War II and where the ghetto inhabitants struggled for life every day. Zatońska told the story of the people who lived there and the institutions and buildings that were established there between 1940 and 1942. The IWalk participants watched testimonies of those who remembered the horrors of everyday life in the ghetto.
The POLIN Museum implements all the educational programs and projects of USC Shoah Foundation in Poland. The Warsaw IWalk organized during International Holocaust Remembrance Day constitutes a part of a partnership with Zachor Foundation from Hungary, Tolerspace Foundation from Ukraine and Open Eye from Czech Republic, thanks to financial support offered by IHRA (International Holocaust Remembrance Alliance).
An IWalk in Babi Yar, Ukraine, for the 75th anniversary of the Babi Yar massacre was also funded by this partnership.
Like this article? Get our e-newsletter.
Be the first to learn about new articles and personal stories like the one you've just read.