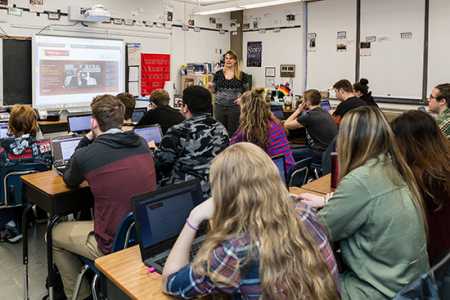 High school teacher Jennifer Goss leading "100 Days to Inspire Respect" in IWitness with her students. Photo by Sean Thurston
Every Friday, the following week's 100 Days to Inspire Respect educational resources will be previewed.
The third week of "100 Days to Inspire Respect" will continue the themes of February's Black History Month to focus on the importance of defending civil rights and human rights in the United States and around the world.
The week kicks off on Monday, February 6, with an update to the IWitness Watch page's collection of testimony clips under the topic "Human Rights." These clips of testimony from the Visual History Archive include genocide survivors, liberators and aid providers who discuss how people's basic rights were threatened during conflict and how they sought to resist.
On Tuesday, IWitness will feature a new Mini Quest activity, " Where Do Human Rights Begin?" The Universal Declaration of Human Rights (UDHR) is a fundamental text that describes people as all being "born free and equal." History has proven that these rights are fragile.  In this activity, students will learn about the UDHR and will, through the close reading of audiovisual testimony, understand the ways in which these rights have been violated in recent history.  To demonstrate their understanding of the UDHR, students will produce a photo essay depicting an article of the declaration in their world today.
The resource on Wednesday, February 8, will be a Mini Lesson called "Role of Values and Responsibilities in a Democracy." Students will learn about the role of values and individual responsibilities in a democracy through reflection of their own values and that of others.
On Thursday, IWitness will offer a new infographic for teachers on Teaching about Human Rights Through Testimony. This tool offers educators easily accessible and action-oriented tips for using testimony to engage their students in learning, reflection and action - as well as encourage educators to promote their own professional development through testimony.
Friday's activity is an Information Quest about the Guatemalan Genocide, "Courageous Women in the Cause of Justice." Students learn about the rights and responsibilities of citizens in a democracy through the exploration of the experiences of indigenous Guatemalan community and Rigoberta Menchú Tum, Nobel Peace Prize recipient who was a leading advocate of indigenous people in Guatemala and the Western Hemisphere.
On Saturday, IWitness will debut a new Connections Video, "What is Human Rights?" Connections Videos offer context and background for students as they learn about the week's theme and begin to explore testimony on the subject.
Finally, the last resource on the topic of civil rights and human rights on Sunday, February 12 is a Mini Lesson, "Civil Rights and the Latino Community in the 21st Century." The lesson will focus on the modern-day struggles of Latino people to fight for their rights.