Lee Ann Fujii Lecture (Summary)
Thu, 03/02/2017 - 11:49am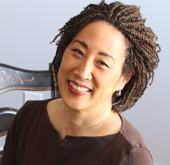 Lee Ann Fujii, PhD (University of Toronto)
"Everyday Forms of Resistance: Evidence From the Killing Fields of Bosnia, Rwanda, and the United States"
February 21, 2017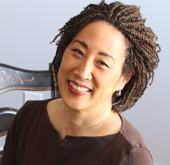 Professor Lee Ann Fujii prefaced her public lecture at the USC Shoah Foundation Center for Advanced Genocide Research by pointing out that given today's political climate, thinking about resistance has become a moral imperative, not just an intellectual exercise. She then opened her talk with a brief yet vivid description of the lynching of George Armwood in Maryland in 1933. 
In the book she is working on, Show Time: The Logic and Power of Violent Display, Fujii focuses on why, such as in the instance of this lynching, people are executed in performative ways, in front of crowds, with other kinds of violence and humiliation displayed besides just the killing. She offers a new analytic category to encompass these kinds of acts – violent display. Fujii defines "violent display" as the "collective effort to stage violence for others to see, notice, and take in." 
Drawing from multiple disciplines and literatures (including literatures on performance, identities, and violence) and from multiple sources (interviews she has conducted, as well as a wide range of primary sources, including trial transcripts), Fujii offered two cases of violent display – the lynching she described at the beginning of her lecture and a massacre during the Bosnian War in 1992. More cases, also from the Rwandan killings, will be included in her book. 
In both cases, she argued, violent displays are a process and occasion of performing collective identities, of reinscribing what it meant to belong, of bringing life to a new order, and of broadcasting the power and sovereignty of those performing the violence. Throughout her talk, Fujii often used language related to performance – "casting" to describe the roles that people adopt, from the starring roles to supporting roles to bit parts, even reluctant actors who are unwitting participants; the concern with aesthetics, as evidenced in the posing of bodies or the use of costumes or props; and the roles of the audience or spectators. 
Fujii detailed the two cases, highlighting the time and distance of the public processions through the towns before the killing in each case, the public (and sometimes private) aspects of violent display, and the ways in which participation is encouraged throughout. She discussed the layers of meaning making in both cases – where the violent displays inscribed a new kind of "whiteness" beyond the reach of the courts or the police (in the case of the lynching) and defined a new kind of "Serbness" (in the case of the massacre in Bosnia) that made violence, or going along with the violence, the basis of belonging.
Fujii then turned her focus to two cases of resistance from Croatia and Bosnia. In Croatia, Milan Levar was murdered after refusing to stay silent about events he witnessed in October 1991 in which 120 Serb civilians were executed by Croatian authorities. Their Croatian neighbors took televisions and furniture from the victims' houses afterwards. Levar complained to authorities in Zagreb, who did nothing. After he contacted journalists, someone planted a bomb in his mother's home. He went on to testify at the International Criminal Tribunal for the Former Yugoslavia about what he had seen and what he knew. The ICTY offered to protect him and suggested that he emigrate. He decided to stay in Croatia. And when he came home, still the Croatian government refused to act. Levar was killed months later from a bomb planted in his car. 
The second case of resistance Fujii described took place in Bosnia. The journalist Željko Kopanja wanted to report the whole truth about the crimes committed during the Bosnian War. In 1999, in his newspaper, he listed the 228 victims of a massacre of Muslim and Croat civilians executed by the Bosnian Serb authorities in 1992. Just two months after publishing the list of victims and a series on war crimes, he too was the victim of a car bomb that he survived, losing both his legs.
Fujii then focused her remarks again on Maryland and the lynching of George Armwood. There had been a long silencing about that lynching in the community of Princess Anne where it occurred. When she set out to interview people there, Fujii experienced the silence too. However, in 2011, Kirkland Hall organized a commemoration of the lynching where scholars spoke and the public attended. There was a willingness to confront and accept this history. Even family members of the woman whose assault triggered Armwood's lynching participated and spoke mournfully about his lynching.
Fujii argued that when examining resistance, scholars often focus on outcomes and on grand dramatic actions or movements. Smaller actions matter too, Fujii emphasized, such as speaking out like Levar never stopped doing, publishing names as Kopanja did, and remembering and talking about the past. These are all powerful. Especially in contexts of silence, Fujii asserted, there is power in telling.
In the extensive and wide-ranging Q&A that followed her lecture, audience members questioned, explored, and tested this analytic category of "violent display." Much discussion unfolded about the parameters of this category. Audiences are multiple, Fujii elaborated, and display makers cannot control the meanings of their displays. The meanings are multiple as well. Fujii highlighted that some of the questioners seemed to still be seeking strategic justifications for the violent displays instead of foregrounding the displays' social aspects and functions.
Summary by Martha Stroud
Like this article? Get our e-newsletter.
Be the first to learn about new articles and personal stories like the one you've just read.