Educators at Lauder School of Prague Attend IWitness Seminar
Thu, 03/02/2017 - 11:03am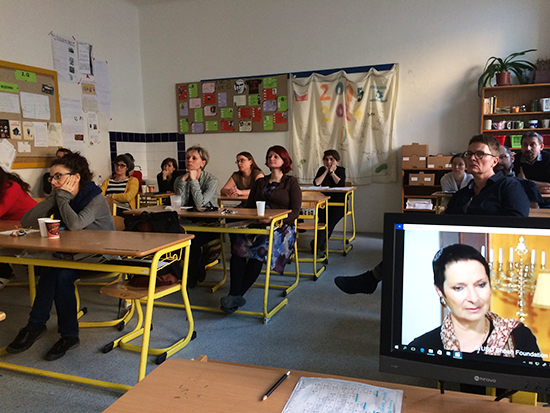 Educators from the Ronald Lauder Jewish School in Prague took a day to be educated last month, taking a course generally assigned to their students with USC Shoah Foundation Senior International Program Consultant Martin Šmok. The subjects: Jewish identity, testimony and how to use the Institute's Visual History Archive and IWitness activities to learn about them.
In fall of 2015, Šmok began teaching this recurrent course at the Lauder School as one of several elective seminars all 15-16 year old students have the option of taking, on oral history, Jewish history and testimony. Still engrossed in the class over a year later, Šmok uses the Visual History Archive and IWitness to introduce students to the testimonies of local Holocaust survivors and their relevance today. They also work on the skills of interviewing, filming and archiving, to ultimately develop their own testimony-based films relevant to present-day issues.
On Feb. 15, Šmok gave a special lesson for instructors at Lauder School as a professional development program.
"I presented the issues of Jewish identity using IWitness as the testimony delivery vehicle," Šmok said. "I delivered the concrete knowledge of the issues of Czech Jewish identity faced by teachers in their daily work among the Lauder School pupil population, and I spread awareness of IWitness as an amazing educational tool, not only for history, but as testimony-based education."
Šmok utilized the testimonies of the parents and grandparents of some of the teachers and administrators in the group, as a way to make the reality of the issues of Jewish identity less abstract.
"The effects on teachers present was incredible," Šmok said. "When you see how emotional people get because they finally understand how complex and complicated things called 'Jewish' can really be, how does one describe that in a report?"
Following the initial lesson, the Jewish education specialist and vice-director of the school started attending Šmok's Thursday IWitness seminar with the students.
Like this article? Get our e-newsletter.
Be the first to learn about new articles and personal stories like the one you've just read.