"100 Days to Inspire Respect" Week 8: Immigrants and Refugees
Fri, 03/10/2017 - 5:00pm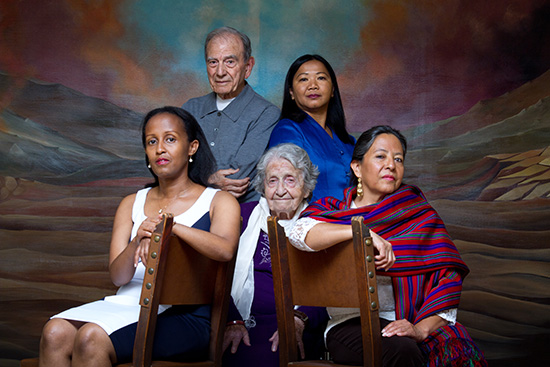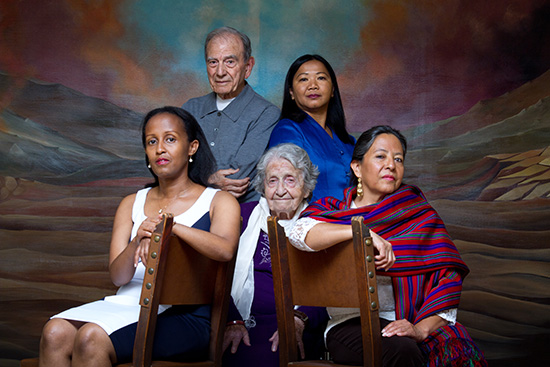 Survivors of five genocides, clockwise from bottom left: Edith Umugiraneza (Rwanda), Dario Gabbai (Holocaust), Sara Pol-Lim (Cambodia), Aracely Garrido (Guatemala), Yevigne Salibian (Armeina). All immigrated to Southern California
Every Friday, the following week's 100 Days to Inspire Respect educational resources will be previewed.
The theme of the 8th week of "100 Days to Inspire Respect" is "Immigrants and Refugees." Through this set of resources, students learn about the immigrant and refugee experience, including specific definitions for migrant groups, the processes by which newcomers settle into their new home countries and the complex and difficult experience it can be.
Students also explore the topics of acculturation and language, the American dream and they consider the concepts of continuity and change through an analysis of time and place in one highly diverse community in southern California, Boyle Heights.
On Monday, March 13, the IWitness Watch page will debut a new clip topic, "Refugees." These testimony clips will illustrate genocide survivors' experiences fleeing their home countries and attempting to start a new life.
The next day will be a Mini Quest activity called "We Were Refugees." This is an English-language version of the Czech activity Byli jsme uprchlíky 1938. In this activity students will learn about the experiences of refugees from Nazi Germany, Austria and the Czechoslovak borderlands on the eve of the Second World War. They will also learn about the involvement of the British Committee for Refugees from Czechoslovakia and its most famous figure, Sir Nicholas Winton.
On Wednesday, IWitness will release an activity called "Boyle Heights: Continuity and Change." In this activity, students learn about Boyle Heights, one of Los Angeles' oldest and historically most diverse neighborhoods. Through this examination, they learn about the history of Jewish survivor immigrants and refugees who settled there. Students engage in reflection and engage in close reading of text to explore the question of the relationship between place and identity. 
Thursday's resource will be an infographic about "Teaching English language Learners Through Testimony." The infographic will offer tips for teachers on how use testimony to teach a variety of subjects to students who are learning English.
Students will learn more about the challenges faced by students who must go to school in a new language in the Mini Lesson "Language Acculturation" on Friday, March 17. As a result of this activity, students will familiarize themselves with the struggles of English Language Learners (ELLs) and brainstorm methods to enhance communication across language barriers.
Saturday's resource is another Mini Lesson, this one "Defining Terms: Immigrants and Refugees." Students will learn the meaning of terms such as immigrant, migrant, asylum seeker and displaced person.
"Immigrants and Refugees" week will close with an Information Quest activity called "Immigrants and the American Dream." This activity will take into consideration possible reasons why different groups have migrated to America. Students will make historical links to America's first immigrants and then connect to the immigration decisions of five survivors from different experience groups. By constructing a word cloud and reflecting on those experiences, students will reflect on the concept of the American Dream and share their ideas with their classmates. 
Like this article? Get our e-newsletter.
Be the first to learn about new articles and personal stories like the one you've just read.