"100 Days to Inspire Respect" Week 9: Cross-Cultural Understanding
Fri, 03/17/2017 - 5:00pm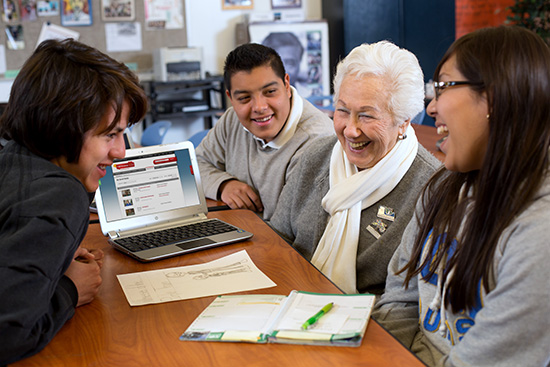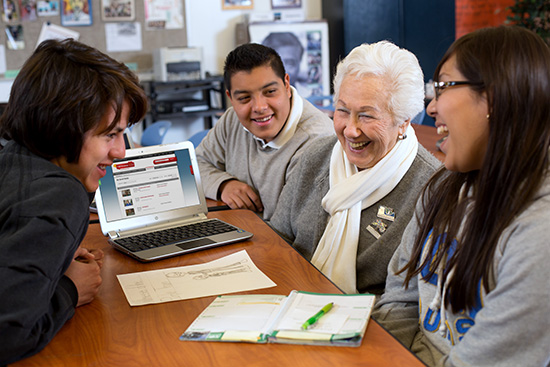 Holocaust survivor Renee Firestone with students at Camino Nuevo Charter Academy
Every Friday, the following week's 100 Days to Inspire Respect educational resources will be previewed.
A critical element in countering hate and inspiring respect is an understanding of culture and learning to value cultural differences.
Therefore, this week's resources engage students in an exploration of cultural identity and notions of "melting pot" and "salad bowl" in terms of the Americanization process, including in the context of the Native American experience. To end the week, we offer resources in which students consider culture and resilience in the face of xenophobia, stress and uncertainty.
On Monday, March 20, the week will begin with a new topic on the IWitness Watch page, "Culture." This selection of testimony clips will be centered on the theme of understanding culture and learning to value cultural differences.
March 21, International Day for the Elimination of Racial Discrimination, the featured resource will be the Information Quest activity  "I Am Somebody: Identity and the Armenian Genocide." Through this activity, students will learn about the impact of the genocide on the identity of individuals, how identities can either be assigned or chosen and consider how one's own identity influences daily life. 

Wednesday's resource is a Mini Lesson called "Defining Terms: Integration vs. Assimilation. The activity will help clarify what is meant by "cross-cultural" using the "salad bowl vs. melting pot" example.
An infographic will be the resource of the day on Thursday, March 23. This infographic, "Five Ways to Understand Different Cultures Using Testimony," will provide tips for how educators can use testimony to help students understand and appreciate different cultures.
Friday, March 24's activity will be an Information Quest on "Cross-Cultural Understanding." In this activity, students will listen to testimony of survivors and witnesses of genocides from around the world and explore their understanding of culture. By listening to voices from people who may be different from themselves, students will reflect on their own understanding of culture and become more aware of how to understand and respect differences in culture. 
Saturday's activity will be a Mini Quest about Native Americans and resettlement. This activity develops students' understanding of continuity and change in the history of resettlements at home and abroad.
The "Cross-Cultural Understanding" week will end with a Mini Lesson on assimilation vs. Americanization.
Like this article? Get our e-newsletter.
Be the first to learn about new articles and personal stories like the one you've just read.