"100 Days to Inspire Respect" Week 10: What Does Courage Look Like?
Fri, 03/24/2017 - 5:00pm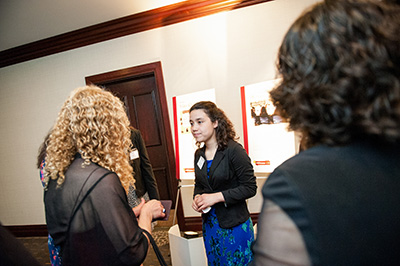 Ruth Hernandez presents her winning IWitness Video Challenge video at the 2014 Ambassadors for Humanity gala
This week, USC Shoah Foundation enters its tenth week of the 100 Days to Inspire Respect campaign, which aims to educate secondary students and their teachers about hatred and intolerance using the Institute's IWitness activities, academic resources and video testimonies from the Institute's Visual History Archive.
Following last week's overarching goal of fostering cross-cultural understanding, wherein students explored cultural identities, resilience and the Americanization process, this week's activities focus on dissecting what courage looks like.
Throughout the week, students and their instructors will learn about courage under the context of different values and individual agency, and discover the acts of protest undertaken by non-Jewish German individuals – mostly women – who in 1943 called for the release of 2,000 incarcerated Jews at the Jewish community center in Rosenstrasse, Berlin.
In activities release daily on IWitness by USC Shoah Foundation's Education Department, to be implemented by participating teachers on weekdays, students will watch videos and embark upon miniature quests on IWitness.
On the first day, March 27, students can complete an Information Quest called "Courage and Character." In this activity, students learn about key characteristics that can lead individuals to take courageous actions in their lives. Through careful reading of audiovisual testimony from rescuers from two different genocides, students understand the complexities of standing up against what is wrong and for what is right. Finally, students create a word cloud about one of the Six Pillars of Character. 
The next day, titled "Use Your Voice: Individual Agency," students will explore prejudice and cultivate their own agency in countering against racism. They'll listen to pre-World War II experiences of prejudice against four Jewish men and women, who later survived the Holocaust. Through these testimonies, found in USC Shoah Foundation's Visual History Archive, students will come to understand the manifestation and effects of prejudice. The activity culminates in a poster board project meant to raise awareness about prejudice, its effects and its dangers.
On the third day, in an activity called "This I Believe: Exploring Courage Through the Rosenstrasse Protest," students will become more familiar with the successful Rosenstrasse demonstration, where 200 non-Jewish German individuals – most of whom were women – were able to get their spouses and mischlings released by the Gestapo. Students will learn about the protestors' courage while listening to four testimonies from the Visual History Archive.
The fourth day centers on "Values and Courage." Using testimony from rescuers and resisters from the Holocaust and Rwandan genocide, students will learn about the six pillars of character – trustworthiness, respect, responsibility, fairness, caring and citizenship – to come to understand the complexities of standing up against what is wrong, and standing up for what is right. After some discussion, students will break off and create word clouds about a chosen pillar.
On the fifth day, students and their teachers will discuss "Resilience Through Prayer" and explore how prayer helped some Jewish survivors maintain strength during the Holocaust. Using an Information Quest activity, students will identify content-specific words and reflect on their significance to the text, to their peers and to themselves. They'll ultimately create a word cloud with what they learn.
The next day hones in on courage in the face of adversity and the impact of storytelling. Students will listen to testimonies from survivors of the Armenian Genocide, the Holocaust and the Genocide against the Tutsi in Rwanda, and then use what they know about courage from history to analyze what they learn about courage from the genocide survivors in the Visual History Archive. Following their engagement with the Archive, they will construct six-word stories about courage and genocide.
The final day, on Sunday, April 2, is a Mini Lesson which deals with grit and encourages the students to write poetry using what they've learned.
The following week, students will explore violence and violent extremism with testimony and additional activities.
Like this article? Get our e-newsletter.
Be the first to learn about new articles and personal stories like the one you've just read.