Audiences Captivated by USC Shoah Foundation Virtual Reality Projects
Wed, 04/26/2017 - 5:00pm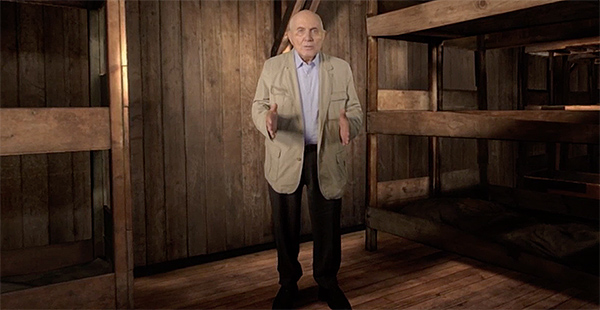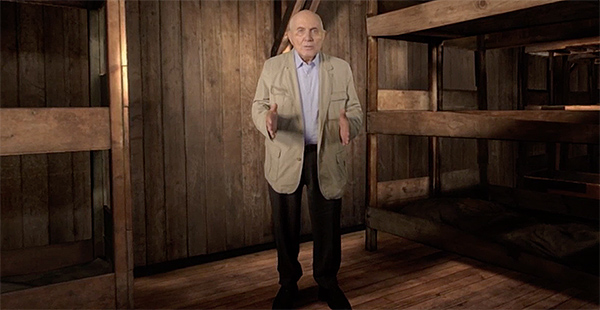 Over the past few years, USC Shoah Foundation has embarked upon two interactive media projects which have already emerged as groundbreaking endeavors in the field – the "New Dimensions in Testimony" project, and this year's The Last Goodbye immersive virtual reality experience that has made waves at the Tribeca Film Festival's Virtual Arcade.
In both initiatives, Holocaust survivor and donor of testimony Pinchas Gutter features prominently, telling his story at length rather than simply answering questions, and giving the world a glimpse into the future of Holocaust education and preservation.
The NDT project, which premiered last year at the international documentary festival in Sheffield, England, features a three-dimensional, responsive video image of Gutter and allows viewers to interact with the avatar, ask the virtual Gutter questions and receive answers based on pre-recorded testimony. That testimony is pulled from over 20 hours of interview with Gutter, the 1,500 answers to questions recorded in 2014 by 116 cameras.
The Last Goodbye, which opened at Tribeca Film Festival's Virtual Arcade this month, also features Gutter at the forefront as he walks viewers through his time at concentration camp Majdanek. To participate in the virtual reality experience, viewers are asked to don a headset and follow Gutter along his tale of survival and immense loss. The exhibition takes memorialization further than even NDT does – you meet Gutter in a hotel bathroom, where he's shaving, and he prepares you for what you're soon to see, following him through the filthy bunks the Jewish people were forced to share in the concentration camp he lived at; the communal showers; the gas chamber where his parents and twin sister Sabina were killed; and the crematorium in which their bodies were burned.
The projects have garnered much praise since their release – in the last week, several outlets have put out reviews of The Last Goodbye. Engadget wrote that the whole experience was enhanced by Gutter's storytelling: "I'd be one thing to just to see these rooms in VR, but hearing Gutter's recollection from childhood makes it all the more tragic and meaningful...I'm not a religious person, but I try to have faith in humanity. Seeing [the] tools of genocide up close...made me physically shake at points."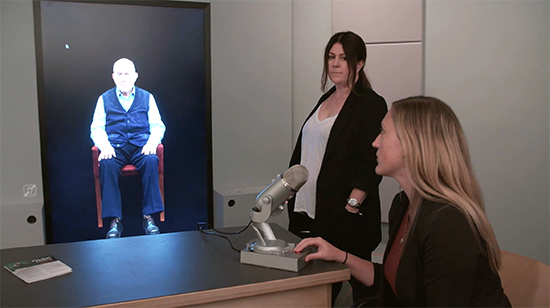 A CNN reporter earlier this week showed viewers New Dimensions in Testimony and described her takeaways, while Forbes dubbed the Last Goodbye experience "one of the most emotional experiences in the Storyscape competition…" Haaretz wrote extensively of the project's production, and German site Vrodo praised the project's authenticity.
Wired defended directors Gabo Arora and Ari Palitz, and producers Stephen Smith, USC Shoah Foundation and Here Be Dragons in their decision to use virtual reality over more general documentary-shooting in their article covering the exhibition: "A standard 360-degree video could have captured Gutter telling his story at Majdanek, but the experience would have been limited; users wouldn't have been able to move closer to Gutter or get a better look at the camp's various rooms."
Following Tribeca, The Last Goodbye will fall in with the rest of USC Shoah Foundation's Visual History Archive, its archive of over 55,000 testimonies from genocide survivors and witnesses. It will also be available in a stripped-down form on VR app Within, and be made available to classrooms via USC Shoah Foundation's IWitness website.
NDT projects now encapsulate over a dozen additional interviews, all being prepared to pilot in museums. Currently, Gutter's testimony resides at USC Shoah Foundation's home in Leavey Library, with other installations in Holocaust museums across North America: the Illinois Holocaust Museum and Education Center, CANDLES Holocaust Museum in Indiana, Neuberger Holocaust Centre in Toronto and Holocaust Museum Houston. The new testimonies will soon follow Gutter's lead.
Like this article? Get our e-newsletter.
Be the first to learn about new articles and personal stories like the one you've just read.