Yale's Kathryn Brackney to Research "Otherworldliness" of Holocaust as 2017-2018 Katz Research Fellow
Thu, 04/27/2017 - 5:00pm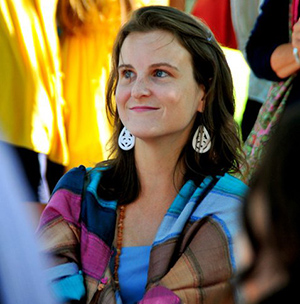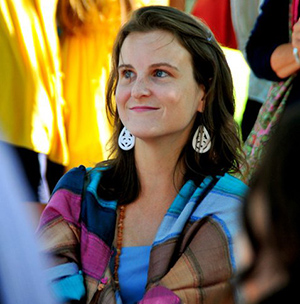 The second annual Robert J. Katz Research Fellow in Genocide Studies will be Kathryn Brackney, a Ph.D. candidate in history at Yale University whose dissertation will explore the "otherworldliness" of the Holocaust.
The Robert J. Katz Research Fellowship in Genocide Studies is awarded to an advanced-standing Ph.D. candidate who will use testimony from USC Shoah Foundation's Visual History Archive in his or her dissertation. The chosen fellow spends up to one month in residence at USC Shoah Foundation Center for Advanced Genocide Research and gives a public talk during his or her stay. Brackney will be in residence late February-March 2018.
Brackney received her master's in theological studies from Harvard Divinity School. She completed fellowships at Yale's MacMillan Center and U.S. Holocaust Memorial Museum in Washington. D.C. and received research grants from the Max Kade Foundation and Baden-Wurttemberg Exchange Program at Heidelberg University in Germany.
Her dissertation is titled "Otherworldly Horizons: An Alternative History of Holocaust Consciousness." Survivors of the Holocaust often use a language of "otherworldliness" to describe their war- time experiences, the European communities they left behind, and the spaces where they imagine their loved ones might live on. Brackney's dissertation examines how the dimensions of these "other worlds" have shifted in the work of artists, writers and critics who have reflected on the Holocaust during the post-war period in Western Europe, North America, and Israel.
The project tracks the emergence and transnational circulation of figures such as poet Paul Celan's grave in the clouds, novelist Ka-Tzetnik's Planet Auschwitz, and filmmaker Claude Lanzmann's haunted Polish forestscapes. By focusing on changes in the visual vocabularies of memory, Brackney outlines a new history of Holocaust consciousness that does not turn exclusively on events such as the Eichmann Trial, the Six-Day War, or the airing of NBC's popular miniseries, Holocaust.
"I focus particularly on moments when artists and critics have placed the Holocaust "beyond the limits of representation"—and examine how those limits themselves have been subject to historical change," Brackney said.
She hopes to expand the scope of her dissertation beyond the Holocaust, by examining how survivors have narrated their post-liberation transitions into displaced persons camps and the major countries of resettlement.
"What images have survivors used to characterize the interim spaces they inhabited in the immediate post-war period, at what historian Dalia Ofer has called the crossroads where the 'temporary' and the 'permanent' meet?" Brackney said. "To what extent did pre- and post-war life seem separated by a chasm, and under what circumstances have survivors described themselves as inhabiting both worlds simultaneously?"
The Katz fellowship will also make it possible for her to gather materials for a second project, which explores how Jews who hid and fought in the forests of Eastern Europe during World War II experienced nature. That project will draw on art, testimony, and memoir to examine how Jews projected their encounters with local populations and partisans onto the seasons and surrounding landscape.
Brackney first heard about the fellowship opportunities at USC Shoah Foundation Center for Advanced Genocide Research from its inaugural Greenberg Research Fellow Jared McBride, who was also a fellow with her at USHMM last year. She admires USC Shoah Foundation's commitment to helping young scholars form networks, develop their research and push the boundaries of genocide scholarship.
"The practice of collecting video testimony has been crucial to centering victim's voices in the reconstitution of the past," Brackney said. "USC Shoah Foundation's commitment to this mission has produced an extraordinary archive, and I look forward to doing research there that will inform my work for years to come."
Like this article? Get our e-newsletter.
Be the first to learn about new articles and personal stories like the one you've just read.