Omer Bartov Discusses Research, Testimony and Future of Holocaust Scholarship in Facebook Live Interview
Fri, 05/05/2017 - 5:00pm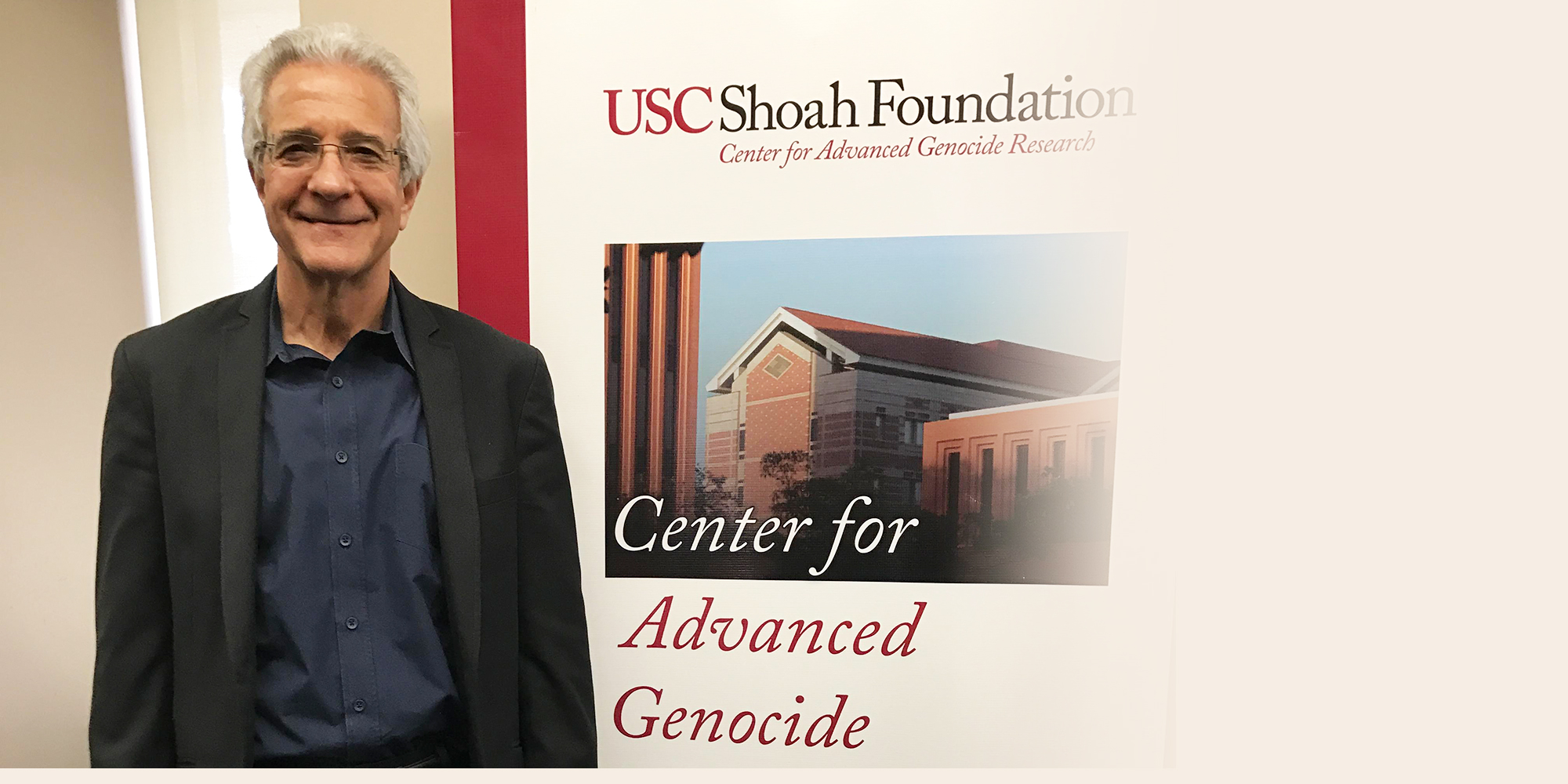 USC Shoah Foundation Center for Advanced Genocide Research's 2017 Sara and Asa Shapiro Scholar in Residence Omer Bartov began his residence today with a Facebook Live interview about his work.
Born in Israel and educated at Tel Aviv University and St. Antony's College, Oxford, Omer Bartov is the John P. Birkelund Distinguished Professor of European History at Brown University. His early research concerned the Nazi indoctrination of the Wehrmacht and the crimes it committed in World War II, analyzed in his books, The Eastern Front, 1941-1945 (1985) and Hitler's Army (1991) He then turned to the links between total war and genocide, discussed in his books Murder in Our Midst (1996), Mirrors of Destruction (2000), and Germany's War and the Holocaust (2003). Bartov's interest in representation also led to his study, The "Jew" in Cinema (2005), which examines the recycling of antisemitic stereotypes in film. His last monograph, Erased: Vanishing Traces of Jewish Galicia in Present-Day Ukraine (2007) investigates interethnic relations in the borderlands of Eastern Europe and contemporary politics of memory in that region. Bartov is also the editor of several volumes, including (with Eric Weitz) Shatterzone of Empires (2013).
He has just completed a major monograph, Anatomy of a Genocide: The Life and Death of a Town Called Buczacz, to be published in December 2017 with Simon and Schuster. Bartov is currently directing the project "Israel-Palestine: Lands and Peoples," at the Watson Institute, and has begun researching a new book tentatively titled "Israel: A Personal Political History."
In the wide-ranging interview, Bartov spoke about how he became a historian of the Holocaust and genocide, some of the biggest turning points of his research over his illustrious career, and the role that survivor testimony has played in his research.
He was one of the first scholars to watch testimonies being collected by the Shoah Foundation in its earliest days, back when it was still based in trailers on the backlot of Universal Studios and testimonies were recorded on cassette tapes.
"I still have 70 cassettes at home, copies of testimonies that had to do with Buczacz, and since then I have always kept in touch," Bartov said. "What I've discovered is that for my specific case, without testimonies various things would be unknown. We would not know much about experiences of victims because perpetrators didn't believe in [documenting] that at all."
In response to a question about new research being done in the field of Holocaust and genocide studies today, Bartov noted that scholars are focusing on local studies and also studying how the Holocaust fits into the larger context of genocide.
He also cautioned against teaching students about the Holocaust too young, and instead suggested focusing on general themes of tolerance and humanity until they are old enough to understand the context.
However, for adults, the Holocaust will always be crucial to our understanding of the world today.
"It's important to study the Holocaust because it's an event that happened in history. It has gradually come to be recognized as one of mot important events that happened in 20th century and it's surrounded by events that happened before and after it," Bartov said. "If you want to understand anything about genocide, anything about inhumanity, legislation on human rights, you cannot do that without studying the Holocaust as well."
Bartov encouraged young scholars to pursue a research topic that is meaningful to them, instead of choosing the topic they are told is popular at the moment.
"Only write and only research what is really important to you, what you think you want to spend the next 10 years doing," he said, and joked, "If you do that, your next worry would be if you get a job or not."
Like this article? Get our e-newsletter.
Be the first to learn about new articles and personal stories like the one you've just read.