Omer Bartov Gives Shapiro Scholar Lecture on "Anatomy of a Genocide"
Mon, 05/08/2017 - 5:00pm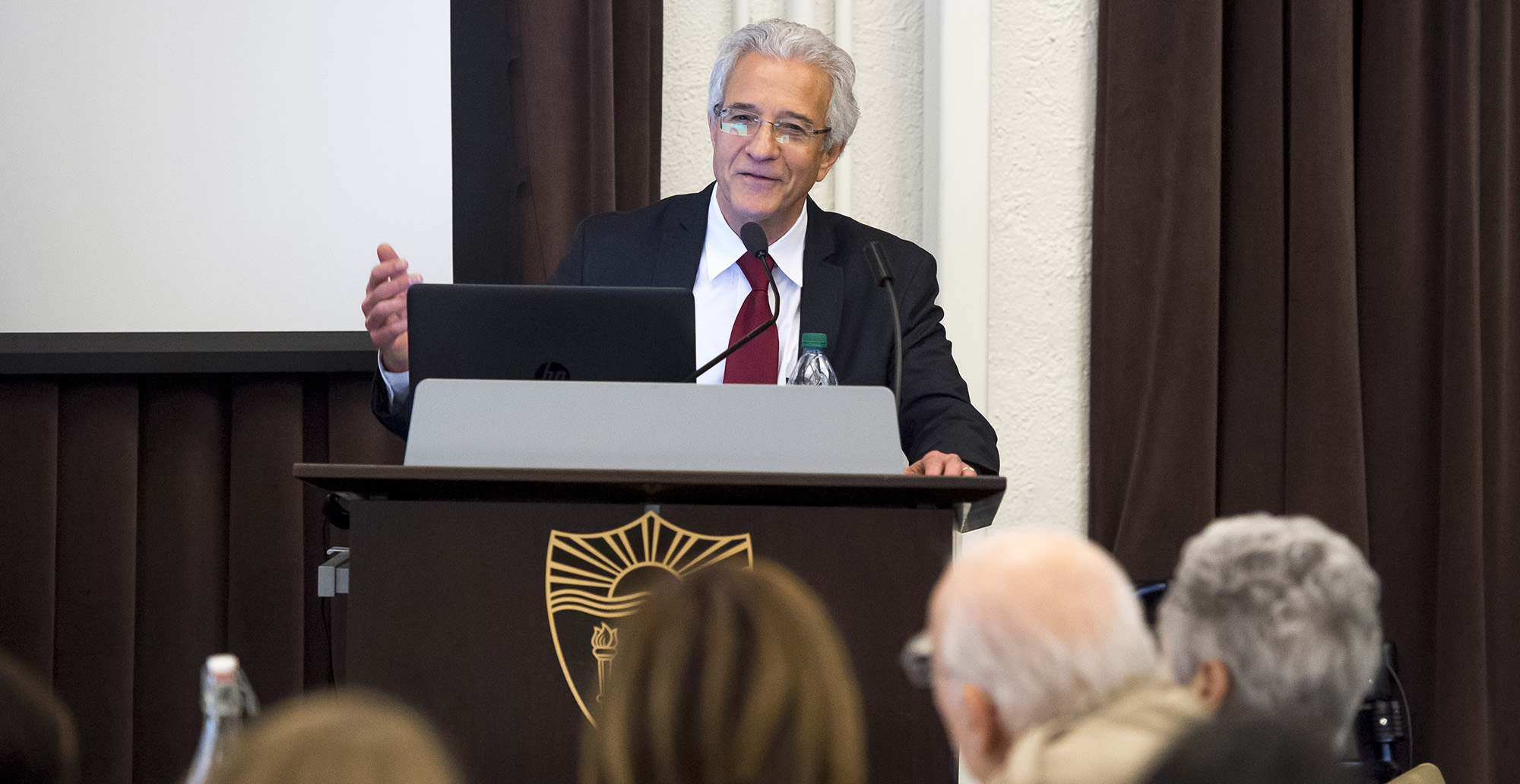 The town of Buczacz is part of Ukraine now, situated between two graveyards – two mass graves – with a living population hovering at around 12,500, if you mind the 2001 Ukrainian census. This town, in itself a synecdoche of greater World War II, was the focus of a talk given by Professor Omer Bartov of Brown University, on 8 May in his Sara and Asa Shapiro Scholar Lecture at USC's University Club.
Longtime USC Shoah Foundation board member Mickey Shapiro – who funds the Sara and Asa Shapiro Scholar and Lecture fund at the Institute's Center for Advanced Genocide Research in honor of his parents, Holocaust survivors Sara and Asa Shapiro who lived near Buczacz – was in attendance during the lecture.
Bartov, an Israeli-born and Oxford-educated professor, centered his discussion on how the East Galician town of Buczacz was transformed from a site of coexistence – where Poles, Ukrainians and Jews had all lived side-by-side for centuries – into a site of genocide, where between the German occupation of the region in 1941 and the 1944 Soviet liberation, the entire Jewish population was murdered by both the Nazis and their neighbors. Bartov contended, in the lecture, that the reason for this slaughter hinged on an idea he called "communal killing."
In assembling his argument for his new book, Bartov explained that he had to remove his prejudices against first-person accounts of genocide, in order to get a better-rounded perspective of what went on in towns like Buczacz:
"The book is an attempt to understand the voices of the people who once lived in that area and who have been largely forgotten both in that area and other areas," Bartov said. He began writing and gathering research about the town, using it as a microcosm to then expand to greater Eastern Europe in an effort to explain "communal killings," in 1995, when he came to visit his mother in Israel and asked for her story. "She spoke for about an hour and a half non-stop...and gave me a certain understanding of the life she would have led in that little town in the 1920s. It was a very good story about growing up in a warm home, having Polish and Ukrainian friends. It was a good childhood story about a world I knew very little about."
After hearing his mother's story, Bartov said he became dissatisfied with widely-accepted explanations of why the Holocaust happened, and who carried it out – previously, it was thought that as communism fell toward the early 1990s, the world was experiencing the "end of history." But almost immediately after, in Bosnia and in Rwanda, there were massive exterminations of people and it bothered Bartov that they hadn't been preempted.
"That was the context that started resonating with me," Bartov said. "I had gradually internalized the notion of how the Germans had created a system of industrialized killing [and distancing themselves from those they killed by both dehumanizing them and literally taking them out of their towns and into extermination camps], but I was never entirely happy with that explanation because of what we were seeing in the 1990s, seeing large numbers of people killed by their neighbors…"
To attempt to explain his notion of "communal genocide," Bartov used his mother's hometown as his case study, with the guiding insight of: "If you want to comprehend the dynamic of a local genocide, you have to first understand the relationships between the people of that community before the violence begins."
In Buczacz, Bartov said, the Jews, Poles and Ukrainians lived for over 500 years in perceived peace. Over time, with poverty and hunger taking hold, they began to think of one another in more negative ways, to stop respecting one another's existences. And when Nazi soldiers came, all of their previously-held-back motivations started operating under circumstances of war and occupation.
"You see a transformation over time from a community of coexistence, who knew no other reality, into a community of genocide," Bartov said. "How does this happen? It doesn't happen instantaneously."
Scouring archives worldwide over a decade, Bartov came across stories and testimonies from inside the town and gained an understanding of the different narratives from the different communities that existed in Buczacz. He found that, "Once there was a moment of violence, these stories could become antagonistic. They didn't do so under the normal routine of things."
He also found that perceptions of the genocide event varied across groups: "When you look at how people spoke of a place when violence begins, everyone describes themselves as victims," Bartov said. "This is important because people felt at one point or another they were actually victims, the victims of their neighbors who lived next to them. You also find perceptions of such concepts that to us seem quite simple – like collaboration, betrayal, heroism, liberation – differ dramatically from one group to another, to one time to another."
Throughout his lecture, Bartov emphasized the importance of context and complete information to filling out the history of an entire region: "It helps us understand that all events that happen through history can be understood only by comparison in history," Bartov said. "Much of what happened in the Holocaust is what we see in other genocides – communal killing, happening on the ground by neighbors with much gratuitous violence; not dehumanization as we thought originally, but rather the need to make this person as you're killing them different from you."
Like this article? Get our e-newsletter.
Be the first to learn about new articles and personal stories like the one you've just read.