Survivors Share Stories, Urge Action in Genocide Awareness Month Panel Discussion
Tue, 05/09/2017 - 5:00pm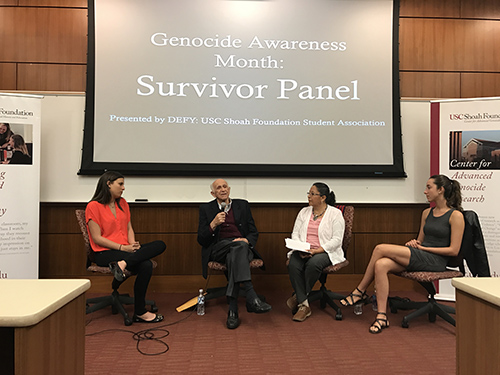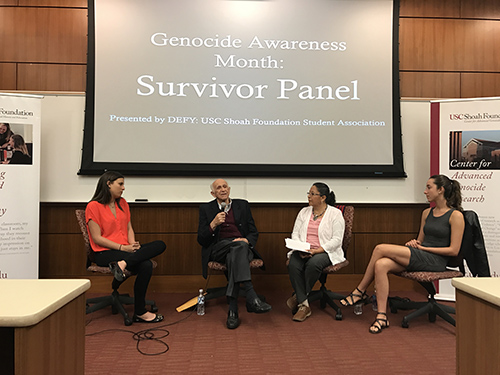 Eva Hilton, Zenon Neumark, Aracely Garrido and translator
Holocaust survivor Zenon Neumark and Guatemalan Genocide survivor Aracely Garrido shared their stories of survival and their messages for the next generation at a Genocide Awarenes Month event hosted by DEFY, USC Shoah Foundation's student organization, on April 27 at USC.
Hosted by DEFY president Eva Hilton, Neumark and Garrido answered questions about their lives before, during and after genocide.
At the age of 16, Neumark managed to escape the Jewish ghetto in his Polish hometown simply by jumping the fence of their work site at an opportune moment. From there, Neumark got fake documentation that listed him as a Roman Catholic electrician with a different last name. While hiding in Warsaw, Neumark joined three different Polish underground movements, one of which was Jewish and two that were political.
Following the Warsaw Ghetto Uprising in 1944, Neumark escaped a work camp in Vienna and hid in plain sight as a Catholic in the city, working as an electrician until the war ended.
After the war, Neumark decided to pursue his newfound field by studying electrical engineering at the University of Milan. He later came to the United States, first to Oklahoma and then to Los Angeles where he worked at the Hughes Aircraft Company. In 2006, Neumark published his memoirs, Hiding in the Open: A Young Fugitive in Nazi-Occupied Poland.
Garrido is mestiza, or a person of mixed ancestry, and lived in the Quiche region in Guatemala when the military began attacking the native Mayan population in the 1980s. She was part of a student movement at the University of San Carlos that registered the disappearance of 175 students. In Garrido's own family, two cousins were killed and another 12 family members are still missing.
After the peace treaty was signed in 1996, she began working with Rigoberta Menchú, a Guatemalan activist who later won the Nobel Peace Prize, to collect testimonies of survivors, members of the military and paramilitary in preparation for trials and documentation of the genocide.
In response to one of the first questions, about being separated from his family in the ghetto, Neumark said it was there that he saw a dead body for the first time. Local young Nazis waited one day on the streets of the ghetto to beat up him and other Jewish children, Neumark recalled, but said that incidents like these encouraged the ghetto children to form groups to resist and protect each other.
Garrido described how dangerous it was for indigenous or mestizo (mixed) students to go to university in Guatemala around 1978 and 1979. The military and police would shoot at bus stops and take people away. In response, Garrido and others from the students' opposition group occupied the Spanish embassy in protest, and the government's response was to burn the embassy down, killing 37 people. At this point, Garrido fled to Quiche for 14 years for her own safety, and did not see her family the entire time she was in hiding.
Neumark then spoke about what happened after he escaped from the ghetto. He had the address of a family friend in Warsaw, but after he arrived, the police came looking for him. They ordered him to hand over all his valuables. Neumark realized that this family friend had set him up in order to rob him. He pretended to be a Polish Catholic, and it worked; his life was spared and he could live and work in Warsaw.
To close his remarks, Neumark spoke about the importance of getting an education. He also pointed out that many people, Jews and non-Jews alike, helped him throughout the war even though they were forbidden by the government, on punishment of death, from doing so. There were many rescuers and aid providers during the Holocaust, and they should be recognized, he said.
Garrido said that for the first 10 years after the genocide, she could not speak about it. It affected her physically and emotionally and it's very difficult for her to talk about it and think about what happened. However, she feels she and other survivors have a moral obligation to talk about Guatemala and tell the story because the genocide is one of the least known or talked about today.
Her closing words seemed to apply to both herself and Neumark: genocide destroys lives, but in times of such injustice, you can't do anything but join the fight for justice and peace.
Like this article? Get our e-newsletter.
Be the first to learn about new articles and personal stories like the one you've just read.