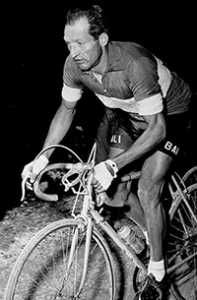 The Israeli Cycling Academy today is honoring the heroic actions of famed Giro d'Italia champion Gino Bartali during the Holocaust with a commemorative ride through Italy from Florence to Assisi.
Bartali, who won the Giro d'Italia in 1936, 1937 and 1946 and the Tour de France in 1938 and 1948, served a special role in the Italian resistance during World War II. He smuggled counterfeit identity papers for Jews and other documents for the resistance across the country, hidden in the tires of his bicycle where they would not be discovered even if he were searched by authorities. His long-distance cycling training enabled him to ride across Italy as quickly as possible to transport the documents from the city they were made to wherever they were needed, thus saving thousands of lives.
Bartali never spoke publicly about his heroic actions and little was known about what he did until after his death in 2000. Yad Vashem named him "Righteous Among the Nations" in 2013.
USC Shoah Foundation recorded two testimonies of Italian Jewish survivors who have memories of Bartali and his resistance activities. Renzo Servi remembers Bartali coming to the hotel he was staying at on his bicycle to warn him that his hometown of San Sepolcro had been bombed and ransacked. Enrico Maionica was part of a team that actually made the counterfeit documents that Bartali would then transport across Italy by bicycle.
Playlist Reference:
Commemorating Gino Bartali