IWitness Video Challenge Submissions Quadruple for 4th Annual Contest
Wed, 05/17/2017 - 5:00pm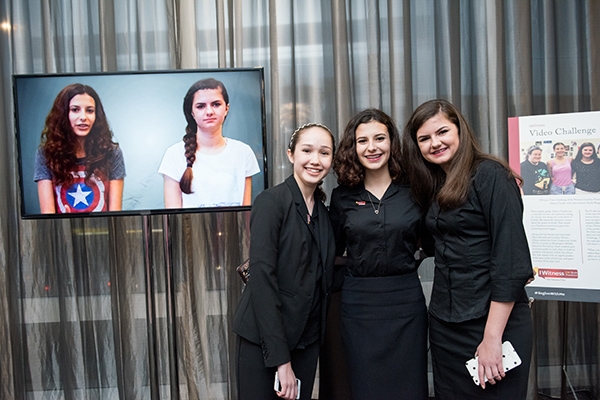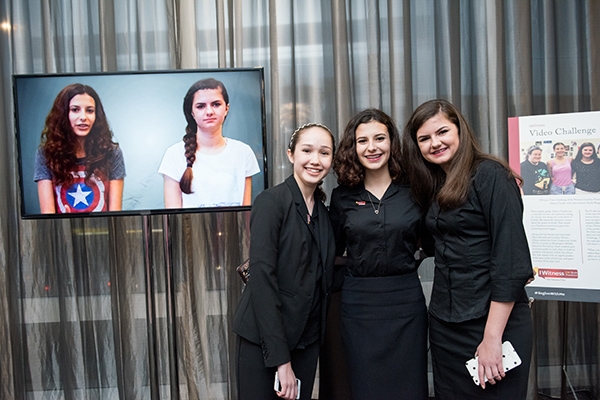 2016 winners Maya Montell, Allison Vandal and Caroline Waters
More students and teachers than ever before are doing the IWitness Video Challenge.
The contest, now in its fourth year, received four times the number of entries it received just last year.
The total number of students who were assigned the IWitness Video Challenge activity increased by 70 percent, and the number of teachers who assigned it nearly doubled.
Entries came from 17 states: California, Colorado, Massachusetts, Florida, Indiana, New York, New Jersey, Michigan, South Carolina, Texas, Alabama, Tennessee, Arizona, North Carolina, Kentucky, Missouri and Illinois.
Compared to the first-ever IWitness Video Challenge, in 2014, the number of entries submitted to the 2017 contest is even more impressive: over eight times more students completed the contest this year than in its inaugural year.
The IWitness Video Challenge, which will award $10,000 in prizes overall, invites students from all over North America to be inspired by the voices in IWitness, to use their innovation to create positive value in their communities, and to submit short videos explaining the inspiration behind their extraordinary actions and impact.
Previous winners have demonstrated how testimony of genocide survivors in IWitness inspired them to participate in an immigration reform rally, write kind, anonymous notes to every student in their school, and form a club to write poems for classmates going through tough times.
"When you spread the message of love rather than the message of hate you can affect an entire area of people with the power to combat the hatred," said Allison Vandal, one of the three 2016 winners.
Her teacher Emily Bengels said even though her own students won, she enjoyed watching the videos submitted from other schools.
"It makes me hopeful to see students taking time to add kindness to the world," Bengels said.
The submission period for the 2016-2017 contest is now closed and winners will be announced around June 5, 2017.
Like this article? Get our e-newsletter.
Be the first to learn about new articles and personal stories like the one you've just read.