In Memory of Asa Shapiro
Fri, 06/16/2017 - 12:12pm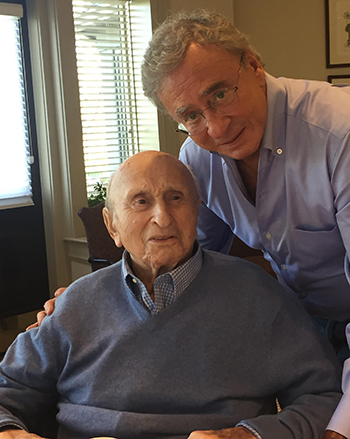 The staff at USC Shoah Foundation is saddened to learn about recent the passing of Asa Shapiro, father of board member Mickey Shapiro and Holocaust survivor.
When Asa Shapiro was 14, he was sent from his native town of Korets, to a Siberian forced-labor camp, a move that likely saved his life because Germany soon invaded Poland and murdered most of his relatives. During World War II, he was conscripted into the Russian Army.
Asa and his wife Sara Shapiro, who is also a Holocaust survivor, met in Korets when both returned to find the devastation of their hometown.  Sha followed him to a displaced person's camp in Germany, where they married. Mickey, their first son, was born there. They moved to the United States shortly thereafter and settled in Detroit where their other two sons Eddie and Steven were born.
The young family came to the United States with virtually no money. Arriving in Detroit, Asa Shapiro worked hard loading trucks at a lumberyard. Three years later, in 1952, he bought the yard and opened two businesses, Asa Building Supplies and Asa Cabinets, both of which are still in operation today and owned by the family.
"I did not know Asa in his prime, but if the last five years of his 95 were anything to go by, he was force to be reckoned with," said USC Shoah Foundation Executive Director Stephen D. Smith. "Asa overcame conditions that seem unimaginable, but he was able to live a full, meaningful life and contribute to society. There is no better way to tell a man than by his family, who will carry his name with pride for generations to come. We are honored that his name will forever be part of USC Shoah Foundation's quest to bring scholars to our campus to further this important field of study."
The memory of Asa Shapiro will endure at USC Shoah Foundation as his son Mickey Shapiro funded an endowed research fellowship named after his parents in 2016. The Asa and Sara Shapiro Lecture is a prestigious keystone program of the Center for Advanced Genocide Research, which invites a recognized scholar to spend up to one month in residence at USC Shoah Foundation.
Like this article? Get our e-newsletter.
Be the first to learn about new articles and personal stories like the one you've just read.