Introducing USC Shoah Foundation's Armenian Genocide Collection to London Community
Tue, 07/18/2017 - 5:00pm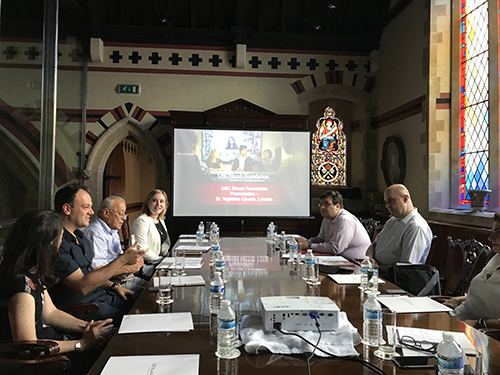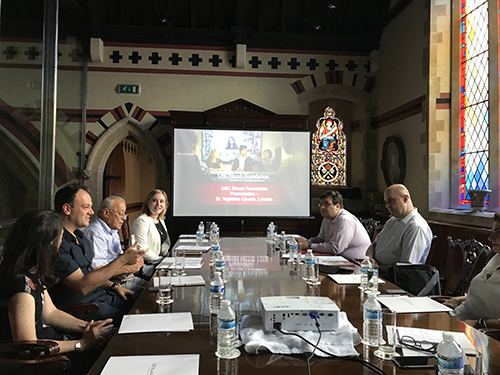 Frieda Kahn, back left, introduces USC Shoah Foundation to members of London's Armenian community
Members of London's Armenian community learned about USC Shoah Foundation and its Armenian Genocide testimony collection at a special presentation on June 18.
Frieda Kahn, USC Shoah Foundation Executive Director of Advancement, and Manuk Avedikyan, Project Manager of the Armenian Genocide Collection, led the presentation, held at the historic St. Yeghiche Armenian Church Parish in the South Kensington neighborhood of London. Hosted by Keghvart Vartanian, Vahe Vartanian, and Raffi Sarkissian, this inaugural presentation was attended by representatives from the Armenian Community Council UK, Tekeyan Cultural Association, Campaign for Recognition of the Armenian Genocide UK, Armenian National Committee and post graduate student from SOAS.
Kahn introduced USC Shoah Foundation, its history and mission. Avedikyan spoke about the Institute's Armenian Genocide testimony collection, its use of Armenian Genocide survivor and witness testimony in education through the IWitness Armenia program, and research, through the Center for Advanced Genocide Research. Kahn shared the Institute's ambitious goals to expand the Armenian Genocide Testimony Collection and develop new educational resources and research opportunities to increase the impact and reach of this extraordinary Collection.
The attendees discussed potential community and university outreach in the UK that would expand the Institute's reach and inform the public about its Armenian Genocide testimonies and educational resources.
Following the meeting, Kahn and Avedikyan will explore ways to deepen USC Shoah Foundation's work in the UK through new partnerships with local institutions and philanthropic partners.
"This is the next step in USC Shoah Foundation's long history of work in the UK and reflective of our commitment to raising awareness of the Armenian Genocide through the powerful life stories of those who experienced it," Kahn said.
In March, the Institute celebrated the completion of the integration of all its 334 Armenian Genocide testimonies into the Visual History Archive. The testimonies were acquired through a partnership with the Armenian Film Foundation and were recorded by filmmaker J. Michael Hagopian beginning in the 1970s.
Carla Garapedian, award winning documentary film maker and Armenian Film Foundation Board member, also attended the gathering and shared her perspective on the success of this partnership.
A subset of these testimonies have been added to IWitness, so students around the world can access them in their entirety. IWitness also features a selection of curated clips from the Armenian Genocide testimonies as well as multimedia activities about the genocide including "I Am Somebody: Identity and the Armenian Genocide," "Women You Should Know: Aurora Mardiganian," and "The Great Fire of Smyrna."
Teacher seminars and workshops have been held across America to introduce educators to USC Shoah Foundation's Armenian Genocide resources.