Hate Has No Place in Our Future
Thu, 08/17/2017 - 3:00pm
By Blake Humphrey with Sara E. Brown
When I visited Nazi death camps in 2014, I viewed spaces filled with the spirits of so many lives lost and witnessed the end result of evil, intolerance, and hatred. I left the gas chambers at Auschwitz and Majdanek that summer thinking that the sick, twisted ideology that drove the Nazis and was fueled by hatred and ignorance no longer existed in the 21st Century, especially in the United States. I naively believed Nazi ideology had ceased to exist with the end of World War II and the Holocaust.
I was wrong. On the morning of Saturday, August 12, 2017, I saw neo-Nazis, racists, bigots and white supremacist domestic terrorists with swastikas on their arms gather in Charlottesville, Virginia. Despite what I believed when I left Poland in 2014, this vile, hateful ideology still exists around the world and in this country. And proponents of such hatred and prejudice invaded Charlottesville and the University of Virginia last Saturday to celebrate their messages of division and intolerance. They promote the same "us versus them" trope that has led humanity into its darkest days of persecution and genocide, targeting groups for violence based upon race, religion, gender, sexual orientation, national identity – the list goes on.
In times such as these, humankind must stand in solidarity against intolerance. We must show our support and lend our individual and collective voices against such ideologies. That is why, as the student body president at West Virginia University, I joined over 170 university student body presidents and signed a letter in solidarity against racism and violence in Charlottesville, Virginia. Because even though the neo-Nazis, KKK and other groups want you to think it is about "us versus them" and that "they" are the reason for this problem or that problem, the real issue here is prejudice, bigotry, and violence. We must educate ourselves on the roots of intolerance and hatred and reject the "us versus them" paradigm forced upon us and intended to instill fear and hatred.
Education is necessary to effectively counter hatred in all its forms. I recently joined the Intercollegiate Diversity Congress organized by USC Shoah Foundation in order to develop a toolkit for promoting diversity and inclusion on my campus.
We will utilize activities, like the new IWitness activity, Reflections and Action on Campus Diversity, specifically designed for college and university student leadership councils. It addresses various forms of discrimination and prejudice, the role of the bystander, and how to take action on campus to create inclusive campus environments. Another IWitness activity relevant to the issue of racial and religious intolerance, Witnessing Jim Crow, shares the experiences of survivors of the Holocaust who resettled to the United States and encountered racism and prejudice in the Jim Crow South of the 1950s and 60s. These education initiatives will help to effect positive change on my campus and in our society.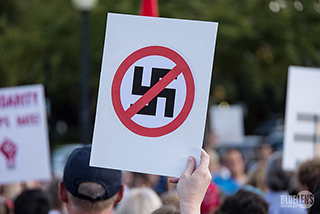 A counter-protester holds up a sign in Pittsburgh
As the next generation of leaders, we have an opportunity to embrace "us" and unite in our opposition to hate, ignorance, and intolerance. When I look toward the future, I know that the fight for equality, justice, and fairness is far from being over, but I also know that when we rise up together, we
can
and
will
rid our society of inequality and hatred. I want the next generation to have peace of mind and know that the death camps and concentration camps of the Holocaust are part of the past, not part of the future; they will not encounter Nazis, KKK, and domestic terrorists promulgating a message of "us versus them" here in the United States or anywhere else in the world.
Kurt Messerschmidt, a Jewish survivor of the Holocaust who gave his testimony to USC Shoah Foundation, recalled the devastating aftermath of the Kristallnacht or "Night of Broken Glass" pogrom in November 1938. He and his friend Rudy were riding their bikes in Berlin, Germany when they came upon a crowd gathered around Nazi officers who were abusing an elderly Jewish man, forcing him to kneel on the street and pick up shattered glass with his bare hands. While the crowd stood by in silence, the two boys knelt and helped the elderly man clean up the glass. Kurt observed that the group did not appear to approve of the abuse they were witnessing but they remained silent. "I'm sure, in this particular situation, that some of the people standing there disapproved of what the Nazis did. But their disapproval was only silence, and silence is what did the harm."
The work of standing against hatred, bigotry, racism, antisemitism and all other forms of intolerance, hatred, and prejudice is too important to remain silent. We must consciously remember the place that hatred holds in our history and work collectively to ensure it does not have a place in our future.
Blake Humphrey is the Student Body President at West Virginia University and a member of USC Shoah Foundation's Intercollegiate Diversity Congress. He will be participating in the upcoming Intercollegiate Diversity Congress Summit at USC Shoah Foundation in Los Angeles this October.
Sara E. Brown is a Teaching Fellow at USC Shoah Foundation – The Institute for Visual History and Education. 
Like this article? Get our e-newsletter.
Be the first to learn about new articles and personal stories like the one you've just read.