Call for Proposals: "Diversity and Inclusion Through Testimony" Grants for USC Faculty
Thu, 08/24/2017 - 5:00pm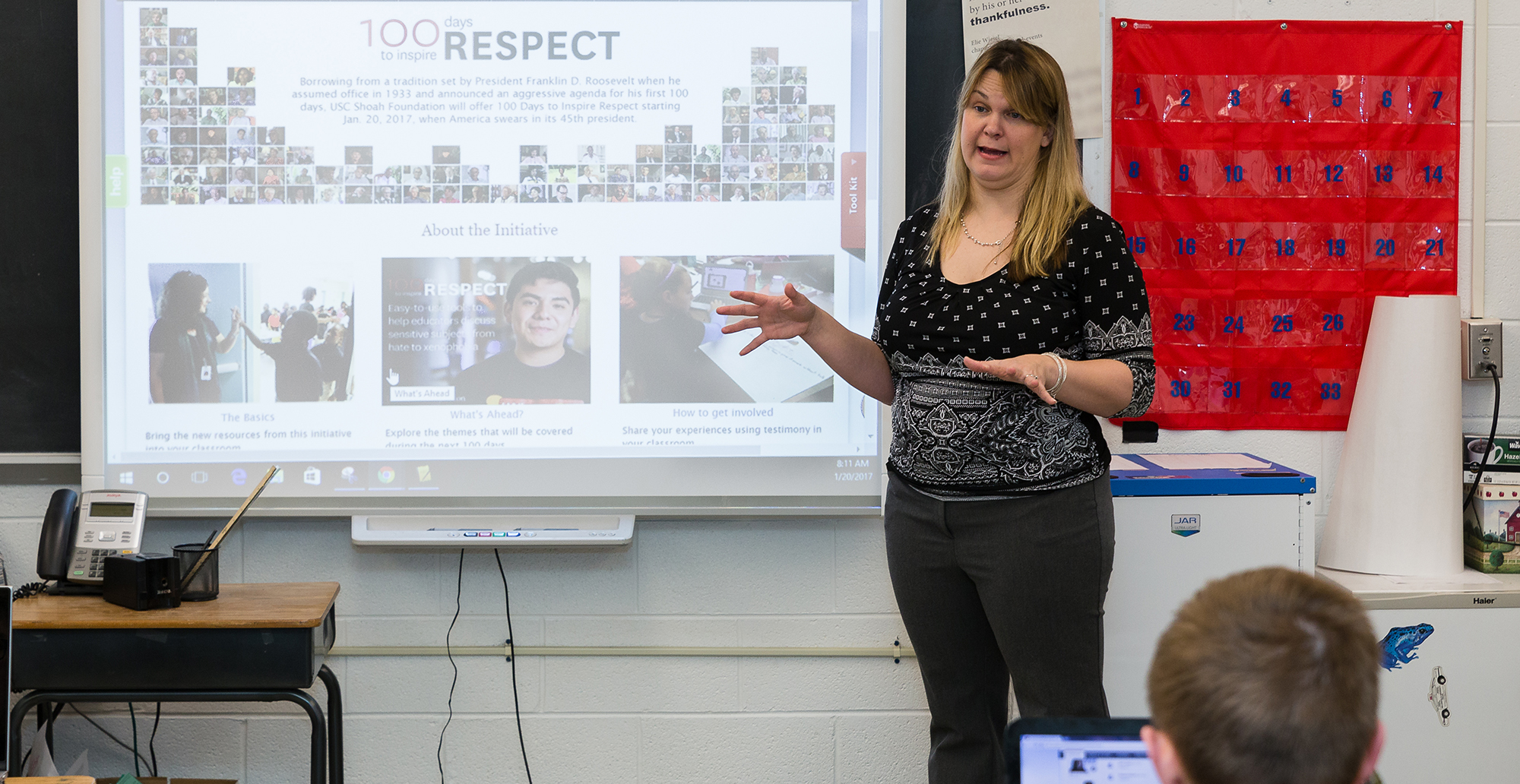 USC Shoah Foundation – Institute for Visual History and Education and USC Center for Excellence in Teaching welcome proposals from faculty who will integrate USC Shoah Foundation's Visual History Archive (VHA) and IWitness into a Spring 2018 course. The pilot, which will run through the 2017-8 academic year, will include consultations with USC Shoah Foundation's Teaching Fellow, consultations with a CET instructional designer, and a course debrief and survey.
USC Shoah Foundation has funded this grant program to advance USC's use of its Visual History Archive and its corresponding education website, IWitness, in the classroom. The Visual History Archive is a world- renowned collection of over 55,000 testimonies of survivors and witnesses of genocide (including the Armenian Genocide, Holocaust, Nanjing Massacre, Cambodian Genocide, Guatemalan Genocide, and Genocide against the Tutsi in Rwanda). Using these testimonies, USC Shoah Foundation has reached educators in over 80 countries over the past decade and cultivated academic research at the University of Southern California and at dozens of colleges and universities around the world. The Institute's free educational website, IWitness University, brings testimonies from the VHA to faculty and students via multimedia resources and learning activities to enhance the teaching and learning experience in the classroom. Harnessing the power of testimony, USC educators are able to promote 21st century skills in their classrooms and teach a broad array of subjects in an authentic, primary source-driven environment.
Selected participants will be awarded a $750 grant for research upon completion of the project in Spring 2018. Preference will be given to proposals that promote diversity and inclusion.
Grant Program Goals
Support faculty in the inclusion of audio visual testimony in course design and instruction. 

Promote diversity and inclusion through testimony-based education at USC. 

Develop a cadre of USC faculty able to access and utilize testimony in IWitness for education. 

Application Guidelines and Requirements
In Fall 2017, participants are required to meet with USC Shoah Foundation Teaching Fellow two times to identify appropriate VHA and IWitness resources for their course, including course lectures and assignments. Participants are also required to meet with a CET Instructional Designer three times for course design consultation. In Spring 2018, participants are required to complete a course debrief and survey. Additional USC Shoah Foundation support will available throughout Fall 2017 and Spring 2018.
Meetings and the selection of resources will take place during Fall 2017 for implementation in Spring 2018. Selected participants are required to attend an on-campus orientation and workshop at Leavey Library on Friday, October 20, 2017. We will use this time to provide a practicum on how to access and utilize VHA and IWitness resources and discuss project workflow and available support. You must be a current USC faculty member to be eligible for this program and plan on being the instructor of record for the course in Spring 2018. You must also indicate on your application that you have the support of your department chair to participate.
Eligible faculty are encouraged to apply. Please submit a 500-750 word proposal that describes the course describing and/or syllabus outline and includes how the VHA and IWitness will be integrated. Please submit your proposal to sarabrow@usc.edu with the subject line "Diversity and Inclusion Through Testimony Grant Proposal" no later than 11:59pm PST on Monday, September 18, 2017.
For questions, please contact Dr. Sara Brown at sarabrow@usc.edu

For more information on the Visual History Archive, visit: http://sfi.usc.edu/vha

For more information on the IWitness education website, visit: http://iwitness.usc.edu/university 
Like this article? Get our e-newsletter.
Be the first to learn about new articles and personal stories like the one you've just read.