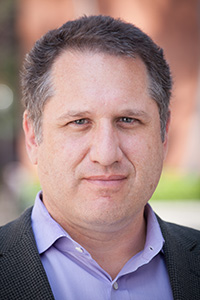 USC Shoah Foundation Chief Technology Officer Sam Gustman will speak about his work at the University of Michigan School of Information's Bicentennial Symposium on Friday, Oct. 6.
The symposium will be held at Rackham Graduate School from 9:30 a.m. to 4:30 p.m. and is free and open to the public. Learn more and register here.
The focus of the symposium, which commemorates the 200-year-anniversary of the University of Michigan, is Information, Technology, Libraries and Entrepreneurship. Leading experts from the fields of information, technology, public and special libraries and entrepreneurship will present their views on the present and future of information and society.
Gustman will give remarks about archiving and memory on a panel titled "Remembrance and Records" at 11:15 a.m. He will be joined on the panel by Anne Gilliland, professor and director of archival studies at UCLA, and Beth Yakel, professor at the University of Michigan School of Information. The panel will be moderated by Francis X. Blouin, professor of information and history at the University of Michigan.
Gustman graduated from the University of Michigan with a bachelor's degree in computer engineering.
Gustman has been CTO of USC Shoah Foundation since 1994 and is also associate dean at the USC Libraries, where he holds a faculty appointment. He is in charge of IT for the Libraries, where he has also started the USC Digital Repository. As CTO of USC Shoah Foundation, Gustman provides technical leadership for the integration of the Institute's digital archives into USC's collection of electronic resources, ensuring the archives' accessibility for academic and research communities at USC and around the world. He is responsible for the operations, preservation, and cataloging of the institute's 8-petabyte digital library, one of the largest public video databases in the world.