Board of Councilors Member Andy Friendly Publishes Memoir "Willing to Be Lucky: Adventures in Life and Television"
Fri, 10/27/2017 - 5:00pm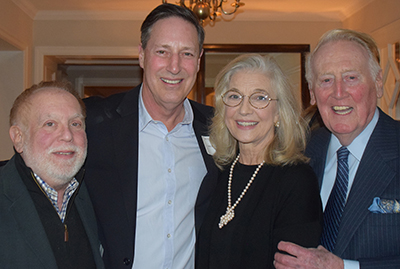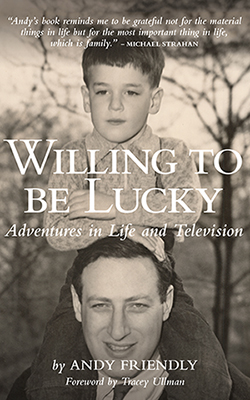 Andy Friendly was raised by a television news legend, produced groundbreaking programs and has worked with some of the most influential people in Hollywood.
But in his new memoir, Willing to be Lucky: Adventures in Life and Television, readers will not only get the inside scoop about working with Oprah Winfrey and George Clooney – they'll also learn how his work with USC Shoah Foundation has been some of the most meaningful of his life.
Friendly joined USC Shoah Foundation's Board of Councilors in 2015 after his close friend David Zaslav, CEO of Discovery Communications, told him about Discovery's partnership with USC Shoah Foundation on the Auschwitz: The Past is Present program commemorating the 70th anniversary of the liberation of Auschwitz.
His personal connection to the Holocaust goes back to his father, Fred Friendly.  Before he was a celebrated CBS News journalist, Fred Friendly was a sergeant in the Army during World War II – and a witness to the liberation of the Mauthausen concentration camp. A poignant letter Friendly wrote to his mother in 1945 about the horrors he'd seen at Mauthausen and his deep desire for these events to never be forgotten or disbelieved has been widely circulated online. It's now a Friendly family tradition to read the letter together every Yom Kippur.
 In his memoir, which he says took him three years to write and edit, Friendly shares stories about growing up in the newsrooms of New York City, watching his dad work. After college at USC, Friendly embarked on his own career in television which saw him producing the first season of "Entertainment Tonight," President of Programming and Production at King World Productions, an entertainment consultant for the major networks, and more.
Throughout the book, Friendly cites his experiences with USC Shoah Foundation as the ones that give his life a different purpose – something that his family has instilled in him all his life.
"It's about telling the truth, and that all ties together for me in a significant way," Friendly said. "That's why my work with USC Shoah Foundation is so important to me."
In the book, Friendly describes attending USC Shoah Foundation's 2016 Ambassadors for Humanity Gala, which honored Mellody Hobson and George Lucas and featured a performance by John Williams. He was "blown away" by the event, especially Lucas's speech about the importance of preserving the truth about the past for future generations.
"It made me so proud to be involved on the Board of Councilors," Friendly said.
In another chapter, Friendly talks about some of his favorite movies, including Schindler's List. He and Zaslav have a tradition of watching it together every year.
Willing to Be Lucky is, in a way, Friendly's attempt to pass along his own truth to the next generation, especially the youngsters in his family who don't really know many details of the life stories of Friendly, his wife Pat Crowley, and his father and great-grandfather.
"I wanted to share my family and career and the life lessons I learned along the way – and the strategies I learned the hard way," he said.
The book is available for purchase on Amazon and Kindle here.
Like this article? Get our e-newsletter.
Be the first to learn about new articles and personal stories like the one you've just read.