Alex Hinton To Give Lecture on Duch, Math Teacher Turned Khmer Rouge Torturer
Tue, 10/31/2017 - 5:00pm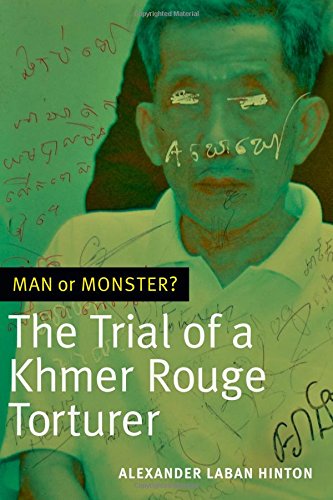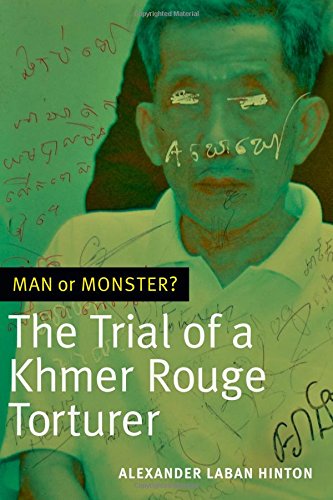 Kang Kek Iew begins as a math teacher, posted in the 1960s to a secondary school in the Kampong Cham Province in Cambodia. He's known there for his commitment to his pupils.
In 2010, well after he's taken on the war name Comrade Duch, he's found guilty of crimes against humanity, torture and murder. He's the first Khmer Rouge official to be found guilty of such crimes committed during the Pol Pot regime, the S-21 prison chief who oversaw the torture and execution of more than 15,000 people.
How did we get here?
Acclaimed researcher Alex Hinton will explore just this at a lecture at the University of Southern California on November 2. The discussion, which will begin at 4 p.m., is open to the public at USC's Social Sciences Building. The talk is organized by the USC Shoah Foundation Center for Advanced Genocide Research and cosponsored by the USC Center for Visual Anthropology.
"He was a committed revolutionary in Cambodia," said Hinton, professor of anthropology and global affairs at Rutgers University. "At the time, the country was caught up in the Vietnam War, the peasantry had long suffered, and so amidst this upheaval in Cambodia the Khmer Rouge revolutionary moment began to gain force and power, especially after there was a coup in 1970."
That coup became the turning point in the Cambodian Civil War, after which the state became a republic.
Many teachers and students became involved with the revolutionary movement at this time, but Duch had joined the Communist Party of Kampuchea in 1967, absent around this crossroads because of his imprisonment for his communist affiliations. In 1970, he was released and joined up with Khmer Rouge rebels, became a prison commandant and in 1975, set up the infamous Tuol Sleng (S-21) prison.
"He said he joined the revolution to liberate the people in the name of social justice," Hinton said. "He claims that he joined for social good and then he embarked upon what became a very twisted path and did something that was very much the opposite."
In his lecture, "Man or Monster? The Trial of a Khmer Rouge Torturer," Professor Hinton will assess the veracity of this statement, drawing from his expertise as the Director of the Center for the Study of Genocide and Human Rights at Rutgers, and from his years of research in Cambodia which culminated in his testifying at the United Nations-backed international tribunal for the Khmer Rouge.
The lecture – organized by the USC Shoah Foundation Center for Advanced Genocide Research and cosponsored by the USC Center for Visual Anthropology – centers around the content of Hinton's latest book of the same name.
"My presentation begins with the question that ran in the headlines of newspapers: 'Comrade Duch, man or monster?'" Hinton said. "His defense [during the tribunal] argued that he was a human being like everyone else; the prosecution sought to say he was sadistic, he took zeal in killing."
The book picks up on these two sides of Duch using creative ethnographic writing, extensive fieldwork, hundreds of interviews and Hinton's experience attending Duch's trial. It provides a nuanced analysis of Duch and how Duch came to do the things that he did as a teacher-turned-torturer-and-executioner.
"But also, ultimately, it's a book about what this trial says about all of us – the way we lead our lives," Hinton said. "Because the things that he did aren't all that far away from things that take place on an everyday basis in our lives."
Interested in how a person becomes a torturer and executioner as well as the law's ability to the grapple with crimes against humanity, Hinton will also discuss his adaptation of Hannah Arendt's notion of the "banality of evil" to the "banality of everyday thought," to consider the universal lessons to be learned from Duch and his trial.
"Ultimately, the lesson for us had to do with what I call the 'banality of everyday thought,' or the failure to think critically, to use reductive categorizations of other human beings," Hinton said. "Duch had deep convictions, but they were convictions that led to human beings being devalued, dehumanized, looked at as types of people that needed to be destroyed."
This book and his next, Hinton argues, will contribute to the world of critical genocide prevention.
"Amongst other things, one step in genocide prevention is the ability to think critically and deeply about our actions and those actions that take place in our names, through our government," Hinton said. "Duch used a somewhat violent saying – he said, 'I could never reveal what was going on or talk about it because it was like smashing a crab and revealing what's inside.' I twist this to say that we must always, in the same way, break open those articulations, those ways of seeing the world that tend to naturalize ways of thinking that reductively categorize and dehumanize other human beings."
This argument plays into what Hinton hopes attendees will take from the lecture – an understanding, of course, of the history of Cambodia and the genocide, the tribunal and what 'international justice' means in the radically different socio-cultural context of Cambodia, but also the value of thinking critically.
Hinton's goals align with those of USC Shoah Foundation, with which he's interacted loosely throughout his research.
"It's absolutely essential," Hinton said of an organization like USC Shoah Foundation. "Many Holocaust survivors, survivors of different genocides around the world are growing older, so it's critical to archive their memories. And USC Shoah Foundation has expanded, and now has a research unit that focuses not just on remembrance but also explanation. It's a really dynamic place." 
Like this article? Get our e-newsletter.
Be the first to learn about new articles and personal stories like the one you've just read.