Holocaust Survivor Paula Lebovics To Speak to Students in Facebook Live Broadcast
Thu, 11/16/2017 - 5:00pm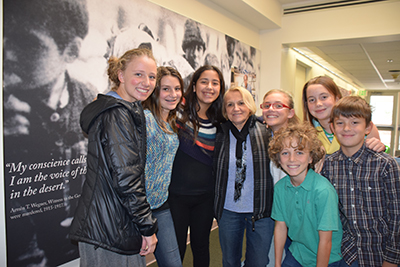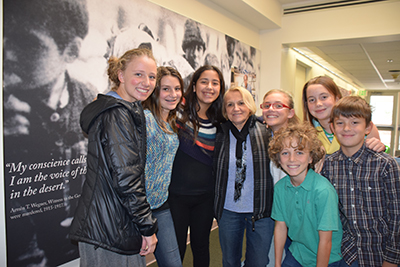 When Paula Lebovics leaves a room after speaking, she leaves a motto too – "silence is not an option." A survivor of a ghetto, the concentration camp Birkenau and the permanent separation from much of her family, she's shared her testimony in dozens of classrooms and with several institutions, including USC Shoah Foundation.
On Sunday, she will be involved in a Facebook Live video shot by the Institute, speaking to the next generation of USC Shoah Foundation Junior Interns about her experiences during the Holocaust and about the overarching lesson she's gleaned from her experiences:
"Silence is not an option," Lebovics said in a previous interview. "I want students to learn tolerance, to learn not to bully and not to hate."
The broadcast will go live on USC Shoah Foundation's Facebook page on Sunday at 10:30 a.m. At that time, the Junior Interns will have a chance to ask Lebovics questions about her message. Viewers will also have the opportunity to ask Lebovics questions in the comments on the Facebook post.
The event is actually among the first for USC Shoah Foundation's newest class of junior interns, students grades 7 through 12 who applied with a desire to learn about human rights, tolerance and digital literacy. In previous years, interns have traveled with Lebovics to Poland as part of their program, one class attending the 70th anniversary of the liberation of Auschwitz in January 2015. This year's interns – who come from all over the world – will get to take a 3-day field trip in Los Angeles, visit local museums and prepare for the IWitness Video Challenge they'll interact with on the program.
They'll also meet survivor Elizabeth Holtzman and hear her testimony. Holtzman was a War Crime Trials participant, who worked to convict war criminals, and a member of the United States House of Representatives.
The Facebook webcast will happen as USC Shoah Foundation's "Liberation" broadcast continues for Comcast Xfinity on-demand subscribers, a broadcast that features interviews with soldiers and those liberated from the Holocaust. The Institute's fourth yearly collaboration with Comcast will pair the 1998 film Saving Private Ryan with testimonies from the Visual History Archive, and feature the documentary Liberators: Why We Fought.
The program will be available on Comcast until Dec. 29. Previous collaborations have spanned themes like "The Miracle of Music" and "Defiance."
Like this article? Get our e-newsletter.
Be the first to learn about new articles and personal stories like the one you've just read.